By: Chad Wilson – Editor – GridironStuds Blog
Twitter: @GridironStuds
When I was a kid growing up, we had something known as Cracker Jacks.  Cracker Jacks was a box full of candied popcorn that was very tasty. The candied treat was only part of the allure of Cracker Jacks.  What really drew people to the treat was what was inside.  Inside the Cracker Jack box was a prize.  It could be a tattoo, a magnifying glass or any other assortment of bite size toys to occupy an adolescent mind for hours (it was a simpler time then).  That toy was everything and so that Cracker Jack box was important.
Fast forward to 2018.  Cracker Jacks may still be around but it's not nearly as prominent and I can't tell you the last time I saw a kid holding a Cracker Jack box on purpose.  Times have changed and so has college football recruiting.  If I compared college football recruiting to Cracker Jacks then I would say Cracker Jacks in 2018 would have no prize inside or the box would include a note inside that read "we may have a prize for you later but for now enjoy the candy."  There was a time when an offer was everything.  If a college program offered you that meant they would sign you right then and there if they could.
During my junior year in high school,  the starting free safety on our team came into our English class holding up a letter from USC over his head like Deion Sanders holding up an errant throw from a QB over his head as he high stepped to the end zone.  That letter meant,  USC has been watching and they had an interest in him.  It certainly wasn't an offer but it was a reason to be proud.  USC knew who he was.  I was full of envy and ready to prove to USC that I deserved an envelope too.  The letter from USC merely stated their interest and included a questionnaire for our free safety to fill out.  Letters were not plentiful back then,  they meant something but not everything.
Over the course of time,  letters became more plentiful and less important.  My sons have letters in our house from Top 10 schools that they have yet to open and likely never will.  Had the free safety on our team or had I received those letters we would have passed out right there in room 1101. With letters flooding recruits' mailboxes in spectacular fashion these days,  recruits are ignoring them.  So how do college programs let kids know they are interested?
Enter the college football scholarship offer in this modern era.  Mail delivered by the postman is considered deathly slow.  A college football coach who sees a potential prospect on a high school campus can ill afford to wait till he gets back to the office to have a letter sent to that recruit.  First, that's too slow, second a letter is meaningless and third other schools are going to have already offered the kid.  In 2018,  an offer is the letter that our free safety was high stepping across the front of our classroom with.  See a prospect,  offer a prospect or face the consequences when his senior year comes.
Our free safety never received that offer from USC as their interests turned to other players with greater intensity as we got closer to our senior season and signing date.  It didn't stop him from being encouraged and motivated to play his best.  Offers in this modern era as they have always been are not binding for either party.  However,  they are less meaningful today than they have ever been.  An offer to a prospect before his senior year is basically a letter in 1988.  That college football coach and program is basically telling you that they are interested in you.  Most of the time they can't accept your commitment at the time of the offer and don't really want you committing in your junior, sophomore or freshman year.  Often times they accept the commitment if the prospect pushes for it because they don't want to ruin the relationship they seek to build with the prospect.
As I observe high school football players on an annual basis,  I notice them "chasing offers".  It has become a drug for high school football players.  They will do anything to get it.  Sometimes that means going to four, five or even six different high schools to chase offers.  Has it gotten out of control?  Probably.  Others may just look at it as the way of the times.  Whatever the case may be,  people involved need to understand where we once were and where we are now.  This will allow you to understand what is in an offer.  An offer in 2018 to an underclassman merely means that a college is interested in you and you will need to continue to progress for that offer to turn into a commitment that a school will accept.  Hell,  schools are even accepting commitments from prospects that they really don't want to sign.  They do this so as to not cancel out the kid later on in case they fail to secure some other guys they are after or they don't want to ruin a relationship with a school that is pumping out top talent every year.
Perhaps at some point,  some wise individual will come up with a name for what it is when a team is 100% interested in signing you to a scholarship to join their college football program.  Until then,  prospects, high school coaches, parents and other interested parties will continue to joust over how real an offer is when a prospect announces it to the public.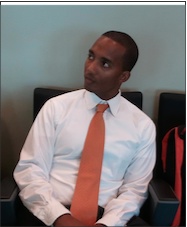 Chad Wilson is a college football recruiting expert and creator of the GridironStudsApp which allows high school football players to gain exposure to college football coaches and fans. Wilson is a former college football player for the University of Miami (92-94) and Long Beach St. ('90-'91) and played briefly for the Seattle Seahawks ('95). He is also a former youth and high school football coach for over 15 years most recently for 5-A State of Florida Champs American Heritage. He runs All Eyes DB Camp a defensive back training company located in South Florida IG: @alleyesdbcamp. Wilson's oldest son Quincy plays in the NFL for the New York Giants and his younger son plays cornerback for the University of Florida