By: Chad Wilson
Twitter: @gridironstuds
Two days ago I had a vision of Brian Kelly doing an in home visit for LSU watching Notre Dame play a college football playoff game with a recruit and his family.  Soon thereafter he fields a question from the recruit's mom…. "do you plan on staying at LSU?"  Sounds like a Saturday Night Live skit but that's actually real life in 2021.
That vision is not what lead me to writing this article.  It was a question I was asked on Twitter by a follower: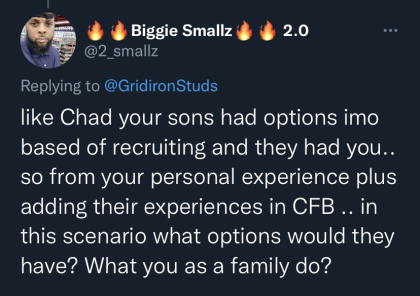 The tweet was in response to a comment I made on the following tweet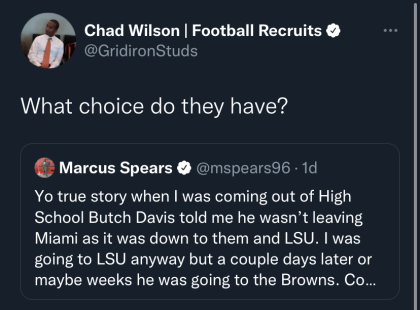 It's a really good question and I will share my thoughts on it in this post.  If you have followed me at all on the tweety bird app you have seen my recent obsession with impatience of fanbases and the weak administrations that give way to their carefree whims.  Social media and Twitter in particular,  is a space where anything can and will be said.  As such,  fans say a bunch of things and they say it a lot.  The stadium boos and yells at the TV have been replaced with endless tweets on a Saturday evening as the sting of a loss and missed expectations start settling in.  Who's expectations were these?
These annual expectations are hatched in the minds of people who work a 9-5 doing something that's not football.  For certain their 9 to 5 does not put them in the building or practice fields of their beloved football programs.  So on top of not having the general knowledge they don't have the functional knowledge of what's going on in the football department.   All they see is what they get on their streaming device on Saturday afternoon.  The real ones know that there's a lot that goes into the product on your screen.
Over emotional college football fans should not be the lynch pin for what direction an athletic department heads in.  The adults in charge have the ability to ignore the average fan protruding his anger through aggressive screen taps on a social app.  However,  our traditional media have increasingly shown an inability to ignore the circling buzzards and deliver the madness to the feet of the admin at press conferences.  Far be it for me to try and reverse this current trend developed by the fans and the media.  Believe me,  I've tried and they just have too much invested in it.   I don't have an in to the athletic directors and presidents at these esteemed universities so I have to craft my message to you,  the recruits and parents of the recruited.
There was much to consider when my two sons were going through the process.  They both did so within the last decade just to give you some perspective.  Crazy as it sounds,  neither came up in the world of the transfer portal,  NIL and rampant coach ejections.  Sure,  coaches were getting fired during their time but that rate has seemingly doubled since my last faxed in his national letter of intent.  So,  whether or not a coach was going to get fired was on the list but not high up on the list of things to consider.
If they were to enter into the process today,  potential coach firing would be much higher on the things to consider list.  Coaching turnover is an important factor in choosing a school.  There was a time when the biggest worry is that a guy would have success and leave for a bigger job at a bigger school or the NFL.   However,  Nick Saban's dominance has benefitted Alabama and U-Haul,  everyone else,  not so much.  Coaches are being given very little time to equal the success that Saban has taken a lifetime to build.  Yes,  Saban has been at Alabama for 15 years but to discount what he learned in his journey leading up to Tuscaloosa would be foolhardy.
Fanbases are convinced that Saban has the secret recipe that calls for a sprinkle of this and a splash of that.  If their recent hire by their school does not have that recipe and bake that pie in 2.5 years,  out come the pitchforks.  Some schools like Oklahoma St., Iowa, TCU, Utah and Northwestern don't pay attention to the crusaders.  Other places like Texas, Florida, Florida St., USC and Miami are virtual voodoo dolls for their Twitter fans.
My strategy to you as the recruit and family getting ready to open the doors to the theater of the insane is to find a quiet seat in the corner. Make it a pledge to survey the landscape and pay attention to the history of the universities in question.  Are they helter skelter and run guys out of town quickly?  Better to avoid them.  There's one way to make schools behave in college football and that is through the actions of recruits.  Start rewarding the programs that provide the stability for the players that you would desire for yourself or sons.  There's a logo on that letter of intent but let's be real,  you are signing it because of what a man told you.   When he leaves,  most of it is null and void.
When that next coach shows up on campus you are at his mercy.  You are at the mercy of his system,  his personality and the promises he makes out on the recruiting trail as he attempts to impress his new boss.  None of that is what you committed to when you fed those papers through the fax machine on an early December of February morning.  Maybe you'll get a like-minded guy to the one who left but I doubt it.  After all,  they fired that guy remember?
I applaud Penn St. and Michigan St. for recently making long term commitments to their head coaches with 10 year contracts.  That makes it a little harder to dispose of the program leader like an ink pen that deared to not produce a quality stain when used.  Sometimes you gotta give it another try or shake it a little bit.  We teach our young men very little about handling adversity when a 7-6 season following a 10-2 one means you don't get to finish out the season.  How dare you look at them with squinted eyes when they hit the transfer portal.  It seemed crazy when Jimbo Fisher inked the first 10 year deal for a coach at Texas A&M.   Jimbo's bringing in a top class to College Station.  Tucker and Franklin's deals no doubt spearheaded the similar ones given to Lincoln Riley and Brian Kelly.   We can argue about the absurdity of paying a coach $100 million but for now,  I take my hat off to the only resemblance of commitment that this game can produce for us at the current moment.
Speaking of commitment,  carefully consider yours when it comes down to it.  At the end of the day,  a life lesson learned now or in the future will be a commitment to the uncommitted typical ends in broken dreams and resentment.  Do it enough and it will drive you crazy and get you committed.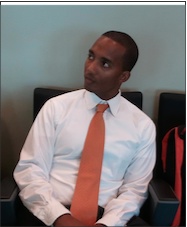 Chad Wilson is a college football recruiting expert and creator of the GridironStudsApp which allows high school football players to gain exposure to college football coaches and fans. Wilson is a former college football player for the University of Miami (92-94) and Long Beach St. ('90-'91) and played briefly for the Seattle Seahawks ('95). He is also a former youth and high school football coach for over 15 years most recently for 5-A State of Florida Champs American Heritage. He runs All Eyes DB Camp a defensive back training company located in South Florida IG: @alleyesdbcamp. Wilson's oldest son Quincy plays in the NFL for the New York Giants and his younger son plays cornerback for the Arizona Cardinals.