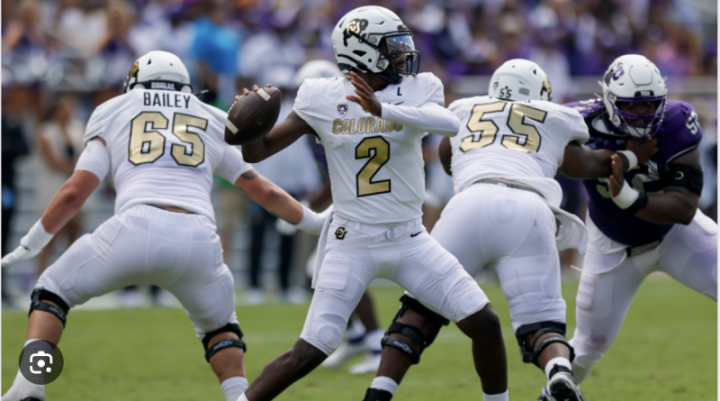 I think we all know that this first week of college football had provided us with less impact matchups than year's past so it was going to take a Herculean performance in some of these matchups to generate the kind of excitement that previous season debuts have provided.  Deion Sanders enters the chat….  
By 1 PM est. on Saturday on this first full week of college football,  Twitter was abuzz with the performance Colorado was putting on vs. TCU.  From the opening offensive series you could see that Coach Prime and the boys from Boulder were about to back up all the words they threw down from the day he stepped foot on campus.  If you watched me on the Footballville podcast or checked out the 2 Chumps Podcast this past weekend,  you know that I was not expecting an immediate turn around in Boulder.  Hell, I laid the points with TCU as one of my college football picks this week.  So I deserve a certain portion of the scorn Sanders was issuing in the postgame.  Not a great size of that portion but a portion nonetheless. I am 100% a believer in Coach Prime's ability to turnaround the Colorado program.  I definitely support the moves he made with the roster despite not being a full supporter of the transfer portal combined with NIL.  If those are the weapons available to go to war then you have to use them.  No one wielded that sword with more vengeance than Sanders.  He sliced some heads off in game one. 
There's a long road ahead for Colorado in this 2023 season.  Their schedule is tough and now they have the added weight of expectation.  You can bet that the pendulum will make a full swing now in Colorado's favor.  The oddsmakers,  the media and social media will firmly plant themselves in Colorado's corner.  Never underestimate the flock's desire to gather in the motion of the tide.  Colorado is hot and this wave will get ridden.  Colorado faces a huge task in gathering themselves after the hoopla of this win and readying themselves for a Nebraska team that had a good showing in week 1 vs. Minnesota.  What Colorado has in it's corner is a more talented group of playmakers and a remarkable belief in what they can accomplish.  So many teams off of a 1-11 season would've folded at several tide turns in that TCU game.  Another benefit of white washing your roster via the transfer portal is that you don't have the battle scared emotions of the previous regime.  Sanders has been able to download the mindset into his athletes without the obstruction of 2022's PTSD.  
We can't talk about Colorado's achievement on Saturday afternoon without acknowledging the individual performances on the field.  Coach Prime's initial press conference in Boulder was widely analyzed.  One remark during that conference that stuck with me was Prime saying "I'm bringing my luggage and it's Louis."  Well Louis made it through the rigors of the baggage loading and claim process to display it's quality versus the Horned Frogs.  Most of the talk post game was on Travis Hunter and rightfully so.  Hunter finished the game with 11 receptions for 119 yards including two misfires on deep balls.  Defensively,  he had three pass break-ups and one amazing red zone interception to rob TCU and their faithful of some late game momentum.  However,  that was not the biggest stat for Hunter on the day.  In the eye of the sweltering Dallas September heat,  this "human being" lined up for 151 snaps for the Colorado Buffaloes.  This is unheard of.  At game's end,  Hunter was not carried off the field ala Kellen Winslow in the 1982 playoff game vs. the Dolphins.  He was not connected to an IV drip like many others were around college football yesterday.  Hunter took a lap around the field high fiving Buff fans and could be seen dancing in the locker room during the Colorado celebration.  Hunter needs to be the subject of a Ted Talk.  
Despite all the astonishing numbers I just regurgitated in reference to Hunter,   I came away more impressed with Coach Prime's offspring,  quarterback Shedeur Sanders.  I know far too well the scorn a coach can face when his son is a starter on the team you coach.  One other bone of contention in his intro team meeting in Boulder was Sanders naming Shedeur the starter without benefit of competition.  In Sanders' mind,  there was no need to waste time.  If you doubted that,  not only were your silenced yesterday but your tongue hath been cut out.  From the first  series,  Sanders displayed the poise,  decision making and accuracy of a veteran.  Most must admit that they didn't pay much attention to Jackson St. Shedeur.  So it was as if they were watching a freshman at quarterback for Colorado.  Well,  he's no freshman.  Sanders' final stat line was 38 of of 47 for 510 yards, 4 touchdowns and the all important 0 interception.  In a game that required the 21 point underdog Buffs to play clean,  Sanders was immaculate.  Being anything less than that in this game and the stories would've been so different.   A big shot out goes to Colorado offensive coordinator Sean Lewis.  Adding former head coaches to your coaching staff typically tend to be a good move if they are not angling for your job.  Sanders deserves kudos for this hire and for that of his entire staff.  What most may be willing to admit or not admit is that Colorado looked more organized and together than they expected.  For that,  Sanders' entire staff deserves a hand.  
Who knows what the future holds in 2023 for Colorado but what we can be guaranteed are two things.  First,  is that it will be more than what most (including myself) were thinking and one way or another everyone will be watching. 
Extra Points
Time for Gator fans to repent…
The painful tweets flowed like the tears of a 4th place finisher in a tough Olympic event on Thursday night.  2023 began as 2022 ended for the Florida Gators.  Yet another coach seems to be falling short of the lofty expectations of the Gator fanbase.  No doubt,  this was the worst thing that could've happened for Billy Napier and his staff.  Now he finds himself standing firmly in the same spot the previous three Gator head coaches have found them standing in but at a sooner point than any of them.  Through two athletic directors and four coaching staffs,  the unrelenting Gator's fanbase has continued to be a menacing force.  They are oblivious to their contributing force in the demise of the program. Their undue pressure and impatience has led to a new face of the program virtually every 2.8 years.   What's worse,  this wrong and strong fanbase has continued with this charade of blaming their most recent demise on Marco Wilson and a shoe toss.  Perhaps some of these bellowing this misguided folktale actually watched the game against LSU that night but I am of the belief that most of them didn't.  Why should they have watched?  It was a team angling for a SEC playoff taking on a 3-5 LSU team in steep decline.  For those who watched,  they have sensationalized the shoe toss and made Wilson the scape goat for their menacing destruction as a fanbase.  On that night,  Heisman Trophy candidate quarterback Kyle Trask was off.  He threw a pick 6 to Eli Ricks and fumbled deep in Gator territory on another drive resulting in a LSU touchdown.  Those two plays directly contributed to 14 points to LSU in a game that was tied up in the waning moments leading up to the shoe toss.  What Wilson' toss amounted to outside of coming at an unfortunate moment in the game was a 15 yard penalty and 3 points.  Those 3 points could have been recouped when Florida's kicker Evan McPherson missed a field goal 7 yards shorter than the one successfully converted by the LSU kicker moments earlier.  So many things went wrong on that foggy and fateful night.  Perhaps all of it could've been overcome had Florida's head coach Dan Mullen put aside his arrogance and played a healthy Kyle Pitts in the game.  He was only the best player on the team.  They say that God does not like ugly.   Perhaps the good faithful of Gainesville,  a town firmly planted in Florida's Bible Belt,  should fall on a knee and repent for their two + year irrational slander against Marco Wilson.  Perhaps they should see that LSU game for what it was,  a team loss for a team that was built on a house of cards.  Just a thought and one I fully expect to be ignored.  Slander on Gator Nation and enjoy the pain that comes with it.