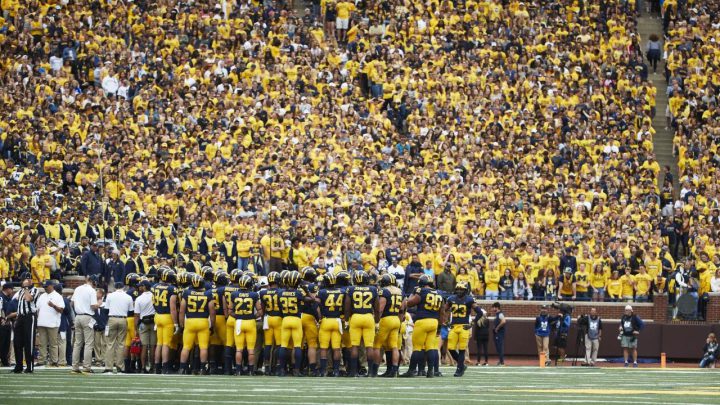 By: Chad Wilson
Editor – GridironStuds Blog
For many high school football players, the dream of playing college football is one that's cherished from a young age. The thought of wearing a college jersey, competing on a bigger stage, and receiving an education is incredibly enticing. However, the path to becoming a college football player is competitive and challenging. To help you get recruited and live your dream, here's a playbook for high school football players and their parents.
1. Start Early
Recruitment often starts well before your senior year. College coaches look for young talent, so make sure to impress early. Attend football camps and showcases during your sophomore and junior years to get noticed.  In your freshman season go to local camps or smaller camps just to get used to the atmosphere of how to compete in camps.  This will prep you for the bigger and more important camps that will come down the road. 
2. Maintain Good Grades
Academics play a crucial role in college football recruitment. Maintaining a strong GPA and taking challenging courses will make you a more appealing candidate to coaches. Many scholarships require a minimum GPA, so don't let your grades slip. This advice typically gets skipped over by young players but not the parents.  Listen to your parents because this part is more important than you realize.  When things get competitive at the end of your recruitment,  typically your GPA is the deciding factor.  The less trouble it will take to get you into school,  the better a prospect you become.
3. Create a Highlight Reel
Film is essential for recruiters. Compile a highlight reel showcasing your best plays. Include a mix of your top tackles, interceptions, touchdowns, and crucial moments. Make sure it's easily accessible on a platform like Hudl or YouTube.  I have a ton of info on how to best put your highlight video together on this website.  There is an art to it and how you put it together should not be taken for granted.  Coaches look at 100's of highlight videos.  You have to take the steps to make yours stand out or they may skip it.
4. Reach Out to Coaches
Don't wait for coaches to come to you. Take the initiative and reach out to college coaches. Send them your highlight reel, your statistics, and a well-crafted introductory email expressing your interest in their program.  The old adage of play well and they'll find you does not apply anymore.  Coaches have access to 1,000's of recruits now because of the Internet and social media.  Every year,  many talented high school football players worthy of scholarship opportunities go unnoticed and let their college football dreams die.  Don't let that be you,  be proactive and reach out to coaches. 
5. Attend College Camps
Participate in college camps and combines. This is a great way to get in front of college coaches, receive hands-on instruction, and showcase your skills. Many players get noticed at these events.  By college camps,  I mean camps on college campuses.  These camps are where the actual offers get handed out.  The recruiting camps run by the recruiting websites are great but when it comes down to actually being seen by a college coach with the power to offer you,  college camps are the way to go.
6. Choose the Right Fit
It's not just about the college football program; it's about finding the right academic and social fit. Don't overlook factors like location, campus culture, and your major when considering colleges. Remember, you're not just committing to a team; you're committing to an education.  It's normal to get attached to a coach or persuaded by a recruiters words.  After all,  it's their job to convince you.  However,  collect as much information as you can,  sit back and make a logical choice.  Though there is a transfer portal nowadays,  going through that process is not as easy as you may think it is.  Having to pick up and change schools because you made a choice is a waste of time and momentum.  If doesn't work out most of the time for the guys who do it.
7. Network and Get Noticed
Build a network within the football community. Attend recruiting events, join local football organizations, and connect with current or former college players. The more people who know you're looking to play at the next level, the better your chances of getting noticed.  This is the hardest part for young athletes.  Many are intimidated by and uncomfortable talking to adults.  Quite simply,  get over that.  We are talking about your future.  The truth is that may adults respect young student-athletes who are both willing and able to hold a conversation or take the initiative to secure their future.  Some of the best conversations you will have will be with adults who can give you insight into how to reach your recruiting goals.  It may be uncomfortable at first but the rewards are worth it. 
8. Be Patient and Persistent
Recruitment can be a long and sometimes frustrating process. You may receive rejection letters or not hear back from some colleges. Stay persistent, keep improving your skills, and don't give up on your dream.  You may hit some roadblocks and that is to be expected.  In football not every play works,  not every defense call is successful and you don't win every game.  The same way that you line up for the next play or the next game is the same way you stay on your path in recruiting.  Where there is not a way,  you find one.  Also,  your success most likely won't be immediate so don't lose your mind when it isn't.  Others may get offers before you but that doesn't mean that they will have better opportunities in the end.  Recruiting is a marathon,  not a sprint.
9. Prepare for the Interview
When a coach expresses interest, be prepared for an interview. They'll want to know about your character, work ethic, and team spirit. Showcase your passion for the sport and your dedication to being a team player.  It will also help for you to know something about the school and the coach as well.  Impress them with your knowledge of that they do.  This goes a long way in giving them a good impression of you.  Remember,  recruiting is competitive so get an edge wherever you can.
10. Showcase Versatility
Versatility is a valuable trait. If you can play multiple positions or excel in various situations, make sure to highlight that in your recruitment materials. Coaches love players who can adapt to different game scenarios.  How you put your highlight video together will also go a long way in highlighting your versatility.  Show as much of what you can do in the first 60-90 seconds of your highlight video.  Don't make them wait.  Lock in their interest from the start.
11. Stay in Shape
Stay in peak physical condition year-round. Coaches are more likely to take notice if you're consistently in good shape and working on your strength, speed, and agility.  In fact,  I highly recommend that you play other sports.  Coaches are always looking for guys that are talented in other sports or have the discipline to do it.  All the data shows that athletes that excelled in multiple sports make the best players in the long run.
12. Keep a Positive Attitude
College coaches want players who are not only talented but also coachable and positive. Your attitude, work ethic, and willingness to learn can make a significant impact on your recruitment.  There's nothing worse than trying to get a talented athlete to cooperate for the good of the team.  Coaches are humans and want to work with people that are easy to work with.  Being constantly difficult drains the energy out of those around you that could be used for something more related to winning.  At the end of the day,  it's about wins and losses.  Having a bad attitude does not make a winner.
13. Consider All Opportunities
Don't rule out smaller schools or programs. Sometimes, a smaller college or university can offer significant opportunities for playing time and scholarships. Keep your options open.  Everyone one wants to play the 3:30 pm game on Saturday on CBS or Fox or ESPN.  However,  not everyone will or should.  Sometimes a smaller program can provide you with a much better experience and opportunity.  Logically look at your choices and don't just cast out a school because your ego won't allow you to go there.  
14. Seek Guidance
Finally, don't hesitate to seek guidance from your high school coaches, mentors, or recruiting experts. They can provide valuable insights and help you navigate the complex recruitment process.  Playing college football is a remarkable achievement that combines your passion for the game with higher education. Remember that while talent is crucial, the process requires dedication, hard work, and a strategic approach. Follow this playbook, stay focused on your goals, and never give up on your dreams of playing college football. It's a journey that can change your life and create lasting memories on and off the field. Good luck!