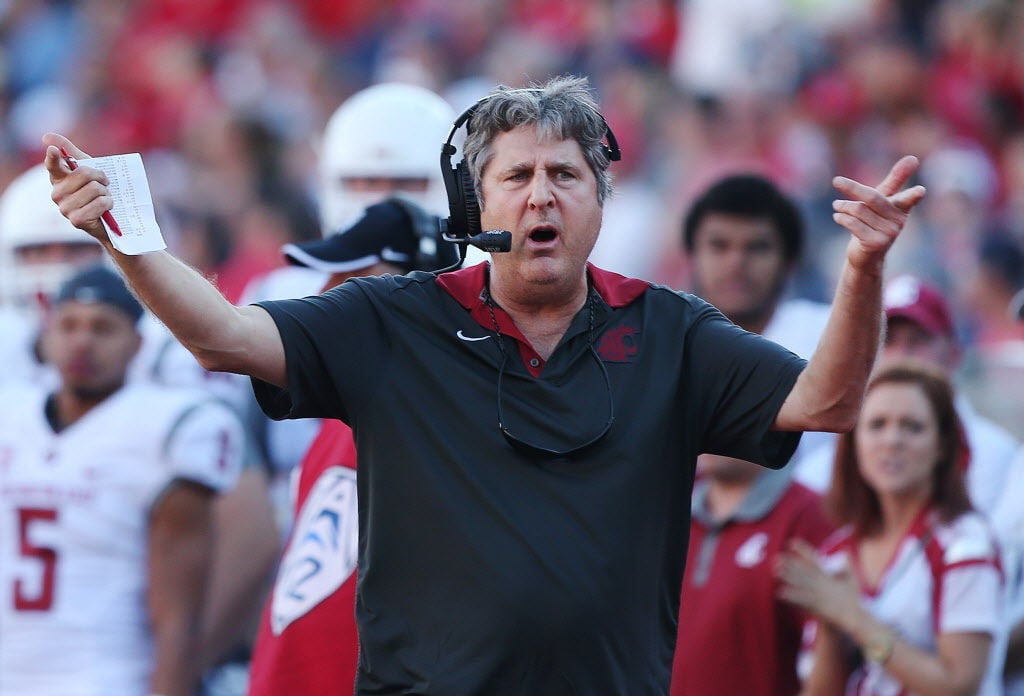 By: Chad Wilson – Editor – GridironStuds Blog
Twitter: @GridironStuds
For the first time this season,  I did not have a winning week.  It was bound to happen at some point and lucky week number seven was it.  It started with a weird game in East Lansing with Michigan and Michigan St.  Of course there was the pre-game antics as Devin Bush Jr. broke up Michigan St.'s 10 yard fight impression.  Then there was a weather delay and the game itself was weird.  Michigan St. refused to run the ball in a tight 7-7 game that ended up getting away from them as their passing attack never really materialized.  What a shock.  I was just flat out wrong with NC State vs. Clemson.  I thought the Wolfpack could put up a fight against a Clemson team that I have not been impressed with it.  Boy did the Tigers show me.  The Mississippi St. vs. LSU game went pretty much how I expected,  short on offensive creativity and long on defense.  Enough about the past other than for me to tell you that after last week's 1-2,  I am 12-6 vs. the spread and straight up for the season.  Let's see if week 8 is great.  Oh for any of you newbies wondering,  I don't pick Florida and Miami games because I will totally lack the ability to be objective.
#18 Iowa @ #17 Penn St. 
I have not been impressed with Penn St. this season.  The masses were heaping praise on them and I was definitely not on that train.  I looked like a clown when they took Ohio St. to the wire but then in the space of two weeks,  things have shaped up and out to mirror my thoughts.  First,  the Nittany Lions went down to an average Michigan St. squad then last week,  Ohio St. got a serious buzz cut from the Boilermakers.  With that said,  all my intentions to back Iowa point spread wise in this game evaporated when I saw the line.  Yes,  Penn St. is not as impressive as people would like you to believe but at home,  versus this Iowa squad,  I think they are better than a touchdown.  Penn St. has their problems defensively.  They don't get a pass rush and they don't cover all that well but Iowa lacks the ability to really exploit it.  On the flip side,  Penn St. can do damage with their offense and the multiplicity of Trace McSorley.  Add to that the running of Miles Sanders and a decent WR group and I think Iowa will be overwhelmed.
The Hawkeyes got avalanched by Wisconsin earlier this year on the road.  I have seen improvement since then but their weakness defensively will be exploited by what it is that Penn St. does.  Iowa pitching the shut out vs. Maryland last week probably contributed to this line staying under seven and for that be thankful.  I think they may come in a little too big headed.  Iowa's methodical approach to moving the ball down the field will net them some points in this game but not nearly enough to keep pace with Penn St.'s big plays.  Take Penn St. 31-21.
#14 Washington St. @ #24 Stanford
This is definitely not one of your best Stanford squads in the David Shaw era and that might lead people to a mistake in this game. I have observed this odd phenomenon for this 2018 brand of the Stanford Cardinal.  They struggle with teams that want to be physical and do quite well against those that are finesse. The Cardinal had nothing for Notre Dame and Utah but was quite fine against Arizona St. and Oregon.  Washington St. is more Oregon than they are Notre Dame.  Mike Leach's throw the ball around offense and like-minded defense,  plays into the hands of Stanford.  Now the Cardinal can finally crank up their run game and play action fake.  That is when they are at their best.  Defensively they can get rough and tough with the Hollywoodish attack of the Cougars and find some success.
Washington St. wants to kick themselves for the loss earlier this year to USC.  Were it not for that,  they would be undefeated.  This week they face a team more like USC in Stanford and I expect some struggles.  The only other team to duke it out with the Cougars this year was Utah,  who is also physical.  The Cougars had that game at home,  this contest is on the road.  Leach and friends have gotten the best of Stanford in the last couple of meetings.  It is just inconceivable to me for a David Shaw coached team to lose three in a row to Mike Leach.  Take Stanford 38-31
#6 Texas @ Oklahoma St. 
I might be getting totally trapped but I will trust me eyes here.  I am not 100% sold on the Texas Longhorns.  I think they are getting an extra pump for beating an Oklahoma team that went brain dead defensively in their game.  However,  I watched Oklahoma St. on film and they aren't Mike Gundy's best creation.  The Cowboys lack an identity on offense,  seem prone to mistakes in all phases of the game and lack confidence.  How that equates into them being minor underdogs to this Texas team is beyond me.  Again,  I'm going to trust my eyes.  Oklahoma St. has been unworthy in every game they have played this year vs. a worthy opponent. Texas Tech and Iowa St. put up 41 and 48 points on the Cowboys in home losses.  Last week Kansas St. bitch slapped them 31-12 on the road.  I see no reason why their cheeks won't be red again this week.
A look ahead to West Virginia for Texas is the only thing that should make your hand shake if you are a Longhorn backer but outside of that,  Texas is quite a bit better than 3.5 points over Oklahoma St.  The Longhorns can play defense in much the same fashion that Kansas St. did vs. Oklahoma St. last week and they certainly have the weapons on offense to matriculate down the field against this pillow soft Cowboys defense. Unless Tom Herman's club shows up without their jockstraps on,  this should be all Texas.  Oddsmakers have accounted for the West Virginia look ahead with the small line.  I think Texas handles their business 34-21.
Chad Wilson is a college football recruiting expert and creator of the GridironStudsApp which allows high school football players to gain exposure to college football coaches and fans. Wilson is a former college football player for the University of Miami (92-94) and Long Beach St. ('90-'91) and played briefly for the Seattle Seahawks ('95). He is also a former youth and high school football coach for over 15 years. Wilson's older son Quincy plays in the NFL for the Indianapolis Colts and his younger son plays cornerback for the University of Florida. Email: cwilson@gridironstuds.com.