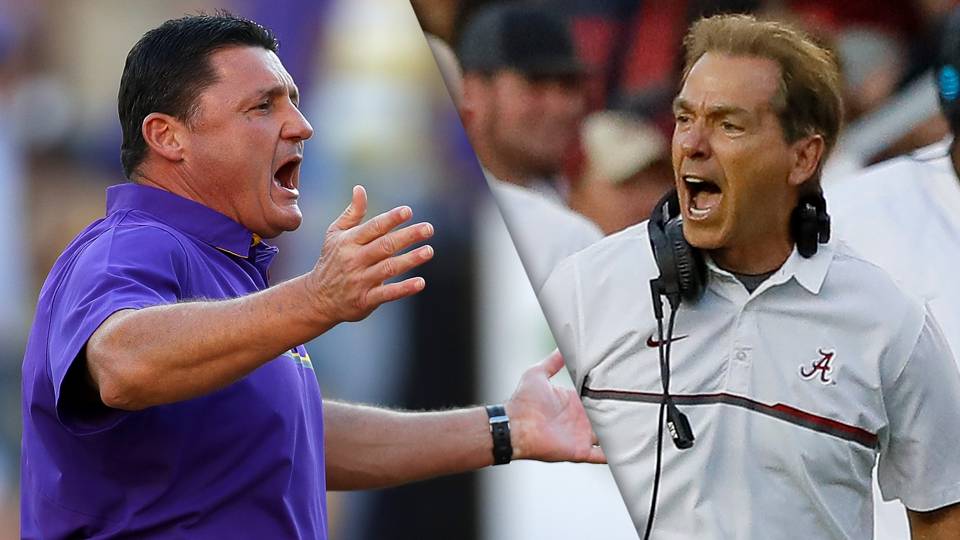 By: Chad Wilson – Editor – GridironStuds Blog
Twitter: @GridironStuds
Well what do you know, a bit of a fall back to Earth after going 1-2 for the 2nd straight week.  Perhaps I can blame it on my travel or I hurt my leg or my dog ate my homework.  I am going to just ask y'all to lower your expectations.  But seriously though,  handicapping Washington St. is tough and so I was wrong about them vs. Stanford.  The Cardinal can't handle the brain that is Mike Leach.  I bet Stanford would have sent him a denial letter when he was coming out of high school.  Penn St. and Iowa was the only game I got right as the Hawkeye hype got bigger than the Penn St. hype for one week and I took advantage.  I told y'all I wasn't buying that Texas crap but I did enough to take them vs. struggling Oklahoma St. and they vomited all over me.  That's what I get.  I am pressed for time this week so you will get the Twitter version of write ups on this week's picks.
#14 Penn St. @ #5 Michigan
Why is Penn St. ranked at #14 again? I am not a buyer of Penn St. but apparently neither is Las Vegas.  In my mind,  I have Michigan as 10 points better than the Nittany Lions at home.  Vegas put it at 12.5 and that's a little too rich for me.  I think the Wolverines have the horses to slow down the Penn St. offensive attack but I don't know that they have enough horses to stay two touchdowns ahead.  I think we see a good game with a late score from Michigan giving them a comfortable margin but not by 12.  Take Michigan to win the game but Penn St. to stay closer than Vegas thinks.  Michigan 27  Penn St. 17
#6 Georgia @ #9 Kentucky 

The schedule makers could have done Kentucky a favor by making this a night game in Lexington but who would have ever thought that Kentucky would be involved in a marquee game in the SEC this late in the season.  This is another game where I like the favorite to win but not by the prescribed point spread.  Kentucky struggles to throw.  However,  they are good up front and can bang in the trenches with Georgia for an entire 60 minutes.  Georgia's M.O. is to punch you in the face while you also punch them in the face and at some point their punch will knock you down.   That's going to be tough with Kentucky in Lexington.  Georgia also has to be a tad bit emotionally drained after last week's win over Florida.  Did y'all see Kirby jumping up and down in that locker room afterwards.  He's still catching his breath.  Close UGA win here.  Georgia 21  Kentucky 17.
#1 Alabama @ #3 LSU
It's absurd to have Alabama favored by two touchdowns on the road at Baton Rouge in any year.  Well except this one.  LSU is tough and have probably earned their current #3 ranking but I have said all season long that LSU is tailor-made for Alabama.  LSU is a run between the tackles and run first football team.  They don't have a dynamic quarterback that can frustrate Alabama's defense.  The Crimson Tide eat pro style offenses for breakfast.  LSU has a pro-style offense.  LSU's weakness on defense is their secondary.  Ooops,  the passing game is a strength for Alabama this year.  Maybe LSU picks off Tua for the first time this season but I think the Tide march all over the Tigers.  Take Alabama 34-14.
Chad Wilson is a college football recruiting expert and creator of the GridironStudsApp which allows high school football players to gain exposure to college football coaches and fans. Wilson is a former college football player for the University of Miami (92-94) and Long Beach St. ('90-'91) and played briefly for the Seattle Seahawks ('95). He is also a former youth and high school football coach for over 15 years. Wilson's older son Quincy plays in the NFL for the Indianapolis Colts and his younger son plays cornerback for the University of Florida. Email: cwilson@gridironstuds.com.
Facebook Comments