By: Chad Wilson – Editor – GridironStuds Blog
Twitter: @GridironStuds
Hey now,  this more than just a fad.  Five weeks in and I have not suffered a losing week and this includes last week which saw me go 2-1 both picking the games and versus the spread.  My lone game pick loser was Georgia.  Coincidentally,  I picked LSU vs. the spread.  My lone spread loser was Wisconsin who totally crapped the bed vs. Michigan. I expected a Michigan win but not in the blowout fashion that they did.  All in all,  I am 11-4 on the season for all you vegas types.  I'm also 11-4 just picking the games straight up.  I'm surgical with it y'all.  Here's this week's crystal balls.
# Michigan v. #24 Michigan St. 
Michigan just had a huge prime time win last week over Wisconsin and it seems they are adding seats to their bandwagon.  Not too long ago,  folks were wondering if Harbaugh was the guy in Ann Arbor.  That not too long ago was this season after the Notre Dame game.  Last week I told you I was unsure about Michigan.  Their blowout win over Wisconsin last week does not change everything for me.  Wisconsin is a hurting team right now and Michigan teed off on them.  The Wolverines have piled up wins vs. Maryland, Northwestern, Nebraska, SMU and Western Michigan.  The only true test has been Notre Dame and they lost.  Listen folks,  Michigan is a good team but I don't know that they are a touchdown favorite good on the road against a rival that has found some confidence.  I fully expect this Michigan v. Michigan St. to be a war that goes back and forth.  Ultimately,  I think Michigan wins but they'll go through hell to get it.  Michigan St. has improved on the offensive line and they will pressure the passer.  That alone will keep them in this game.  The Spartans can and will run the ball vs. Michigan to keep this game close.  Wolverines win a close one 24-20.
#16 NC State v. #3 Clemson
NC State is undefeated and no one is really talking about them.  Last week they defeated a very good Boston College team 28-23.  The score would indicate that this was a close game but that's a bit misleading.  At one point,  NC State had a 28-3 lead in the contest.  It seems they relaxed and let their minds wander onto this week's contest vs. Clemson.  Since Boston College is no punk,  they kept fighting and drew close at 28-23 before it ended.  Nc State has not piled up a bunch of impressive wins but that's hard to do this year with the ACC being down.  What they are doing is winning and if you watched them against BC last week,  you had to be impressed.  NC State can pressure the quarterback,  protect their quarterback and run the football.  That alone can keep you in the fight vs. anyone.  The Wolfpack rushed for 225 yards vs. a physical BC team and tacked on 308 yards passing to boot.  I don't see NC State getting blown out.
Clemson got an ego inflating win two weeks ago vs. Wake Forest 63-3.  Now they have had two weeks to sit around and think about how good they are.  I hope Dabo Swinney has been getting the message across that NC State is not to be taken lightly because they very well can upset them. This is the same Clemson team that struggled mightily vs. Syracuse even before Trevor Lawrence got his neck rearranged.  Call me crazy but this seems like the kind of game that Clemson has struggled in in year's past. Oddsmakers also have not done Clemson any favors here by putting in this huge line.  I expect NC State to come in feeling disrespected and fired up.  I like them in the upset over Clemson 26-23.
#22 Mississippi St. v. #5 LSU
Had LSU not lost to Florida earlier this season,  I might have been inclined to fade them in this spot.  They would be dealing with a really heavy head in this game were that the case but it's not.  LSU got their wake up call in Gainesville and will be properly focused for this meeting with Mississippi St.  LSU is tough to run on and quite frankly,  that's the only thing that Mississippi St. can do well.  LSU's defensive weakness is in pass coverage and Miss. St. is not built to take advantage of it.  The Tigers also got their offensive mojo back against Georgia and I expect that to carry over into this contest.
Mississippi St. ended their two game SEC slide two weeks ago when they dominated Auburn.  That win may have been good or it might end up being bad.  The Bulldogs seemed rather happy after that game and may have lost sight of the fact that they have a one dimensional offense.  That one dimension does not play to the weakness of LSU.  Rushing stats will be hard to come by for Mississippi St. and when they can't find them,  turnovers may be found instead.  The road ahead for Mississippi St. gets bumpy with Texas A&M and Alabama coming.  It's going to be extra rough when they enter those games off of a humbling loss to Mississippi St.  Take LSU 31-20.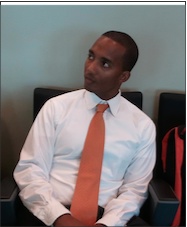 Chad Wilson is a college football recruiting expert and creator of the GridironStudsApp which allows high school football players to gain exposure to college football coaches and fans. Wilson is a former college football player for the University of Miami (92-94) and Long Beach St. ('90-'91) and played briefly for the Seattle Seahawks ('95). He is also a former youth and high school football coach for over 15 years most recently for 5-A State of Florida Champs American Heritage. He runs All Eyes DB Camp a defensive back training company located in South Florida IG: @alleyesdbcamp. Wilson's oldest son Quincy plays in the NFL for the New York Giants and his younger son plays cornerback for the Arizona Cardinals.