By: Chad Wilson – Editor GridironStuds Blog
Twitter: @GridironStuds
College football is going through what I would call a reformation period.  I don't think I can recall a time in my life in which so many changes have been made to the game in such a short space of time.  From rules to protect players (targeting) to the formation of a playoff system and the prospects of the athletes getting paid,  if you went into a coma in 2010 and woke up today,  you'd barely recognize the sport.  However,  few of these changes have garnered more attention over the last couple of years than the transfer portal.
Much of the early news about the portal was about what savvy college football coaches dipped into the portal to bling out their roster the best.  University of Miami coach Manny Diaz and Florida coach Dan Mullen were some notable coaches to hit the jackpot.  No doubt there have been some great transfer portal stories that the makers of the rule can hang their hat on.  Jalen Hurts' move from Alabama to Oklahoma and into the Heisman Trophy race would be one of the tops on the list.  However,  as is the case with many rule changes,  there are winners and losers.  Of late,  it seems the losers are the bigger room in the transfer portal.
For every Jalen Hurts,  there seems to be 100 other bad decisions being made.  In reality,  Hurts was a graduate transfer from Alabama,  meaning he had completed his degree and made the move for his final season to the Sooners.  Even without the transfer portal,  Hurts would have been able to make the move that he made and likely prosper in the same way.  Often times,  transfer moves made later in a player's career have a higher degree of success.  Typically,  the player making them has more maturity,  has spent more time in their initial program and as such has totally exhausted all avenues of reconciliation with that program before choosing to transfer.  Such is not the case now with an ever growing frequency.
The mindset for most recruits coming out of high school these days is to start and or play as soon as possible in college.  Recruits are on a three year plan as opposed to a four or five year plan.  Redshirting has been reduced to getting rejected by a potential prom date.  Not starting is a drink thrown in your face and playing sparingly as a freshman is like stepping on your Nikes in the club.  In the eyes of the 18 or 19 year old,  these are signs of disrespect by the offending program.  I get it,  college football players are looking at college basketball players becoming multi-millionaires at 19 and thinking,  why shouldn't I hit my payday at 20 or 21?   The biggest problem with a lot of these changes is that what is publicized are the winners like Jalen Hurts but what is more prevalent are the losers.
The transfer portal has become a hotbed for athletes who quickly determine their chances at the school of their initial choice and look to jump back in the pool at the first sign of depth chart resistance.  We are living in a microwave society and as such when the results don't come quick,  then something must be wrong with the institution in place.  It's hard to get an actual number of athletes that are in the transfer portal but I am here to tell you that it's over 1,500.
Not only has that huge number caused problems at the NCAA institutions,  it has also caused problems in the World of high school recruiting.  The NCAA decided that they would not make any adjustments to the rule that states a program can only sign a max of 25 recruits per cycle.  As a result,  there have been less scholarships available to high school football players.  When one program gets the benefit of two, three, four or even more athletes from the portal,  it means there are less spots available for a high school recruit.  Likewise,  a program that has lost a similar amount of players to the portal can not now make that up by signing additional prospects from the high school level.  This leaves a void in the recruiting process.
In addition to that,  more and more programs are seeking answers to their depth chart questions in the portal.  Teams have found it more advantageous to grab a young player from the portal who has had a taste of college football as opposed to taking a chance on a high school football player.  Texas State recently comprised their entire signing class with transfers. With that still,  many players remain stuck in the transfer portal looking for a new home.
Ultimately,  the transfer portal is serving the fickle mindset of youngsters.  They want instant results and success.  When it does not happen they move quickly to seek a better,  easier situation. What they end up finding is a worse situation typically at a lower level or as a walk on.  What has been happening also is transferring becomes contagious.  Once you make that first transfer,  leaving the next school becomes easy and transferring twice is starting to rise.
Some prospects find themselves sliding down the college football pole either by ending up at a less desirable destination or unable to find another destination at all.  This is leading to guys quitting football and school all together.  The fact still remains that only 1% are going to make it to the professional level.  When a young athlete is given the opportunity to obtain a higher education worth $250k and even more when you consider future earnings,  it's a shame when that goes to waste.
Now more than ever,  it is important that prospects make the right choice the first time (coming out of high school) and remember the reasons they made that choice when things don't go exactly as planned.  Sure,  the prospects are being recruited by people and it gets difficult not to get attached to that.  However,  you have to muster the discipline to recognize that you need to be sold on the institution over everything.  The people come and go but the universities stay where they are.  Take stock of the history of the school as it relates to academics and athletics,  specifically football.  Ask yourself how sure you are that you can  still get what you want from the program if everyone there now suddenly left tomorrow.  Keep in mind the institution that you bought into when some of your personal relationships with the people take a turn to the left. Do all that you can to repair or manage the situation so that you can get what you need from the program.  After carefully exhausting all avenues and taking a solid amount of time doing so,  the answer may still be to leave.  If that's the case then you can be the next one to cram on the transfer portal bus traveling to parts unknown.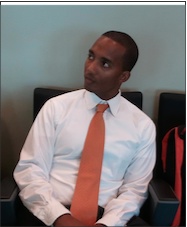 Chad Wilson is a college football recruiting expert and creator of the GridironStudsApp which allows high school football players to gain exposure to college football coaches and fans. Wilson is a former college football player for the University of Miami (92-94) and Long Beach St. ('90-'91) and played briefly for the Seattle Seahawks ('95). He is also a former youth and high school football coach for over 15 years most recently for 5-A State of Florida Champs American Heritage. He runs All Eyes DB Camp a defensive back training company located in South Florida IG: @alleyesdbcamp. Wilson's oldest son Quincy plays in the NFL for the New York Giants and his younger son plays cornerback for the Arizona Cardinals.