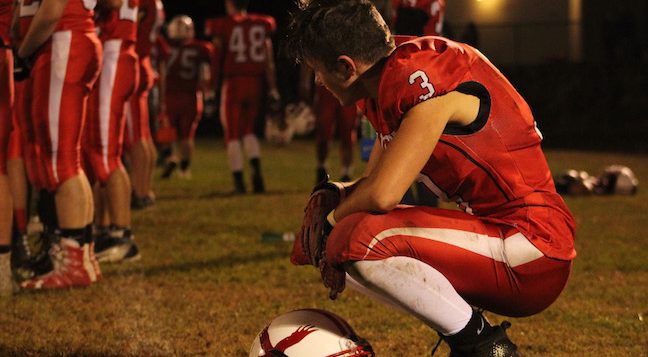 By: Chad Wilson – Editor – GridironStuds Blog
Twitter: @GridironStuds
I will see it from time to time and be amazed by it.  Across this country,  student athletes are suiting up to play football and with it arm themselves with some entitlements.  Allow me to pat you down and take some of those offensive weapons off of you as they will likely harm someone,  mainly yourself.
The entitlements come in many forms.  I can count on many hands and many feet the amount of times I have received a DM or email from a high school football player who tells me they want to go D-1.  Ok,  well that's fine,  you should aim high but what have you done to earn a D1 scholarship?  If your effort on the practice field and in the classroom is not to the utmost of your abilities then I am not sure what you think is supposed to happen here.  Despite what some athletes may think,  just because you play high school football does not mean you are entitled to a scholarship.
If you did not attend workouts,  go to camps, get in extra lifts, running or technique sessions or study film,  go through a playbook or otherwise immerse yourself in the improvement of your game,  I am not quite sure how you think you will catch the eye of recruiters.  Perhaps you have looked at a lazy athlete on your team or a school nearby who has received scholarship offers and you think you can do the same.  Well,  that guy might be 6'4″ or is otherwise blessed athletically.  He will get more looks than you but at some point he'll have to work at it or see his career end.  Whether you are blessed like that or not,  being lazy about your college scholarship pursuit will not energize a college coach about you as a prospect.
Division I college football is for the elite players in the country.  This football season roughly 1,000,000 high school students will play football.  There are not 1,000,000 football scholarships available annually.  In fact,  here is the math
1,000,000 high school football players each year
Roughly 40% of them will be seniors so 400,000
129 FBS football schools
125 FCS football schools
Roughly 25 scholarships available per FBS & FCS school each year
Total of 6,350 Division I scholarships available each year (FBS + FCS)
1.5% of high school football seniors will sign a Division I scholarship (6,350 divided by 400,000)
You didn't have to kill it on the Pre-SAT to realize that those numbers aren't good for you.  So the question is,  what are you going to do to get into that 1.5%?  I can assure you that this formula:  SnapChat + Instagram + Fortnite x Chill = Zero.   Go ahead,  get your calculator and out see what you get.  The time to get up off of the numb ass you've been sitting on is now.  Imagine yourself going to a Rivals camp and 400,000 people are there and coaches from 254 colleges are in attendance.  What would you do?  I'm pretty sure your answer would not be to whip out a controller or take a selfie and apply your favorite filter.  Every day you are essentially auditioning for one of those 254 schools.  The problem is close to 1/2 of a million others are to.  So just like you have to do on Friday Night,  you will have to compete. You can not see your competition,  they are spread out all across the country.  However,  please know that they are out there and they are hungry.  Think about them when you are wasting time on things not related to your future success.  Of course,  we all need a little time to have fun but all things in moderation.
What you must do immediately is stop thinking that a college owes you a scholarship if you were a starter on your high school football team.  Stop thinking that your high school coach can pull a miracle when you wouldn't stay late after practice to get in extra work.  You can start by being the hardest worker on your football team whether you have a school interested in you or not.  Something crazy might happen along the way and that could be that you will make your high school football team better.
Along with the physical work that you put in,  you have to be saavy too.  Find the schools that fit you.  Sign up for programs that are designed to get you looks by college coaches.  The GridironStuds App is one such program.  Creating a recruiting profile on the GridironStuds App is free and it takes less than 10 minutes of your time to do it.  College coaches are on the GridironStuds App looking for for players that can help their program.  A completely filled out profile on the app with highlight videos, images and updated recruiting status draws their attention.  A halfway filled out profile may suggest that the athlete is not all in.  Be diligent in the classroom and in studying for the college entrance exams (SAT or ACT).  Poor grades, poor attendance and poor test scores will create a roadblock to your college football dreams.  Furthermore,  a lack of effort academically says a lot to a college coach about what type of person you are overall.  Remember,  there are 400,000 looking for what it is you are looking for.  If all things are even physically and one guy has a 3.0 and the other guy has a 2.4,  then the decision becomes easy.  Compete.  Football provides you a lot of strong life lessons.  If you just say all this stuff is too much,  I quit then you may not be ready for a game a whole lot tougher than football called real life.
Chad Wilson is a college football recruiting expert and creator of the GridironStudsApp which allows high school football players to gain exposure to college football coaches and fans. Wilson is a former college football player for the University of Miami (92-94) and Long Beach St. ('90-'91) and played briefly for the Seattle Seahawks ('95). He is also a former youth and high school football coach for over 15 years. Wilson's older son Quincy plays in the NFL for the Indianapolis Colts and his younger son plays cornerback for the University of Florida. Email: cwilson@gridironstuds.com.