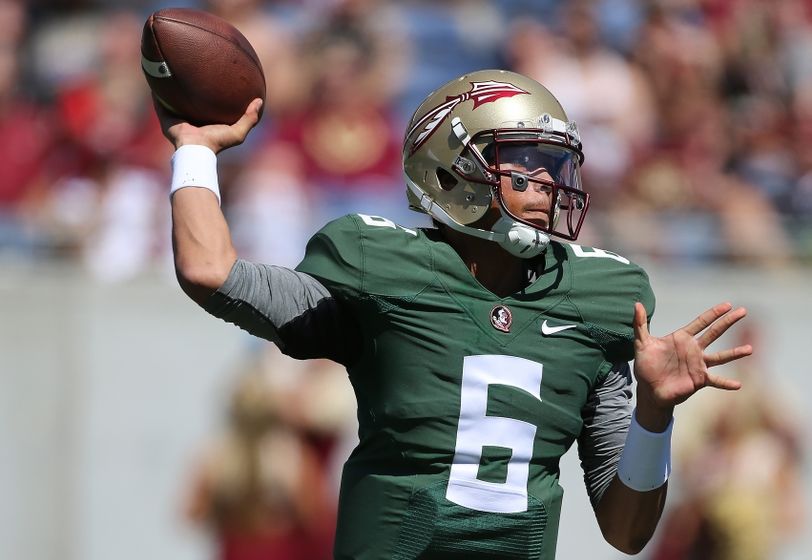 By: Chad Wilson – Editor – GridironStuds Blog 
Twitter: @GridironStuds
If you been watching season 3 of Last Chance U on Netflix,  you have been overly confronted with a particular term.  No,  it's not the F-word that head coach Jason Brown is most certainly married to.  It's the term "D-1 Bounceback".  What's a D1 bounceback and how are they taking over college football?  We'll discuss it in this article.
What's a D1 bounceback?  The general definition is a prospect that was once at a higher level Division I football program and for any number of reasons had to leave and is at a smaller program,  usually a junior college looking to seek an opportunity at another college football program.  My definition is a prospect, who despite all the talent in the World, has failed to take personal responsibility and accountability for their actions thus ruining a grand opportunity at a high profile university and is seeking a chance to go to another program where the coaching staff will treat them better.  Rather long winded isn't it?  Harsh isn't it?  You know I'm right don't you?
Like any other topic in this social media era,  there will be people that will fall on both sides of an argument.  Therefore,  I know there will be a considerable amount of people who will not agree with my definition of a D1 bounceback or the general tone of this article.  Hey,  it's a free country.  What I am noticing on season 3 of Last Chance U is that D1 bouncebacks typically are not a grateful bunch.  The attitude seems to be that the reason I got dismissed from the D1 program that I was at was not my fault (coach was trippin) and I am better than the place where I have now landed.  So,  because that is my mindset,  I will continue the behavior that got me here and expect the coaches to cater to me and give me everything I want.  Point to the lie.  I know, perhaps some of the bouncebacks have enough self-awareness to correct their behavior and use their second chance the way it was intended.  However,  the general mindset is not so inclined.
The D1 bouncebacks demand a ton of attention and they get it too as coaches get mesmerized by their athletic potential.   Therein lies the problem.  What I am noticing around college football is catering to those D1 bouncebacks and those with the D1 bounceback mentality.  This catering is being done at the expense of some talented athletes that have made every effort to do things the right way.  This is not just happening at Independence Community College,  the subject of Last Chance U but at several lower tier FBC, FCS and Division II schools.
Jucos, FCS and Division II schools are out hunting for prospects that couldn't get their act together at the programs we see playing on national television each week. These lower tier programs are willing to go through all the headache that these wayward young men will bring just to get them on the field and try to win football games so they can climb up in the coaching ranks.  When the D1 bouncebacks arrive on campus they are inserted on the depth chart ahead of the guys who pledged to the program out of high school.  They are inserted ahead of the guys who get up on time for class, workouts and tutor sessions.  The bouncebacks get the attention from the coaches, the personnel people and yes,  the publicly traded media companies like Netflix.   When that D1 bounceback that plays your position lands on your roster,  you will have to fight for every ounce of what you can get out of that program after that.  Is that right?
These days,  coaching staffs are more comprised by one's ability to recruit and manage explosive personalities than they are compiled by those who can actually teach technique and build schemes.  It's about the Jimmy's and the Joe's they say.  Well that's only partially true.  Jimmy and Joe need to be down for the cause if they are going to be a winner on the field and in life.  Perhaps all their lives,  Jimmy and Joe have been allowed to skate by on personal responsibility because they are so good playing ball.  Coaching staffs seem to be eager to continue this trend as they give Jimmy and Joe things they haven't earned.  The message being sent to Jimmy and Joe coming out of high school is that I can do what I want and if it messes up,  some other coach somewhere will take me and I'll "bounceback".  In other words,  there is a nice big net below me so I will walk across this line without a care in the world.  There's no need to wonder why these prospects typically bounce from place to place eventually landing in the streets where life offers few bounceback opportunities.  You failed him coach!
If you want Jimmy and Joe to truly bounceback,  put him on depth chart behind the guy that is going to class, meeting with his tutor, being respectful to coaches and finishing his workouts.  Is he going to cry? Yes.  Will he say he's going home? Yes.  Will he be a malcontent? Yes.  Will it be hard for you as a coach? Yes.  Should you be up for that challenge as a coach? Yes.  When that bounceback,  bounces back and lands back at another school that his physical talent is worthy of, he will have filled in the missing piece that got him bounced in the first place.  For the others that didn't have enough air in them to bounce back,  too bad.  At least they did not rob the guys who are doing things right from their well deserved opportunities.  I'm talking about the guys who believed enough in the program and the coaching staff out of high school to give those coaches an opportunity to have a profession.
I welcome your feedback on this article.  Post your comments and thoughts about it on my Twitter page: @GridironStuds
Chad Wilson is a college football recruiting expert and creator of the GridironStudsApp which allows high school football players to gain exposure to college football coaches and fans. Wilson is a former college football player for the University of Miami (92-94) and Long Beach St. ('90-'91) and played briefly for the Seattle Seahawks ('95). He is also a former youth and high school football coach for over 15 years. Wilson's older son Quincy plays in the NFL for the Indianapolis Colts and his younger son plays cornerback for the University of Florida. Email: cwilson@gridironstuds.com.