There are over 1 million high school football players every year.  I am sure you have heard that stat before.  A good majority of those 1 million would love to play the sport at the college level.  When you think of it that way you realize it is very difficult to stand out in the crowd when you are trying to capture a college's attention.  This task becomes even harder when you missed your entire junior season due to injury.  We are going to take a look at some ways you can get on the colleges' radar when you fall into this category.
There's no disputing that the junior year for a high school football player is the most important season of all.  If you are at a solid program that is known to get colleges' attention,  it typically won't be until your junior season that you either start or make a real significant impact on the team.  It is also around this year that your puberty kicks in and you benefit from your athleticism.  So to lose this important year to an injury can be catastrophic but not terminal.  The road to your college football scholarship has taken a curve but you can get back on the straight path by doing these five important things.
(1) Rehab
First of all,  you have to make sure that you are 100%.  Rehab after an injury is hard.  That is the reason why some athletes don't come back like they were before.  Rehabbing an ACL or achilles tear will likely involve you working out in a way that you never have before.  It is easy for your mind to start saying "I quit."  Of course you can't quit,  that memory will stay with you for a good portion of your life and you will be a guy that always has an excuse.  So attack the rehab with the utmost determination.  If nothing else,  it will build character and mental strength that can be used later on in life.  Practically speaking,  a good rehab can strengthen an athlete in areas he was weak in before and bring him back as a better version of himself.
(2) Weight Room
There is rehab and there is the weight room.  They may seem similar but they are indeed different.  There is the stuff you will do specifically with the trainer in charge of your rehab and then there are the things your weight training coach or you yourself will strive to do.  As you progress in your rehab and can be more active,  you should be building yourself up in the weight room. You can't run most likely due to your injury.  Fill that "can't run" time up with getting bigger and stronger.  This will give you the strength to be a faster athlete when you can run again and it will have you looking the part when college coaches start coming around.  I have seen guys who couldn't participate in practice and are in street clothes get love from college coaches at a spring game.  This happened simply because their traps were climbing out of the hole in their T-shirt.  True story.
(3) Attend Camps in the Summer
You have no junior film so you have to show them something.  You are going to do that when you appear in person in camp and dominate.  During the course of watching the junior season from the sidelines and having to go through the pain of rehab,  you should be plenty motivated.  Time to take out your frustrations on the unsuspecting camp goer.   Hey it's a dog eat dog world and it's time to show your chops.  Hit as many camps as you can and work to impress.  It's ok to pick a few schools that may be deemed over your head too.  See where you are and how you measure up.   Learn as much as possible at camp and take all feedback in a positive manner.  Use it to mold yourself into the player you want to be in the final season on the prep gridiron.
(4) Sophomore Film
Get your sophomore film together if you have not already done so.  If you played as a sophomore,  make the most of that film.  Make that film great and by great I don't mean adding special effects and music that the coaches will mute.  I mean use it show what you can do.  There is plenty on this blog about how to effectively put together a highlight video but to make a long story short,  put your best plays first and try to show all of your talents within the first minute.  Have something to show a coach if you have it.
(5) Make A Small School List
Yes,  everyone wants to go to a Top 2o football program,  receive a NIL deal and pick hat off of the table on signing day.  Get yourself out of that thinking.  You are playing to win the game.  Get on your small school grind.  Depending on your talent level,  start getting a list together of smaller FBS programs along with FCS + some Division II schools.  Put your ego aside and don't worry about what the next man is doing.  Just because you aren't going to a major football power doesn't mean you aren't going to be a major football player.  You are building for your future.  Secure the attention of these schools.  Let them know your situation and what you have been doing to reach your potential.  They will admire your work ethic,  tenacity and determination.  Perhaps you go out on the field your senior year and go crazy.  Maybe the big boys come looking for you but I would not bank on it.  Have the lower level schools as an insurance policy.   Teenagers tend not to think about the future.  When it comes to this right here,  don't think like a teenager.  Think like…(gulp) your parents.
This setback you suffered can be a big blessing for you depending on how you treat it.  In your young life it may be your first experience into what all adults know and that is life will deal you a couple of bad hands.  Wouldn't it be great for you to come out of the blocks in the race of life with a win?  Follow these steps and that's just what you'll do even if you don't end up with a college football scholarship in the end.  You would have experienced high value training for this thing we call life.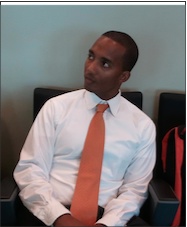 Chad Wilson is a college football recruiting expert and creator of the GridironStudsApp which allows high school football players to gain exposure to college football coaches and fans. Wilson is a former college football player for the University of Miami (92-94) and Long Beach St. ('90-'91) and played briefly for the Seattle Seahawks ('95). He is also a former youth and high school football coach for over 15 years most recently for 5-A State of Florida Champs American Heritage. He runs All Eyes DB Camp a defensive back training company located in South Florida IG: @alleyesdbcamp. Wilson's oldest son Quincy plays in the NFL for the New York Giants and his younger son plays cornerback for the Arizona Cardinals.