"I don't really do camps" Those are famous words of an underrated prospect who is sitting in the crowd in the auditorium on national signing day.  It's good to want things in life but it's even better to do things to make them happen.  Success is not an accident I always say.  It's a combination of decisions made and actions taken to achieve the results that you and others consider success.
In this day and age of hyper media coverage and social media platforms,  saying you want to a football scholarship but you don't do camps is like saying you want to score touchdowns but you don't want to play football.  The same goes for the guy who doesn't want to do social media either.  Perhaps the thinking is that if I am good,  they will find me.  They might with an emphasis on the word "might".  Over 1 million young men suit up and play high school football every year.  Many of them would like to play college football.  A large majority of them are on social media displaying their talents and a good many of them are attending camps doing the same.  Sure you may be good but if you aren't into exposure,  you aren't just a face in the crowd,  you aren't even in the crowd.
College football scholarship opportunities are shrinking for high school football players.  More and more schools are taking to the transfer portal to fulfill certain needs.  This is happening while more and more resources are being devoted to cover athletes that want to be seen.  Having a Hudl account is cool but 100's of 1,000's of others have one too.
I know it can be daunting keeping up with all of the social media stuff.  Posting on Twitter,  getting pictures up on Instagram and keeping information updated on recruiting sites.  Hitting all these camps can be tough too.  Your spring break gets chewed up along with a big portion of your summer break.  Besides,  you might not like all that competing in shirts and shorts.  After all,  football is a game played in pads.  I get it but you know what else is a game, recruiting and part of that game is played on a keyboard and in shorts.  I may not like it,  your coach may not like it and you may not like it but that won't change the facts.  We could hate the sky being blue couldn't we?
The recruiting game is one that has to be played if you want to score the touchdown which is a scholarship offer.  There are the rare moments where you could get offers without doing any of the stuff I mentioned but do you really want to give yourself the long odds?  Your college football recruiting window is 4 years out of your life.  The sacrifice you make now pays dividends for 20, 30, 40 years.  It's always tough for teens to think past the moment they are standing in right now but success awaits those who do.
If a college football scholarship is what you want then aside from doing all the weightlifting,  running,  studying and playmaking on the field in the Fall,  you have to engage in the exposure side of it.  You have to put yourself out there to be seen by those who can make the decision.  The best analogy I can give you is that you can work hard to make a pie and sure it could taste good but if you don't bring the pie to the pie contest at the festival,  no one will know how good it is.  You certainly won't get an award.
In my two decades in the recruiting business,  I have learned this one very important thing.  The most successful recruits are the ones who make use of all of their resources.  When you are young,  take advantage of everything.  As a freshman,  pretend that no one will recruit you.  Consider joining recruiting sites that make sense.  Create your Twitter account dedicated to recruiting if you can.  Change your Instagram account to incorporate some of your football recruiting info.  Attend the smaller camps and start building a list of coaches.  Definitely download and create an account on the GridironStuds App.
As time wears on you can devote more of your time to the resources that are more necessary.  You can change the type of camps you attend based on the amount of success you are having and you can tailor that coach list to the types of schools that seem to be interested.  Make an exposure plan for yourself now and follow it.  Bake the beautiful pie.  Use the best ingredients but do bring it to the festival so that it can receive the awards it so justly deserves.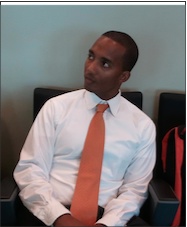 Chad Wilson is a college football recruiting expert and creator of the GridironStudsApp which allows high school football players to gain exposure to college football coaches and fans. Wilson is a former college football player for the University of Miami (92-94) and Long Beach St. ('90-'91) and played briefly for the Seattle Seahawks ('95). He is also a former youth and high school football coach for over 15 years most recently for 5-A State of Florida Champs American Heritage. He runs All Eyes DB Camp a defensive back training company located in South Florida IG: @alleyesdbcamp. Wilson's oldest son Quincy plays in the NFL for the New York Giants and his younger son plays cornerback for the Arizona Cardinals.