Everyone hates a bully right?  Wrong,  not if he plays tackle on your school's football team.  Malachi Hayden may be carrying a biblical name but he does some rather unholy things to would-be defenders on Friday Nights.
Hayden stomps around the gridiron for Meigs County High School in Decatur,  Tennessee looking for food every play.  With a 375 lb. bench press and a 530 lb. squat,  he's eating opponents.  His highlight video is a litany of dudes getting shoved around like extras in a fight scene of an action movie.  He uses surprising quickness for his size and superior strength to descend on defenders surprisingly and move them out of the way in a hurry.  We expect most lineman to be strong but what is most surprising about this prospect is his quickness.  I love the way he gets off on the snaps and either into the defensive lineman or up to the next level on a linebacker.  He also looks great on pulls as he gets around the corner or through the hole with quickness.
Hayden has ample size too at 6'3″ 285 lbs.  He would be a good catch for a college football program looking for a guy that has a nasty streak and appears to be a hard worker.  You always love to see a guy that can take what he has accomplished in the weight room and transfer it to his performance on the field.  Hayden definitely provides that and with zero offers and no Rivals profile,  he definitely qualifies as an underrated stud.  If you are college football fan or coach,  you definitely want to check out this prospect.
Click here to view Malachi Hayden's profile on the GridironStuds App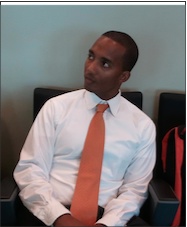 Chad Wilson is a college football recruiting expert and creator of the GridironStudsApp which allows high school football players to gain exposure to college football coaches and fans. Wilson is a former college football player for the University of Miami (92-94) and Long Beach St. ('90-'91) and played briefly for the Seattle Seahawks ('95). He is also a former youth and high school football coach for over 15 years most recently for 5-A State of Florida Champs American Heritage. He runs All Eyes DB Camp a defensive back training company located in South Florida IG: @alleyesdbcamp. Wilson's oldest son Quincy plays in the NFL for the New York Jets and his younger son plays cornerback for the University of Florida