By: Chad Wilson
Twitter: @GridironStuds
We are all keenly aware of how recruiting works by now.  The players play.  The schools hand out the offers and the writers issue the stars.  We are also aware that every year there is a debate over whether a star really deserves the rating.  Today we are going to take a look at the 2nd overall rated quarterback in the 2023 class in Malachi Nelson out of Los Alamitos High School in California.
With all of the talk going on right now about whether the number one guy with the famous last name,  Arch Manning,  should hold that top spot or should even be a 5-star,  Malachi Nelson is quietly showing his worth.  I had a chance to watch the tape on the young gun slinger and here is what I observed.
Easy Thrower
Some quarterback have to put a lot of effort into their throws.  I am sure you have seen that type.  Any time they have to launch one deep or throw to the sidelines,  it seems their whole body has to go into the throw.  Worse yet,  some guys have to wind up to make such a toss.  This is most definitely not the case for Nelson.  Whether he's fitting the ball into the seam between defenders,  going up top on the secondary or hitting a guy out of his break on a deep out,  it's just a flick of the wrist for Nelson.  The kid is what I call an easy thrower.  We see this from guys like Josh Allen and Patrick Mahomes.  There's little effort to make a throw and there are definitely all types of advantages to that.  Nelson can make all the throws and do so from many different positions.  On top of that,  he has the confidence in his arm that all big time quarterbacks have.  Can it get him trouble?  Sure but we haven't seen that yet.
Great Ball Placement
Accuracy is up there for me when it comes to evaluating a quarterback.  If you can't hit your mark,  what are you anyway?  Having a gun and the intelligence is great but at the end of the day,  you have to hit the guy between the numbers to make it happen.  Nelson is that guy.  Not only can he let it fly but he can put it where he wants to.  He's especially accurate on deep throws where he shows a proficiency for dropping it in-stride to wide outs and often times to the proper shoulder to keep it away from defenders.  Some quarterbacks work their whole lives to obtain this important skill,  Nelson seems to have been born with it.
Pocket Awareness
With all of the focus on defense these days being on rushing the passer,  it is key to have a QB that can feel the rush,  get to an open area and get the ball downfield.  What is typical for high school quarterbacks when pressured is to abandon the play and look to run for as many yards as they can.  That's not the case with this prospect.  Nelson knows when to step out,  under or pedal out of trouble.  This often comes with him staying behind the line of scrimmage with his eyes downfield so that he can locate one of his playermakers in the open.  Wide receivers love this as they know that the pocket collapsing doesn't automatically mean that they are now running a dummy route.  Nelson makes a ton of big plays by extending plays with his pocket mobility.  That's going to be a plus at the next level.
Athleticism
When all else fails and it's time to take matters into this own hands,  Nelson can do that too.  We have all seen how athletic the quarterback position has become over the years.  Nelson fits right into this trend.  As such,  the playbook does not become limited with him calling the signals.  The RPOs and QB designed runs are still on the table as Nelson can execute them for big yardage.  Is he Michael Vick or Lamar Jackson,  no but he's athletic enough.  Combine that with his throwing ability and he's a bonafide problem on every play on every Friday Night.
Polished
While I am expounding on his athletic gifts,  I would be remised if I did not point out that it seems Nelson has received some pretty solid coaching and or training as he has come up in the ranks.  He shows a solid mastery of the necessary skills to be at the top of the high school football game.  To get there he had to be coachable by somebody.  This is a comfort to schools that are interested in him because a player's true attitude is hard to forecast.  Watching Nelson's skill level and attention to detail shows that he's capable of watching and learning from somebody.  Few things are more important than that for a college football player and most notably quarterbacks.
So as I tour through the class of 2023 wondering about the 5-stars,  I need not do that about this prospect anymore.  Turn the tape on and you'll realize quickly why Nelson is highly regarded, committed to USC and being pursued by a host of others from coast to coast.
Check out Malachi Nelson's junior year highlights: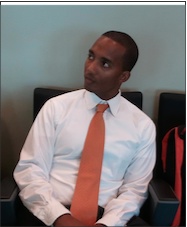 Chad Wilson is a college football recruiting expert and creator of the GridironStudsApp which allows high school football players to gain exposure to college football coaches and fans. Wilson is a former college football player for the University of Miami (92-94) and Long Beach St. ('90-'91) and played briefly for the Seattle Seahawks ('95). He is also a former youth and high school football coach for over 15 years most recently for 5-A State of Florida Champs American Heritage. He runs All Eyes DB Camp a defensive back training company located in South Florida IG: @alleyesdbcamp. Wilson's oldest son Quincy plays in the NFL for the New York Giants and his younger son plays cornerback for the Arizona Cardinals.