By: Chad Wilson – Editor GridironStuds Blog
Twitter: @gridironstuds
Don't kick the ball to Deville!  You've been warned.  If quickness and speed are the traits you are looking for then you have found them in this prospect.  Dickerson flashed in his junior campaign by running down players on defense and running by defenders on offenses.  This season he has added elite return man to his resume.
Three games into his senior season and Dickerson has six kick return TDs (4 punts, 2 kickoffs).  Both of the kickoff returns have been to open the game putting Lompoc's opponents behind the 8-ball right off of the bat.  Dickerson may remind some of another Lompoc High School graduate by the name of Napoleon Kaufman.  Kaufman was also a tad undersized as a high schooler but was a total menace on the gridiron.  He would take his talents to the University of Washington and then to the Oakland Raiders.  Much like Kaufman,  Dickerson has the speed to strike from anywhere on the field.
Dickerson lists himself as a defensive back but I am not so sure that he isn't an offensive weapon at the next level.  Lompoc certainly gets the most out of him by using him on offenses, defense and in the return game.  If there's one thing he's going to do,  it's make a play.  Dickerson's torrid pace to rewrite the kick return record books may hit a snag along the way as I am certain that teams are going to elect to stop kicking to him.  If and when they do,  you can bet that Dickerson will always be a threat to send the ball back where it came from.  He is definitely a high level talent that should make noise on the college football gridiron in years to come.  Idaho St., San Diego St. and William & Mary are his current offers with more certainly to arrive in the coming weeks.
Check out Deville Dickerson's profile on the GridironStuds App – Click here.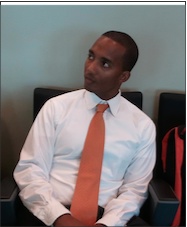 Chad Wilson is a college football recruiting expert and creator of the GridironStudsApp which allows high school football players to gain exposure to college football coaches and fans. Wilson is a former college football player for the University of Miami (92-94) and Long Beach St. ('90-'91) and played briefly for the Seattle Seahawks ('95). He is also a former youth and high school football coach for over 15 years most recently for 5-A State of Florida Champs American Heritage. He runs All Eyes DB Camp a defensive back training company located in South Florida IG: @alleyesdbcamp. Wilson's oldest son Quincy plays in the NFL for the New York Giants and his younger son plays cornerback for the Arizona Cardinals.