Chad Wilson – GridironStuds Blog
Twitter: @gridironstuds
One of the biggest problems I run into trying to help young athletes in the recruiting process is the detachment from reality that exists for prospects.  The problem is small on my end but for the recruit it is enormous.  Many high school football players want to withdraw $1,000,000 from an account that they only deposited $100 in.
Too often I run into prospects and at times,  parents,  who would like to get offers from big time Division I schools when they have put in NAIA effort.  I'm even hesitant to say NAIA because that's a slight on them because those football players must work hard too.  I can not tell you how many times,  I have been asked to see what I can do for a high school player only to look and find out that they don't have a highlight video that isn't done yet.  Furthermore,  they have not dedicated themselves to the weight room or their academics.  I'm literally left to think "what the hell do they think this is out here?"  I truly believe that some high school football players think that because they start for their high school football team they are entitled to a scholarship from some college somewhere.
Before I go in-depth,  let me see if I can sneak some simple math across to those would be,  wanna be college football players:
Number of high school football players every year (estimated): 1,000,000
Number of FBS, FCS & Division 2 schools combined: 426
Number of players on scholarships at FBS, FCS & D2 schools (estimated):  25,000
Now you could be in Algebra I for the 4th straight year and still figure out that these numbers mean that a lot of guys will get left out in the cold when it comes to getting a scholarship.  (note:  I left out Division III schools because they don't award scholarships though they can give aid).
Now many of you have slept outside of a Best Buy trying to get a Ps5 or refreshed a webpage 20,000 times trying to get a new pair of Jordan's.  Because of this,  I know you get the concept of competition.  Everybody wants that Ps5 or pair of Jordan's so you are willing to do something drastic to "cop one of those".  You simply can not forget that concept when it comes time to securing a college football scholarship. When you are 150 lbs. talking about getting an offer from Michigan,  I want you to think walking into Game Stop four days after the new play station comes out and expecting to just pick one up.  You might be able to but I doubt it.
Don't think that because you went to practice every day and stayed awake in meetings that this means you should have a seat at the table come December or February your senior year.  That will work if you are a genetic freak and it's similar to working at GameStop so you have an inside track to getting that new game console.  You will have to stay after practice and get in some extra work on your skills.  You will have to watch hours and hours of extra film to up your football IQ.
Some "prospects" that I come across think they can skip weight room sessions,  go on vacations during the summer workouts and by pass the recruiting camps in the offseason.  That's fine if you have been dunking a basketball since the 7th grade or haven't been able to fit in the back seat of the family car since you entered puberty.  This would be similar to actually having the last name Jordan and your father's name is Michael if you wanted to get the latest pair of shoes the company named after him has put out.
If you are a senior and you know you didn't do the extra running and weight lifting;  if you know you didn't go to the camps and work on your athleticism in the offseason;  if you remember how your forgot to watch film quite often and didn't care much for learning the game while you were playing it,  have the same expectations you'd have if you walked into the store after everyone else wanting something that everybody has to have.  If you have recently found that spirit of dedication to the sport,  realize that you will take a winding path to where you want to go.  You are either going to walk on,  go to a junior college or some kind of prep school.  If you are an underclassman reading this then chances are I'm not really talking to you.  Just taking the time to read this and get this far in the article without moving on means that you get what I am saying.  Now,  get started doing something about it because as we speak,  about 100,000 guys like you already have.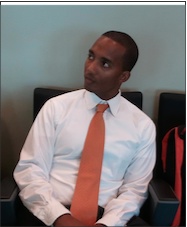 Chad Wilson is a college football recruiting expert and creator of the GridironStudsApp which allows high school football players to gain exposure to college football coaches and fans. Wilson is a former college football player for the University of Miami (92-94) and Long Beach St. ('90-'91) and played briefly for the Seattle Seahawks ('95). He is also a former youth and high school football coach for over 15 years most recently for 5-A State of Florida Champs American Heritage. He runs All Eyes DB Camp a defensive back training company located in South Florida IG: @alleyesdbcamp. Wilson's oldest son Quincy plays in the NFL for the New York Jets and his younger son plays cornerback for the University of Florida