Chad Wilson – GridironStuds
Twitter: @GridironStuds
We all love playmakers and boy do we have one here with 2022 DB / WR Tendaji Alexander.  The Clawson High School junior can bust out a highlight on you any minute.  While some high school football players will have to search far and wide through their game footage to get a clip,  Alexander has to decide what to leave out.
Alexander stands 5'11" and 165 lbs.  His biggest asset are his ball skills.  On offense he'll make the difficult catch in traffic,  win a 50 / 50 ball or redirect himself on an errant throw to haul it in.  On film,  he does not look to be a blazer but he is very crafty after the catch.  This quite often leads to big gains after short catches that terrorizes the defense.  He's strong vs. press defenders when he gets them and at the point of attack on thrown balls,  he shines.  This past season,  he amassed over 700 yards of offense with many of them being highlight type plays.  He certainly looks like a guy who should've handled the ball more.
Defensively he is also a problem.  His sophomore campaign saw him nab 9 interceptions.  This no doubt put a big beware sign on his helmet for opposing quarterbacks.  Despite that,  he still finds ways to get in on the action whether its a big hit,  a forced fumble or jumping on a loose football.  His outstanding ball skills are definitely a big asset to him on the defensive side as he goes up to grab balls away from intended receivers.  He also seems to be johnny on the spot too on errant throws by quarterbacks.  Remember how I said he's nifty after the catch,  this applies to defense too when he hauls in the interceptions.  All around he's a solid player with the playmaking gene that will only get better this offseason and make himself a prized recruiting option for many schools.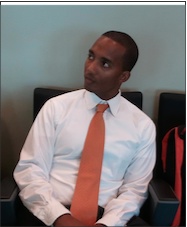 Chad Wilson is a college football recruiting expert and creator of the GridironStudsApp which allows high school football players to gain exposure to college football coaches and fans. Wilson is a former college football player for the University of Miami (92-94) and Long Beach St. ('90-'91) and played briefly for the Seattle Seahawks ('95). He is also a former youth and high school football coach for over 15 years most recently for 5-A State of Florida Champs American Heritage. He runs All Eyes DB Camp a defensive back training company located in South Florida IG: @alleyesdbcamp. Wilson's oldest son Quincy plays in the NFL for the New York Giants and his younger son plays cornerback for the Arizona Cardinals.