If you've been in recruiting for any amount of time,  you have learned that it is not an exact science.  What works for one recruit,  may not work for another.  What one college likes,  another college may not.  However,  there are somethings in college football recruiting that hold true no matter who you are or where you want to go.  Today,   we will discuss one of those things.
Football is a rough game played by mostly big people.  So,  it stands to reason that college football recruiters every year head out on the trail looking for big and tall prospects.  You can not fault colleges for pursuing these prospects as you can never have too many large people in a big man's game.  Let's face it,  this is not horse racing and they aren't searching for jockeys.
As I have discussed many times,  you certainly have little control over your height outside of trying to get enough rest and eating good meals. Even with doing that,  you are still a product of your genetics when it comes to how far off the ground you get when puberty is over for you.  However,  you do have some control over your size and you definitely have control over reaching your athletic maximum.
In this article we will focus on this recruiting law:  Develop Your Athleticism.  Outside of looking for big prospects,  college football coaches are looking for athletes.  They are looking for prospects with a wide array of skills that can be put to use on a football field.  Some prospects get so bogged down in just doing football that they forget to become athletes.  College football coaches are looking at the potential in prospects.  While recruiting you,  they have to project what level of success you may be able obtain playing at the next level against their opponents.  So,  the fact that you rushed for 195 yards against East Side high school may not matter.  That college is not playing against East Side and East Side may not have any prospects going to the colleges in that recruiter's conference.
You may have done absolutely nothing vs. East Side high school but on several plays you were firing off the football at defensive end,  leaping over potential blockers and changed direction quickly to run a speedy WR out of bounds on a reverse.  That alone could put you on the radar of college football teams over the running back on your team that plowed ahead into the soft middle of East Side's defense to gut out almost 200 yards.  If that running back has a limited amount of speed and athleticism,  he's no closer to that scholarship offer than he was while he was warming up during pre-game.
With this in mind,  prospects need to understand what colleges are looking for and go about trying to obtain it.  Perhaps the best way to develop your athleticism is to play multiple sports.  We've heard it time and again from some of the top college coaches in the country and most recently from national champion LSU coach Ed Orgeron.  Coaches like players who play other sports.  Baseball develops your patience and hand eye coordination.  Basketball improves your agility and consistency.  Track develops your speed and endurance.  Wrestling creates toughness and mental stamina.  Soccer gives you elite level footwork. These skills are developed through competition which allows you to maximize their development.  Many athletes now think that they can go see a trainer to develop all of these areas.  You can do that but they won't develop to the level they would if you competed in other sports.
Even if you are not good enough to start and get major playing time playing another sport,  the skills of that sport are developed in practice. Going through the reps and training to try and become a starter will enhance your skill development.  So while you may feel like you are wasting time,  the truth is you are developing skills that you can bring back to the gridiron to help you win your battles.  Catching a punt becomes easier once you've played the outfield in baseball and you'll become more successful tussling with an offensive lineman after you've spent the offseason trying to pin an opponent to a wrestling mat.
Much of the focus of the football team in the offseason is on running and lifting.  Certainly,  those things need to be done but don't forget to work on your overall athleticism.  If you can't quite do the organized version of other sports then take to the gym to play some pick up games of basketball.  Go to the court and play some tennis if that is your thing or swim in a pool,  preferably racing against someone.
A big and strong left tackle is good.  A big and strong left tackle with quick athletic feet is better.  A strong and fast running back is good but a strong and fast running back with the endurance play fast all game because he ran the 400 meters in track is better.
If you are the parent of a young athlete (pre middle school),  I can not stress this enough.  Don't pigeon hole your kid into just football.  Don't have him play a football season and then turn around and train the rest of the year for the next football season.  He's not a pro (at least not yet).  Go ahead and grab that flyer for baseball or basketball tryouts.  Don't you worry about the other tailback on his 8U team that runs around cones and pulls sleds all offseason.  Let him score the majority of the touchdowns now if that's what's happening.  Your plan is for the long term.  That youngster trained all those years to be a running back.  What happens when puberty hits,  he's not built for running back and he can't do anything else?  Your son would've trained to be an athlete and it won't matter what puberty does,  he's ready for it.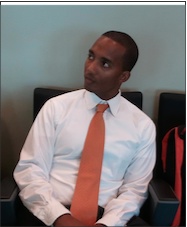 Chad Wilson is a college football recruiting expert and creator of the GridironStudsApp which allows high school football players to gain exposure to college football coaches and fans. Wilson is a former college football player for the University of Miami (92-94) and Long Beach St. ('90-'91) and played briefly for the Seattle Seahawks ('95). He is also a former youth and high school football coach for over 15 years most recently for 5-A State of Florida Champs American Heritage. He runs All Eyes DB Camp a defensive back training company located in South Florida IG: @alleyesdbcamp. Wilson's oldest son Quincy plays in the NFL for the New York Giants and his younger son plays cornerback for the Arizona Cardinals.