By: Chad Wilson – Editor – GridironStuds Blog
Twitter: @GridironStuds
Power 5 or Bust! That's the rallying cry I hear annually around this time of year as senior high school football players try to scramble for the remaining scholarships that are available out there.  It's a cry that I understand but it's also one that makes me wonder.  I'll tell you why in this article.
One of the biggest mistakes we make in life and in particular when we are teenagers,  is comparing ourself to others.  This less than desirable practice has only been accelerated by the onset of social media into our daily lives.  Individuals giving you the highlight clips of their mundane and sometimes tumultuous lives often paint an unrealistic picture of what is really going on.  Those created realities are what many others are basing their own lives off of and it disrupts their abilities to effectively manage their own lives.  This is a major problem when it comes to recruiting.
Often times prospects are comparing themselves to others and develop the mindset that they should do the same thing the next guy is doing or they are not worth a damn.  This includes go to the same type of schools the other guy is going to.  When I see a prospect that does not meet the measurables or the production of the highly recruited athletes in their class yet still wants to receive their type of scholarships,  I begin to wonder.  It's ok to aim high and to have big dreams but self awareness and reality checks have a strong place in the minds of those who are going to be successful.  I question how much a prospect really loves football. Do you really love playing football or do you love saying that you play football.  Do you love playing football for the joy of preparing, scheming and conquering an opponent or for the feel of saying you play for so and so school?
One of the most important thing that any college football recruiter from any level must determine about the player he is scouting is how much does the player love football.  College coaches know what a grind the game becomes at the next level.  The college coach knows that college football and high school football is not the same thing.  A coach is asking will the player I am scouting still have the will to prepare if he's not a star or not a starter?  Will the player I am scouting go just as hard in the weight room and in the film room if the game is not on TV every weekend?  Will the prospect I have my eye on still play his heart out if our stadium holds 12,ooo fans as opposed to 70,000?  The answer to all those questions if the prospect really loves football is yes.
I am sure that NFL MVP candidate Aaron Donald would have loved to have played for Alabama or Ohio St. when he was coming out of high school.  However,  at 6'0″ 260 lbs.  he was not really going to capture the eye of those top teams.  Rather than cry about it,  Donald went to Pitt where he would not be in the limelight of college football but could still go play football,  develop his talents and extend his playing career.  Ok,  I know what you are going to say, Pittsburgh is a FBS, Power 5 football team.  It is,  no doubt but it's not Alabama or Ohio St. in 2010 when Donald came out.
Current NFL rookie of the year candidate Darius Leonard of the Indianapolis Colts barely had a 247sports profile when he was coming out of high school in 2013.  At 6'2″ 190 lbs. playing linebacker,  the FBS schools of the World were not really beating down his door.  Leonard dreamed of playing at Clemson like his brother but that would not happen.  Instead of throwing his hands up and walking on at some school that was going to throw him in the trash heap,  Leonard went to South Carolina State.  At South Carolina State,  Leonard lifted weights,  took in great coaching and studied the game.  What Leonard did was extend his playing career,  furthered his development and gave himself a chance at playing professionally.  Look at him now.
If you have a passion to play football and love all that goes into the process,  you'll give the smaller school a try.  You will realize that all that matters is your self improvement which comes when you embrace all that goes along with it.  Big crowds and televised games are fun,  you can find them in the NFL after you have put the work in.  However,  if you sell yourself short by saying you won't play if you don't go big time or go to a smaller school and quit then I have to question your love for the game in the first place.  You know who else is questioning it,  the small school coach you are thumbing your nose at when he reaches out to you.  At some point you will realize that you won't get that opportunity at that marquee school and will want to go back to that small school coach.  By that time,  he's already determined that you probably don't love football that much because if you really love ball,  you won't be afraid to play small.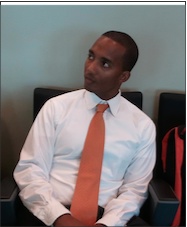 Chad Wilson is a college football recruiting expert and creator of the GridironStudsApp which allows high school football players to gain exposure to college football coaches and fans. Wilson is a former college football player for the University of Miami (92-94) and Long Beach St. ('90-'91) and played briefly for the Seattle Seahawks ('95). He is also a former youth and high school football coach for over 15 years most recently for 5-A State of Florida Champs American Heritage. He runs All Eyes DB Camp a defensive back training company located in South Florida IG: @alleyesdbcamp. Wilson's oldest son Quincy plays in the NFL for the New York Giants and his younger son plays cornerback for the Arizona Cardinals.