By: Chad Wilson – Editor – GridironStuds Blog
Twitter: @GridironStuds
There's no question that college football has become a big deal and the deal is become bigger with each passing day.  With it reaching heights never seen before,  it becomes more difficult to separate those who love football from those who love recruiting.
One of the biggest things for teenagers is acceptance.  Nothing screams acceptance like an article written about you by one of the major recruiting outfits like Rivals, 247sports or ESPN.  Nothing can conjure up the thrill of acceptance more than searching your name on Twitter and watching fans fighting over your attention in hopes that you attend their school.  It would seem odd that a kid that appears to be good at something may not really love it but I'm here to tell you that it happens.
Getting attention is infectious for almost everyone and that goes especially for teenagers.  So getting attention for playing football will naturally act as a drug for any teenager but what are you really hooked on?  Are you hooked on the feeling of defeating an opponent on a football field or your position in the Top 100?  Are you addicted to training like an animal to be a beast in between the lines or your 247sports cumulative point rating?  Are you enamored by studying your opponent so you can outfox him on game day or the thrill of receiving that post season all star game jersey in a ceremony before all of your high school classmates?
For those of you who are not as highly regarded or recruited,  is football only worth it if you can go to a school that plays on TV every Saturday?  I have witnessed some kids want to pack it all in if Clemson doesn't come calling.  I have news for you,  the football is damn good at Georgia Southern.  If you truly love playing this game then football is football.  Your chances of succeeding and reaching your ultimate goal (if that is playing professionally) only increases if your mindset is about being the best you can be no matter where you go.
One of the biggest keys to success in life is letting go of comparing yourself to others.  Comparing yourself to teammates or opponents that are going to bigger schools than you is a recipe for failure.  You may think that comparing yourself to them is motivating yourself to do better but chances are you are not.  Each time you do not obtain what they obtain, whether that is an extra star, all star invite or all county nomination,  you devalue yourself.  If you truly want to reach your potential and succeed then compare yourself today to the person you were yesterday.  If you have not surpassed that person then start figuring out why and fix it.
So while you are taking your recruiting journey,  do not place much stock in the level of school recruiting you.  Fall in love with the actual game of football and you will notice an increase in the quality of school that comes after you.  Notice that I said "quality" and not "size".  Your aim should be to attend a quality school with a quality football program.  If it's a big time school that plays January bowl games then congratulations,  don't take it for granted.  If it's not a school that has College Game Day showing up for their broadcast then it doesn't mean they play two hand touch football.  Go there,  immerse yourself in the tradition and I promise you that you will come out of it 4-5 years later very proud of what you have accomplished.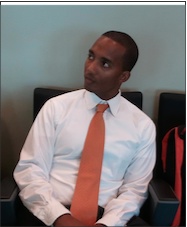 Chad Wilson is a college football recruiting expert and creator of the GridironStudsApp which allows high school football players to gain exposure to college football coaches and fans. Wilson is a former college football player for the University of Miami (92-94) and Long Beach St. ('90-'91) and played briefly for the Seattle Seahawks ('95). He is also a former youth and high school football coach for over 15 years most recently for 5-A State of Florida Champs American Heritage. He runs All Eyes DB Camp a defensive back training company located in South Florida IG: @alleyesdbcamp. Wilson's oldest son Quincy plays in the NFL for the New York Giants and his younger son plays cornerback for the Arizona Cardinals.