By: Chad Wilson – Editor – GridironStuds Blog
Twitter: @GridironStuds
If you know the story of GridironStuds then you know that it began as a simple website that would allow local kids in South Florida to put their highlights up and market themselves to college football coaches.  Over time,  it spread from local South Florida kids, to Florida kids, to kids all over the United States and then globally. One of the best things about running GridironStuds is seeing how athletes play football all over the World.  Today's player of the day would be a great example of that.
Let's be honest,  you don't find very many white defensive backs these days.  You don't find many great DBs in Canada and you virtually never find French born Canadians killing it in American Football.  Maceo Beard from Cegep de Thetford School in Quebec, Candad will smash all of your streo-types very quickly.  Cut the film on and you'll see a highly athletic prospect that can make both the athletic play and the smart play.  Watch Beard jump short routes,  go up high to snag deep routes and drop a shoulder on WRs trying to catch a ball in the heart of the defense.  They play a bit of a different brand of football in Canada but Beard definitely has the looks of a prospect that can handle his own on a high school football field in the U.S. and then in college.
Beard also includes in his GridironStuds profile,  a video of him working out with further lends legitimacy to his athleticism.  When scouting prospects for their college worthiness,  projection is a big part of the process.  Between Beard's athletic ability and his seemingly solid football IQ,  he presents himself as a legitimate candidate for college football programs in the United States.  Let's hope that this Beard is trim enough to get some offers from a college football program near you.
Check out Maceo Beard's profile on the GridironStuds App.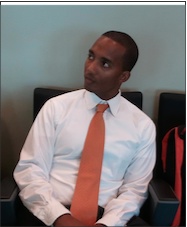 Chad Wilson is a college football recruiting expert and creator of the GridironStudsApp which allows high school football players to gain exposure to college football coaches and fans. Wilson is a former college football player for the University of Miami (92-94) and Long Beach St. ('90-'91) and played briefly for the Seattle Seahawks ('95). He is also a former youth and high school football coach for over 15 years most recently for 5-A State of Florida Champs American Heritage. He runs All Eyes DB Camp a defensive back training company located in South Florida IG: @alleyesdbcamp. Wilson's oldest son Quincy plays in the NFL for the New York Giants and his younger son plays cornerback for the Arizona Cardinals.