On February 3rd, the Miami Hurricanes received a commitment from what I believe to be one of the best cornerback / defensive back prospects in the country.  South Dade's 2020 cornerback Jaiden Francois is ranked as the 24th cornerback in the class by 247 Sports and 25th by Rivals.  Both of those rankings are too low in my opinion.
Francois is a playmaker and that becomes obvious very early on his film.  The 6'1″ 184 lb. versatile DB finds the football and makes plays on it.  One thing he definitely added to his repertoire from his sophomore season to his junior season is his ability to be dangerous with the ball in his hands when he nabs the interception.  Throwing an interception to Francois is a death sentence for the opposing team because he's likely going to take it back.  Francois also added more aggressive play to his arsenal as well.  The tackles seem to hit different on film than they did in the past.  Now,  Francois does not just bring a ball carrier down,  he runs through them in a most intimidating fashion.
From one season to the next,  Francois has gone from a solid little player to a guy that is to be avoided on the football field.  What I also like about Francois is his versatility.  He can like up at corner, nickel and even play deep in the middle or on the hash.  He's one of if not the most complete DB prospect that I have watched on film for the class of 2020.  His playmaking ability is at the top of the class.  While others may be ranked ahead of him because of factors like being standouts on offense as well,  it is Francois that presents a very high DB skill level.
There are some technique things on film that need to be cleaned up but he has instincts that are hard to teach.  The football IQ that shows up on film in reminiscent of former Cane Jaquan Johnson who is now in the NFL as a member of the Buffalo Bills.  Francois' explosiveness will at times remind you of another former Cane Sean Taylor.  I like the ceiling on Francois and I am looking forward to what his senior season brings to the table.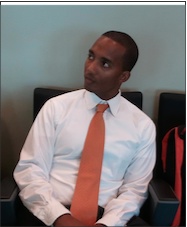 Chad Wilson is a college football recruiting expert and creator of the GridironStudsApp which allows high school football players to gain exposure to college football coaches and fans. Wilson is a former college football player for the University of Miami (92-94) and Long Beach St. ('90-'91) and played briefly for the Seattle Seahawks ('95). He is also a former youth and high school football coach for over 15 years most recently for 5-A State of Florida Champs American Heritage. He runs All Eyes DB Camp a defensive back training company located in South Florida IG: @alleyesdbcamp. Wilson's oldest son Quincy plays in the NFL for the New York Giants and his younger son plays cornerback for the Arizona Cardinals.