On Thursday it was announced that 2020 Columbus High School running back Henry Parrish was offered by the Florida Gators.  This gave him the big three trifecta as he was already holding offers from Miami and Florida St.  Parrish has been on the scene for a while but he really came into common consciousness at the beginning of this season when he went crazy in his head to head battle with the six rated RB in the country Don Chaney Jr. from Belen Jesuit.
Parrish won't wow you with measurables or dynamic runs.  That's what you need at RB to be a heavyweight in recruiting cycles.  What Parrish does do on film is all the things you like to see out of a dependable running back.  While the fanbases love to see the explosive 80 yard runs,  the truth of the matter is that a guy that can move the sticks,  put you in manageable down and distance situations consistently plus catch the ball out of the backfield are as important.  This is exactly what Parrish brings to the table.  Playing in one of the toughest areas in the country in terms of high school football talent,  Parrish has managed to put together a pretty impressive highlight reel.
Parrish's tape features natural running back skills like following his blocks, setting up defenders, running behind his pads, bursting to daylight, great vision and finishing off runs.  He's a polished product that looks like he's been a running back all his life.  He will remind you a bit of Frank Gore in terms of his natural running ability.  In this his senior year,  he has added the element of breaking tackles which has made him even more attractive.  With solid coaching and continued development,  Parrish is going to be the guy that comes out of nowhere at the next level.  He's currently ranked as the 26th running back in the country and 360th prospect overall according to 247sports.  He is holding 22 offers and is currently committed to Pittsburgh.  It looks like his recruitment might get interesting down the stretch.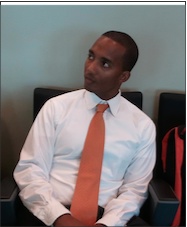 Chad Wilson is a college football recruiting expert and creator of the GridironStudsApp which allows high school football players to gain exposure to college football coaches and fans. Wilson is a former college football player for the University of Miami (92-94) and Long Beach St. ('90-'91) and played briefly for the Seattle Seahawks ('95). He is also a former youth and high school football coach for over 15 years most recently for 5-A State of Florida Champs American Heritage. He runs All Eyes DB Camp a defensive back training company located in South Florida IG: @alleyesdbcamp. Wilson's oldest son Quincy plays in the NFL for the New York Giants and his younger son plays cornerback for the Arizona Cardinals.