We all love versatile prospects and Cimmaron High School in Las Vegas, Nevada certainly has one in Branden Smith.  Smith lists his position as quarterback and don't get me wrong,  he is certainly a good one but he's much more than that.
Smith's first play on his highlight video features him at quarterback where he absolutely de-cleats a ball carrier in viral fashion.  From there we are treated to a variety of ways in which he can breakdown a defense from the quarterback position.  Smith has the speed to out run an entire defense with also the touch on his passes to throw over it.  He has the mobility to avoid a rush and find an open receiver while also making accurate throws on the run.  If you need him to stand in the pocket and allow a WR time to get into open space,  Smith can do that as well.
If there is one word to describe Smith,  it's dynamic.  His sophomore tape featured a lot of him running as a quarterback.  His early junior film indicates that he has brushed up on his passing abilities making him that much more difficult to defend.  Smith will remind you of the Colin Kaepernick that dominated in his final season at Nevada.  With just under two more seasons on the prep gridiron,  you should be excited to see what Branden Smith is going to become as a prospect.  Bishop Gorman is the school that gets all of the attention in Las Vegas but college scouts and fans are going to have to wake up to the prospect getting loose at Cimmaron High School in Las Vegas.
Check out Branden Smith highlight video:
https://www.hudl.com/video/3/9491452/5d8688492aa6480950fd5c94
Check out Branden Smith's GridironStuds Profile:
https://www.gridironstuds.com/Video/Details/284176
Download the GridironStuds Recruiting App for more information on college football prospects:
https://linktr.ee/gridironstuds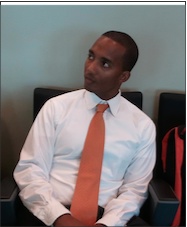 Chad Wilson is a college football recruiting expert and creator of the GridironStudsApp which allows high school football players to gain exposure to college football coaches and fans. Wilson is a former college football player for the University of Miami (92-94) and Long Beach St. ('90-'91) and played briefly for the Seattle Seahawks ('95). He is also a former youth and high school football coach for over 15 years most recently for 5-A State of Florida Champs American Heritage. He runs All Eyes DB Camp a defensive back training company located in South Florida IG: @alleyesdbcamp. Wilson's oldest son Quincy plays in the NFL for the New York Giants and his younger son plays cornerback for the Arizona Cardinals.