Defensive tackles can be the hidden factors on a football team.  When they are dominant,  offenses have a hard time operating but they can go unnoticed by fans watching the game.  You know who does notice them?  College football coaches do.  They know that the key to being solid on defense is being strong up the middle and that starts with your defensive tackles.  If you are are looking to impress college football programs as a defensive tackle to the point of being offered scholarships then there are five things that you will need to show on film.
1.  A Great Get Off
There are few things more impressive when you are watching film of a defensive tackle than one who can explode out of his stance at the snap of the ball.  I dare say that it's the most disruptive thing in the game of football.  A guy breathing over the football who can get to the quarterback or wreck the ball carrier in two seconds is something no offense wants to deal with.  If you don't have a great get off then find one asap.  College coaches know that a guy that can penetrate the line of scrimmage snap after snap causes the offense to change their plans.  When a college coach is out looking for defensive tackles,  that's the guy he is looking for.  Get in the weight room and hit the explosive lifts.  Also spend some time working on your timing.  Studying centers and finding clues for when they are going to snap the ball will also help.  If you already have a get off,  show it on film even when you did not ultimately make the play.
2.  Ability to Get Off Blocks
Defensive tackles get blocked.  There's no way around that.  They are the closest defenders to the quarterback.  So if you don't block the tackles then we simply don't have a football game.  However,  just because you get blocked doesn't mean you have to stay blocked.  The best defensive tackles,  shed blocks and find the ball carrier.  This is something you must show on film.  Perhaps you don't have the explosive get off but if you are a guy that can't get off of blocks you can't play and you definitely won't get scholarship offers.  If you are lacking in this area,  learn how to use your hands,  use your leverage and develop your lower body strength.  Being able to push the pocket on pass plays is a great thing to show up on your highlight video as well.
3.  Handle Double Teams
If you are good at points one and two then you already know what is coming.  As I said before,  defensive tackles have to get blocked if the offense is going to move the football.  If your get off or ability to shed blocks is a great then the offense will honor that by devoting two men to block you.  If you have the ability to stall two men at the line of scrimmage or better yet,  split them then put that on your highlight video.  You can even include plays on your film where you didn't make the tackle but you defeated a double team block.  Holding your ground against these types of blocks means other guys on the defense can operate at a high level and college coaches love that.
4.  Motor
You want to see a coach throw a visor?  Then have a defensive tackle cut off a big play near the sidelines.  If the biggest guys on the defense also hustle on every play then the coach calling offensive plays knows that it's going to be a long day.  If you are a guy that can separate from a block to run to the sidelines to make a tackle on a sweep or stretch play,  put that on your highlight video.  If you are a guy that will rush the passer then turn around and go find the receiver when the ball is thrown,  put that on film.  Show your hustle on film even when you didn't end up being the first guy on the tackle.  Hustling is a mentality.  If you don't have that then go develop it.  Not only will it catch a college's attention but it will help your high school team have a bad ass defense.  You have to love that.
5.  Pass Rush Moves
Last but certainly not least,  you have to get to the passer.  Football has become very offensive and pass happy.  Everything revolves around the quarterbacks so if you can make his operations difficult you bring tremendous value.  Defensive tackles must stop the run first.  However,  if you can make the quarterback uncomfortable by landing on him or making him leave the pocket frequently you are a scholarship worthy player.  The best way to accomplish this is by having a set of pass rush moves.  I am not just talking about a bull rush.  I am talking about martial arts type hand movement that makes you as slippery as an iPhone without the case.  If you have that ability,  display it.  If you are missing that part of your game,  start studying and acquire these special set of skills.  Failing to do so may result in your scholarship offers staring in the next installment of the "Taken" movie series.
So,  after reading this,  do you have these skills?  If so,  strategically place them in your highlight video to capture the attention of defensive line coaches and coordinators hitting the recruiting trail.  If you are lacking these things then you have stuff to work on.  Get busy.  Possessing all of these factors can aid you in getting on a school's board even if you are undersized.  Control what you can control and see what results you get.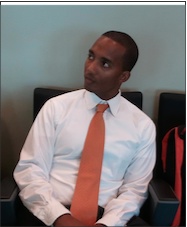 Chad Wilson is a college football recruiting expert and creator of the GridironStudsApp which allows high school football players to gain exposure to college football coaches and fans. Wilson is a former college football player for the University of Miami (92-94) and Long Beach St. ('90-'91) and played briefly for the Seattle Seahawks ('95). He is also a former youth and high school football coach for over 15 years most recently for 5-A State of Florida Champs American Heritage. He runs All Eyes DB Camp a defensive back training company located in South Florida IG: @alleyesdbcamp. Wilson's oldest son Quincy plays in the NFL for the New York Giants and his younger son plays cornerback for the Arizona Cardinals.