Defensive line has been one of the better places for athletes to go and earn football scholarships over the last decade in high school football.
Since football on all levels has turned into a passing game, a premium has been placed on the ability to rush the passer. This has led to many would be basketball player types moving to football and earning their scholarship money rushing the passer.
With that being the case, I'm going to show you in this article for ways that you can stand out on film as a defensive tackle and grab those scholarship offers from college football programs.
Have a Great Get Off
If you're trying to jump out on the film when a coach or coaches are watching,  having a great get off is perhaps the best way to do that. There's just something about watching a big man leap out of his stance,  get into the gap and explode into the backfield consistently on film.  Of course you will need to make plays when you do that but even if you aren't,  coaches will be of the mindset that they can teach you how to make those plays when you get back there. It's harder for them to teach you how to get back there in the first place. Spend a significant amount of time working on your get off and being quick off the ball when it is snapped.  The best place to start with that is in the weight room and with your explosive lifts, like power cleans, squats, and deadlifts.
Fluid lateral movement
Going forward fast is always exciting but we all know at some point the offense will put obstacles in your way. If you could show on film that you can counter those obstacles with solid lateral movement,  you can catch the eye of recruiters. Being able to slant to a gap, run a stunt or occasionally avoid a block to make a play is a huge plus for a big interior lineman.  Most guys are a one trick pony that can only go forward.  Showing versatility to your game by being able to go left or right with quickness will only increase your value.  Don't ignore training your agility in the off-season.  This means you will have to get out on that field and do some cone work.  Make sure you're staying low in your drills and not creating bad habits.
Excellent pass rush moves.
Remember when I said football is now a passing game. It's cool if you can stop the run as a big defensive tackle. It's even better if you can push the pocket, penetrate through gaps and affect the passer as well.  When defensive tackles can push the pocket, or move the passer off his mark it makes the entire pass rush that much better.  Avoid being that guy that is a magnet for blocks when the offense is passing the football.  Spend time learning how to swim,  rip, hook and get an offensive lineman's hands off of you, so you can get into the Quarterbacks's chest. Developing this will require some study time as well as some drill time.
Pursuit
If you have all three of the things I described above, the icing on the cake is going to be a guy that has good pursuit. Perhaps the second best way to stand out on film is to be a big guy with a high motor. Many college coaches will tell you watching a big man run from sideline to sideline or pursue a ball carrier down field gives them the feeling that they have a winner. One of the hardest thing for coaches to coach is effort.  Typically,  that is found within the player.  If this is something you lack, get to work on developing that now.  To be honest with you,  few coaches can bring this out in you.  It is really something that you're going to have to find within yourself.  It starts with you being in shape, so get your conditioning in during the off-season.  Don't forget it stick to it while you're in season too.  Being in good shape gives you the energy to go chase down ball carriers.  On defense it's all about getting to the football.  Show up on film by always being around the football.
If you can show these four things on film and you're not built like an outside linebacker or safety,  you have a really good chance of being recruited by college football programs as a defensive tackle.  You can achieve this, even though you are not the ideal height and weight.  All of the things described in this article are going to require you putting in some real work to achieve. Getting a college football scholarship offer is a great thing and nothing great achieved in life will come easy. So put your work boots on.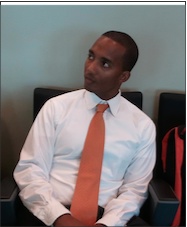 Chad Wilson is a college football recruiting expert and creator of the GridironStudsApp which allows high school football players to gain exposure to college football coaches and fans. Wilson is a former college football player for the University of Miami (92-94) and Long Beach St. ('90-'91) and played briefly for the Seattle Seahawks ('95). He is also a former youth and high school football coach for over 15 years most recently for 5-A State of Florida Champs American Heritage. He runs All Eyes DB Camp a defensive back training company located in South Florida IG: @alleyesdbcamp. Wilson's oldest son Quincy plays in the NFL for the New York Giants and his younger son plays cornerback for the Arizona Cardinals.