I was in my senior season at the University of Miami.  As luck would have it,  the Super Bowl was in Miami that year.  The San Diego Chargers were taking on the San Francisco 49ers.  Even more luck was upon me as the 49ers were using our facilities to prepare for the big game.  What I learned from that experience stayed with me for a lifetime.
We weren't allowed to see the 49ers practice as those things,  for the most part,  were top secret.  However,  on one day,  a couple of us players stepped into our head coach's office where we could see the practice field.  Already legendary for his work ethic,  I expected to see Jerry Rice working up a sweat.  I did not expect to see a maniac.  Rice sprinted to the end zone on every pass he caught and as you could imagine,  he was thrown many of them.  He would then turn around and run back down to catch his next rep.  When the first team came out,  guys grabbed Gatorade.  Rice grabbed a trainer who threw him balls continuously until the first team was back in again.  It was insane to watch.  Rice was in his 11th year as a pro and nowhere close to getting cut but was behaving like he was told he was on the chopping block.
Working almost as hard on the defensive side of the ball was Deion Sanders who was then a 49er.  Sanders would sprint to the other side of the field on a run play and get back to his spot for the next play.  This was the king of coverage making sure he was where he needed to be on a run play.  When the horn sounded to change periods,  both Sanders and Rice would sprint to the next field they were required to be on for the ensuing period.  Two future Hall of Famers,  blessed with God given ability in bunches,  not taking anything for granted.  I left our coach's office saying the 49ers by 50! There was no way the Chargers could contend with a team where the two best players worked as hard as this.
As I have reflected on that day throughout the years,  I am reminded of the cost there is to achieve a goal.  The greater the goal,  the greater the cost.  Over my time as a coach,  I witnessed many a kid earn a football scholarship but many more who didn't.  At times,  I have seen those who didn't,  perhaps out of jealousy,  throw shots at those who did.  "Oh he's just tall" "He just had good genes." "He's just fast".
When I hear those things,  I just think of two of the best athletes the NFL has ever had,  busting their tail to be the best.   There's a cost to be a college football prospect.  It means intense weight training.  This means constantly trying to add more weight to the bar and surpass today what you did yesterday.  It also means doing more than what the coach wrote on the board as today's workout.  It means doing pushups and lunges at home while others are playing Playstation.
When everyone else is pacing themselves through a conditioning workout,  a college prospect is probably running at a faster pace even though, like everyone else,  he really doesn't want to.  A college prospect is getting some extra running in too most likely on the weekend,  at night or even bright and early in the morning. He's doing this while others are enjoying their Saturdays and Sundays or laying in bed late.
Speaking of Saturdays and Sundays,  those times are made for rest and relaxation.  That is not the case if you are a serious college football prospect.  Your weekends are made for running and extra position work.  That prospect is either playing another sport,  at a track meet or playing in a 7on7 tournament often out of town.  If he's not doing that,  he's working with a trainer to raise his level of play.  This is going on while you are at the mall or on the yacht or at the beach.
You know how you go on a vacation with the family to some European destination,  historical American city,  lovely mountain or fun lake in the summer? Not the college football prospect.  To earn the scholarships he wants,  he's going on a tour of colleges to participate in their camps against 100's of others trying to catch the eye of the college football coach.  He's in the sun,  sweating it out,  pushing and pulling against another athlete willing to die for an offer.  Around the time you are on the boat making a tight turn around the buoy in the lake laughing with friends,  the college prospect is bending around a sweaty offensive tackle grunting to bury his face in the turf.
In the midst of all this extra work,  that legit college prospect must find time to focus on and complete his classwork to maintain the required GPA so that he can even accept a college football scholarship when it is offered.  I played major college football and for national championships.  I myself was a guy who had pride in putting in extra work.  Even still,  I was shocked at how hard Rice and Sanders worked.  So when I write this,  I am not writing it to the common student (though the message is for you too if you like to criticize athletes).  I am writing to you guys on the football team who bitch about not getting a scholarship and think the guys who did EARN them got them by being lucky.  You thought the bare minimum was enough.  You were wrong.  You thought just practicing and playing the game was enough. You were wrong.  You thought that you could play ball,  sacrifice nothing and still get what the next man got.  Again,  you were wrong.  Each year over 300,000 people want what you want.  If you thought it was going to be easy,  I'm here to tell you one more time,  you are wrong.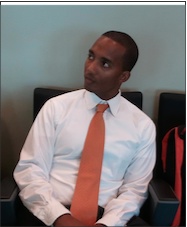 Chad Wilson is a college football recruiting expert and creator of the GridironStudsApp which allows high school football players to gain exposure to college football coaches and fans. Wilson is a former college football player for the University of Miami (92-94) and Long Beach St. ('90-'91) and played briefly for the Seattle Seahawks ('95). He is also a former youth and high school football coach for over 15 years most recently for 5-A State of Florida Champs American Heritage. He runs All Eyes DB Camp a defensive back training company located in South Florida IG: @alleyesdbcamp. Wilson's oldest son Quincy plays in the NFL for the New York Giants and his younger son plays cornerback for the Arizona Cardinals.