You were finally coming around.  Things were starting to fall in place.  You had a plan for your spring semester as well as summer trips planned to the colleges.  The only thing that could mess this up would be a virus that affects the entire World and causes our entire country to shut down putting the football season in jeopardy.   There's no chance that could happen.  Oh well guess what?
With the college football season being an uncertainty and the 2020 high school football season in many states being on life support,  the 2021 class is getting one heck of a raw deal as it pertains to college football recruiting.  Those highly ranked and with solid offers in place are not feeling the pinch. However,  prospects who are on the bubble and still waiting for their first committable offer have their hands nervously hovering over the panic button.
We are in unchartered waters but if there is anything that we have learned in this society during this Covid-19 epidemic its that having a plan is the key to life.  For under-recruited and non-offered '21 prospects,  disaster has struck.  You do not have the ability to be evaluated during Spring football and you do not have the ability to be evaluated on campus at college summer camps.  This means getting that offer is going to be difficult.  What it does not mean though is curl up into the fetal position and die.
Here are three things you need to do to help yourself in recruiting during this pandemic
(1)  Make Sure Your Hudl Video is Well Put Together
Now more than ever,  your Hudl highlight video is important.  Without any of the other ways available for a coach to really evaluate you,  the eye in the sky is going to be your biggest friend.  You must have a highlight video already put together right now.  In fact,  if you don't,  you are basically telling the colleges that you aren't really serious about football.  There's just no way around that.
No serious football player entering into their senior year does not have their highlight video put together.  If that's you then I am telling you that you aren't serious about ball.  Just having a highlight video is not enough though.  The highlight video must be done right.  Follow the simple rules.  Put your best plays first.  Show all that you can do in the first minute of the video.  Edit the clips if they show too much before and after the play.  Highlight yourself before the snap, etc.  I have written multiple articles on how to make a highlight video that sells you. Type "highlight video" in the search bar of this blog and read away.
(2) Film Workout Videos
It worked for the the prospects in the 2020 NFL draft,  it's bound to work for you.  Perhaps you were injured your junior year or you,  for whatever reason,  do not have much in terms of highlights.  Again,  don't curl up and die.  If you are a good athlete,  film your workouts.  Are you fast,  show yourself sprinting.  Are you agile,  film yourself doing your position drills.  If you are strong in the weightroom, film yourself moving some weight.  Yes,  I know it's hard to find a gym or park space right now but where there is a will there is a way.  Show something you are strong at doing.  Do not film,  with the intent of distributing,  video of yourself doing something that you are not very good at doing.  Play up your strengths.
Once you have captured video of yourself doing those things that you are exceptional at doing,  start posting them on social media and getting them out via email or DM to college coaches.
(3)  Send Messages to Coaches
This leads to the third,  final and most important thing you need to do.  Develop a serious list of schools that you wish to target.  Then compile a list of coaches from those schools you need to get in touch with.  For the most part,  you should get contact info for three coaches at the school you are interested in.  First the recruiting coordinator.  Second the position coach.  Third the coordinator for the side of the ball you are on.  You can throw in the head coach if nothing else works but he's like the big boss at the end of a challenging action video game.  You have to get through all of the other guys first.
Limit your enthusiasm in this list making.  With precious little time and evaluation,  be smart about your list.  Sure go after some dream schools but include a healthy amount of schools you think you have a good shot at and those you know you have a shot at getting offers from.  None of us know how these next six months will go.  A bird in the hand is worth a dozen in the bush right now.  Secure a scholarship offer.
Send those coaches a nice but short note detailing your intentions.  Flat out ask them to watch your video(s) and evaluate you.  Be bold,  ask for what you want.  Send them your well put together Hudl video.  Supplement that with your workout videos showing what you can bring to the table as a player in their program.  Certainly detail your high points including high academic achievement.  This is no time to be shy.  The same way people were getting punched in the face for toilet paper two months ago,  is the same way the frenzy over the remaining scholarships will take place over the Summer and Fall.  You better have your guard up and know how to throw a right hook.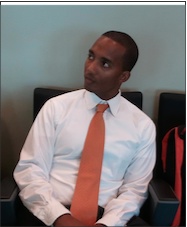 Chad Wilson is a college football recruiting expert and creator of the GridironStudsApp which allows high school football players to gain exposure to college football coaches and fans. Wilson is a former college football player for the University of Miami (92-94) and Long Beach St. ('90-'91) and played briefly for the Seattle Seahawks ('95). He is also a former youth and high school football coach for over 15 years most recently for 5-A State of Florida Champs American Heritage. He runs All Eyes DB Camp a defensive back training company located in South Florida IG: @alleyesdbcamp. Wilson's oldest son Quincy plays in the NFL for the New York Giants and his younger son plays cornerback for the Arizona Cardinals.