If you learned one thing about recruiting from me on this blog it's that self awareness can be your biggest asset or your biggest weakness.  Failing to have it will undoubtedly lead to you making a series of bad decisions that will likely turn your college football career (if you even have one) into a nightmare.
In that same vain,  today's discussion in this blog post is directly related to having good self awareness.  Football is a sport where quitting is frowned upon.  A never say die attitude is needed in training and certainly on Friday nights when things aren't going your way.  It's a strong life lesson that every football player should stuff in their pocket and carry with them.  However,  there is quitting and there is steering yourself in the right direction.
When recruiting starts for a high school football player whether that is actual offers or the desire to obtain offers,  everyone has their favorite school.  Everyone also starts off wanting to play big time football and why not.  Growing up you may have dreamed of playing on TV in the big games that you saw on CBS, ABC or ESPN.  To you,  that is college football but in reality college football is much more than that.
College football is also Yale vs. Harvard,  North Dakota St. vs. Georgia Southern and Mount Union vs. Wisconsin-Whitewater.  In other words,  on college campuses across America on a Saturday in the Fall,  football is being played.  Just because Lee Corso and friends are not at your school putting on mascot hats in pre-game doesn't mean it's not college football.  I'm here to tell you that you can enjoy a college football experience at Grambling just as much or even more that you do an experience at Clemson.
In the beginning of your college football scholarship journey,  it's fine to pursue the big name schools that everyone is gunning for.  However,  it is important to know when the gig is up and it's time to set your sights on a different set of schools.  Even if you are being pursued by Power 5 schools but not necessarily by the one(s) you had in mind,  it's time to know when when to fold 'em and get focused on the ones that really want you.
Every recruiting cycle is filled with guys who forced the issue by pursuing the big time schools too long or waiting too long to get the proper attention from their all time favorite.  What results is being left at the altar by all schools or a decision being made to go to a school that doesn't really want you and is not a good fit.
So,  how do you avoid this.  First and foremost you are going to need that all important thing,  self awareness.  Be honest about your current skill level,  attributes and ability to contribute.  It's ok to believe in your potential but realize that potential doesn't last long when you arrive on a college campus.
Over the last couple of decades,  the speed at which players move through a college program has escalated at a blinding pace.  Whether it has been more and more players declaring early,  dropping out or hitting the transfer portal,  things happen quickly for athletes in college football programs.  You know what else happens quickly?  Recruitment of your replacement.  Even when you are great,  coaches are looking for your replacement after year one.  They figure you will be leaving in another year and a half.  Sometimes they get your replacement on campus,  you get an injury and there goes your replacement in there doing things to make them forget you.
With things happening at a more rapid pace,  your decisions must come quicker and be more precise.  High school football players who recognize early where they stand in the whole recruiting puzzle are the ones who land the limited amount of scholarships that are available.  Here are some tips to help you realize where you stand.
First,  honestly assess what kind of interest the schools you are interested in are showing you.  If you have been playing varsity football for over a year and you have not received an offer from those top tier schools,  start thinking about the level or two below that.  If you've completed two varsity seasons (sophomore and junior) and those schools have not offered then it's time to get serious about the smaller D1's and D2's.  Secure your place.  If you happen to blow up as a senior and they come calling then you can take a look at the situation then.  It still may not be in your best interest to accept the offer.   Power 5 football programs try to sew up their classes by the end of the players' junior seasons for the following season.  This often means they have been actively pursuing the prospect for a year or two (sometimes more).
Second,  assess your physical attributes  and compare them to the players that are highly recruited.  If you've read my blog post Recruiting,  Like Beauty Contests, Has A Lot to Do With Looks then you know that programs really are recruiting primarily off of physical dimensions.  College football programs want height, they want weight and they want speed.  Where do you stack up in that department compared to the highly recruited?  Go take a stroll through Rivals or 247sports Top 100 for your class.  Do you measure up to the prospects favorably in those areas?  If you do then you may stand a reasonable chance of being recruited if you are willing to put the work in.  If you do not then realize that you are facing an uphill battle if your growth gets stagnant.  You may turn out to be an awesome high school football player but just don't meet these requirements similar to not having the necessary SAT score to get accepted to Yale.  Start making a plan to court the attention of schools at a lower level.
Third,  take a serious look at how much you have played.  Experience in life is an important factor.  Having it certainly helps.  Going about getting it can be tricky.  Those who are savvy about it,  tend to be the ones who prosper.  If you lack the physical attributes and you don't have much experience playing,  you 100% need to set your eyes on lower level D1, D2 and D3 football.  It is what it is as they say.  Go where you can play,  gain the experience and have a career.  If you have the physical attributes but have not played much for some reason,  then you can consider things like junior college.  Junior college can allow you to gain the experience,  up your skills and catch a big schools eye with your physical attributes.  Whatever the case may be,  make this assessment quickly,  preferably by your junior year.
Finally and this is mostly for the players who do obtain division I or even Power 5 offers.  If you are not the ideal height or speed,  go through the history of the school you are considering.  Have they had success with a player like you before?  For instance,  has the school you are looking at had a successful 5'9″ slot WR like yourself?  If so,  then they will likely have more patience in bringing you along if you remind them of someone else that worked out.  However,  if they haven't and you aren't good early,  they will be really quick to replace you with someone more ideal.  Forcing your square self into their round hole can be very painful.  It's cool to get an offer from your dream school but going there isn't always best.
Sometimes in the recruiting game,  as in life,  the deck is stacked against you.  What matters most is how you handle it.  You can cry about it,  get frustrated and force yourself into a bad decision that can leave you busted emotionally.  Or,  you can quickly assess the hand that has been dealt to you and make the wise play by changing course.  A great country singer once said " You gotta know when to fold 'em."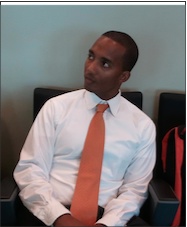 Chad Wilson is a college football recruiting expert and creator of the GridironStudsApp which allows high school football players to gain exposure to college football coaches and fans. Wilson is a former college football player for the University of Miami (92-94) and Long Beach St. ('90-'91) and played briefly for the Seattle Seahawks ('95). He is also a former youth and high school football coach for over 15 years most recently for 5-A State of Florida Champs American Heritage. He runs All Eyes DB Camp a defensive back training company located in South Florida IG: @alleyesdbcamp. Wilson's oldest son Quincy plays in the NFL for the New York Giants and his younger son plays cornerback for the Arizona Cardinals.