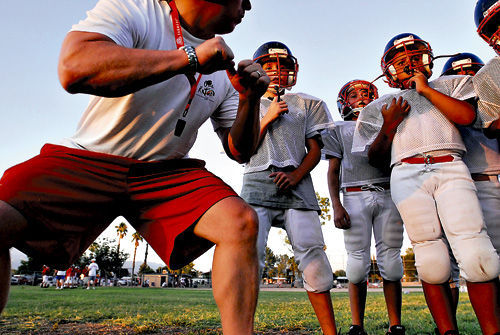 By: Kevin Moritis
Twitter: @DefnseUnivrsity
You just became a youth HC and you want to build a good team and have success both on and off the field. You must make lots of decisions and here are some ideas that will help you. One of the most difficult ones you will make is to not become a "Daddy Ball" team. One of the rules I had was that my coordinators couldn't be on the same side of ball their son was. That was the toughest one and it did cost me players in my first year, but not after that. We are a team and that set the tone for being one.
 1. Get the Right Coaches
The first thing to having a successful season is to have a group of coaches that can teach the game. You are building players for the future and you must be able to TEACH the fundamentals and techniques to these kids. Build your staff starting with a great Oline coach. That's where it starts. Each coach should have experience in the position they coach. Assign a special teams coordinator. You should have coordinators that can adapt to the talent they have and not force a system on your players.
2. Create a Practice Schedule
Your practice schedule should ALWAYS be scripted and planned for each night you have practice. Arrive and get your kids ready to shake it up and start warm ups. Each period should be 10 -15 mins max and you need to keep your kids flowing. Give out water breaks as needed but keep your tempo high. You can vary your script to fit your team needs but stay to it. Each position coach should have drills ready to go that fit their players and are transferred to game day. Focus on the fundamentals and get their technique right.
3. Select the Right Days to Practice
Youth practices should only be Monday -Thursday. If you get rained out then you can use Fridays. But get your work done those 4 days. Fridays are traditionally for walk thru and to the kids that means 'goof off'. The players can use the night off and you can get a walk thru done before game. During the season you will have players on your team who have brothers or cousins that play high school ball and want to go to that. Encourage that. Go take the team as a group to a game, so they can see what they are going into.
4. Make Special Teams a Priority
Most youth teams don't work on special teams, like they should. if you want to be successful then do not ignore this or do all specials on one night. Each night do one phase and work hard on it. It will win you a game or two because you did work on it. Then get a KICKER!!! One that can drive the ball thru the end zone and make FGs. Let them kick 30-40 FGs a night.
5. Make it Fun
Make sure you have FUN. Its football and it should be great night of getting better and developing your players and putting them in position to be successful not just as players but as young men. Next here are some things I learned in 20 years of coaching youth football.
10 Point Coaching Creed
BE A STICKLER TO DETAILS – NOTHING GETS BY US
COACH HARD AND FAST – KEEP A TEMPO IN DRILLS
USE EXPERIENCED PLAYERS TO HELP YOUNG ONES
BE POSITIVE WITH PLAYERS
BE FIRM AND DEMANDING WITH PLAYERS – FORCE THEM TO ELEVATE THEIR PERFORMANCE DAILY
EXPLAIN TO THEM THE PURPOSE OF THE DRILL – BE ABLE TO CONNECT IT TO ON THE FIELD SITUATIONS
HAVE A PLAN – KNOW WHAT OPPONENT DOES AND HAVE IDEAS IN PLACE TO TEACH KIDS HOW WE WILL BE ATTACKED BY THE OPPONENT
DEMAND DISCIPLINE IN YOUR PLAYERS –
LEARN WHAT MAKES YOUR PLAYERS TICK – TAILOR COACHING TO PLAYERS INDIVIDUALLY
NEVER BE AFRAID TO PUT AN ARM AROUND A PLAYER – SHOW THEM YOU CARE AND THEY ARE NOT JUST A NUMBER.
10 Rules for Players
BE ON TIME (10 MINUTES EARLY) – HAVE THINGS OUT AND READY TO GO I WILL NOT WAIT ON YOU!!!
BE ATTENTIVE TO DETAILS – THESE WILL ALLOW YOU TO WIN BATTLES WITH OPPONENTS WHO MAY BE BETTER THAN YOU
BE COACHABLE – TAKE THE COACHING AND LEARN – DO NOT GET DEFENSIVE AND POUT!!!
LISTEN THE FIRST TIME, EVERY TIME – WE DO NOT HAVE TO TIME TO FIX ALL OF YOU INDIVIDUALLY!!!
FIX THINGS AS THEY ARE COACHED – NOT WAIT UNTIL YOU ARE SPECIFICALLY TOLD – LEARN FROM MISTAKES OF OTHERS!!!
BE RESPECTFUL OF COACHES, TEAMMATES, AND YOUR SCHOOL – ALL PROVIDE YOU THINGS YOU NEED FOR SUCCESS – NEGATIVE ATTITUDES HAVE NO PLACE ON THIS TEAM!!!
GO HARD ALL THE TIME – EFFORT = WINS
POUTING IS NOT ACCEPTED HERE – LEAVE IT AT HOME!!!
WATCH FILM ON YOUR OWN AND LOOK AT NOTES – COACHES GIVE YOU TIPS NOT FOR OUR HEALTH BUT FOR YOURS, USE THEM!!!
ATTITUDE IS EVERYTHING – BE EXCITED FOR EVERY CHANCE YOU HAVE TO PLAY OR PRACTICE – YOU NEVER KNOW WHEN WILL BE YOUR LAST OPPORTUNITY TO PLAY THE GAME!!!
Chad Wilson is a college football recruiting expert and creator of the GridironStudsApp which allows high school football players to gain exposure to college football coaches and fans. Wilson is a former college football player for the University of Miami (92-94) and Long Beach St. ('90-'91) and played briefly for the Seattle Seahawks ('95). He is also a former youth and high school football coach for over 15 years. Wilson's older son Quincy plays in the NFL for the Indianapolis Colts and his younger son plays cornerback for the University of Florida. Email: cwilson@gridironstuds.com.