One of the most common questions I get asked is how to get in touch with college football coaches and scouts.  Some prospects mistakingly think that they are supposed to sit around and wait for them to reach out to them.  While that may happen,  it is important to note that often times you will have to take matters into your own hands and reach out to them. If you're looking to get in touch with college football recruiters, here are some effective ways to do so:
1 – Attend football camps: 
Attending football camps organized by colleges or third-party organizations can be an excellent way to showcase your skills in front of recruiters. These camps often have college coaches present, providing you with an opportunity to make an impression.  Aside from that,  there is plenty to learn from these camps if you are paying attention.  Whether you get attention from reporters, scouts or coaches at these events,  you can make it a point to talk to those individuals.  Strike up a conversation with them and pick their brains about recruiting and how you can go about getting exposure.  Chances are you will make a good impression on somebody important and it could lead to something.  Also,  get their contact info so you can reach out to them later.  Furthermore,  you are being coached at these events.  If you learn one new technique at each camp,  think how much better of a player you will be when your season comes. 
2 – Reach out via email: 
You can find the contact information for college football recruiters on college websites or recruiting databases. Draft a personalized email, highlighting your achievements and expressing your interest in their program.  Find the email addresses for every Division 1 and 2 coach can be a tedious task.  However,  it can be done as I have personally done it.  You can also hire someone on Upwork or FiveRR to complete this task for you.  Despite what you think,  you can do this for a reasonable amount of money.  The truth of the matter is that college coaches still primarily communicate through email.  Coaches are essentially working for a company and most companies require that correspondence be done via email between workers as well as with prospects.  You can find college coaches in their email inbox. 
3 – Utilize social media
Social media platforms like Twitter and LinkedIn can provide you with direct access to coaches and recruiters. Follow the coaches of your preferred colleges and interact with them through posts or messages. If there is a social media platform that most coaches use it's Twitter.  Perhaps you don't use it as much because you favor Instagram or TikTok for a variety of reasons.  However,  the people you want to make contact with,  college coaches,  can be found on that platform.  It makes sense for you to have a presence there even if it's strictly for recruiting and to post info on your football career.  Set up something on Twitter so that coaches have the ability to easily reach out to you.
4 – Contact your high school coach
Your high school coach can help you connect with college coaches and provide valuable insights into the recruitment process. They can also provide you with advice on how to improve your skills and make yourself more attractive to recruiters. Believe it or not,  your college coach is there to help you get recruited.  Some high school coaches are more helpful with this than others.  Speak to your coach about what your plans are and get feedback from him on both how he can help and how you can make that happen.  Get as much as you can from your coach and use it in conjunction with the other helpful thinks you are learning about in this article. 
5 – Attend college games
Attending college football games can give you an opportunity to meet with coaches in person. If you're able to speak with them, be prepared to introduce yourself and briefly highlight your achievements. Be able to summarize the best of what you have accomplished and that you would like to do in 60 seconds.  When you meet a coach he may likely be short on time.  Being able to impact him with your message in under a minute is a superpower.  Practice your pitch within that time frame.  Outside of that,  if you have local colleges that play football,  try to attend their games.  See if you can get an opportunity to meet the coaches before or after the game.  Sometimes getting on their radar is as simple as meeting them and telling them who you are.
6 – Set Up A Profile On GridironStuds App
The GridironStuds App was created to give players an opportunity to gain exposure to college football coaches.  The app allows prospects to create a profile detailing all of their attributes and accomplishments along with vital information for their recruitment like academic info, weight room achievements and athletic numbers. College coaches search the app for prospects using the filters.  From there,  they can begin the recruiting process after becoming aware of them.  The app also allows college coaches to follow a prospects recruiting updates when they update their statuses. 1000's of high school prospects have gotten recruited as a result of using the GridironStuds App.  You can download it to your iPhone or Android by going here.
Remember to be persistent, yet respectful when contacting recruiters. They receive a high volume of emails and messages, so it may take some time for them to get back to you. Keep working hard and showcasing your talents, and eventually, the right opportunity will present itself.  It is important to note that you are important to you but the fact remains that there are 1,000s upon 1,000s of prospects that would like to do the same thing as you.  Never cop an attitude with a coach or show your anger because they have not shown you the attention you feel you deserve.  Just continue to find ways to get their attention and present your message.  Through your persistence and improved play you will achieve your goal.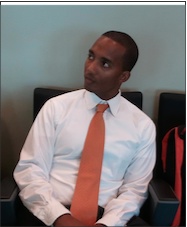 Chad Wilson is a college football recruiting expert and creator of the GridironStudsApp which allows high school football players to gain exposure to college football coaches and fans. Wilson is a former college football player for the University of Miami (92-94) and Long Beach St. ('90-'91) and played briefly for the Seattle Seahawks ('95). He is also a former youth and high school football coach for over 15 years most recently for 5-A State of Florida Champs American Heritage. He runs All Eyes DB Camp a defensive back training company located in South Florida IG: @alleyesdbcamp. Wilson's oldest son Quincy plays in the NFL for the New York Giants and his younger son plays cornerback for the Arizona Cardinals.