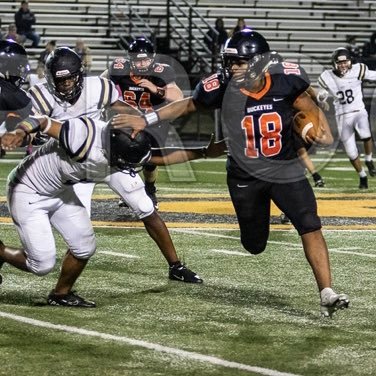 By: Chad Wilson – GridironStuds
Twitter: @gridironstuds
Not too long ago,  Timex watches had an ad campaign with the slogan "Timex watch…. It takes a licking and keeps on ticking."  I don't quite remember why your watching surviving a beating was a big selling point back then but the slogan reminds me of today's Underrated Stud,  Keith Rockwell out of Gilmer High School in Gilmer, Texas.
Rockwell is a 2023 prospect that is well put together.  As my intro would suggest,  he's not one to shy away from contact.  In fact,  if you are standing around on the football field when he comes through,  he's going to invite you to some contact.  At 5'10" 200 lbs. as a sophomore,  Rockwell is built for the padded action.  Routinely on his highlight video you will see him run through defenders either with a pad, a helmet or the stiffest of stiff arms.  His well developed thighs make a low tackle less palatable for oncoming defenders who either slip off or bounce off when they arrive.  He lists a squat of 450 which is impressive for a sophomore with two more years left in a high school weight room.  If he stays at it,  he could walk out with his diploma and a 600 lb. squat.
What I also like about a back this size and with this power is that he also has a soft pair of hands.  He's not just a slug that pounds into the line of scrimmage over and over.  He can leak out of the backfield,  snag a pass and rumble through the secondary.  With football becoming more and more of a passing game,  a back like this being able to work his way into the aerial attack makes him that much more valuable.  I am certainly eager to see how he progresses over the next two seasons for Gilmer.