8th Grade Running Back Turns Football Establishment on it's Ear.
It's 7:58 P.M. on a Monday in the Michel household. Sony Michel grabs the remote control for the living room television and changes the channel to Fox Sports. Someone remarks that the game (FedEx Orange Bowl) is not on yet but Sony could care less. The game will be on soon and he wants to be on the channel before it's time. For Sony Michel, it's been a lifetime of doing things before he's supposed to.
Michel burst onto the scene in 2009 when he strapped American Heritage High School on his back and led them to the playoffs behind his 1,800 yards rushing and 20 TDs. Certainly, these are strong numbers but certainly nothing that has not been accomplished by other backs in the great state of Florida. However, when you consider that Michel was 14 years old and in the 8th grade, you are forced to realize that Michel is in uncharted waters.
Yes, I said it, Michel is in the 8th grade. American Heritage is a private school that services children from kindergarten through 12th grade. This fact allowed Michel to take the field as an 8th grader and take the State by storm.
Many have been amazed by what Sony Michel has accomplished but for those in the Michel household and in the surrounding Pembroke Park neighborhood he grew up in, there was never any doubt that Michel would excel on the varsity gridiron this year.
"I expected him to do well," said Marken, one of Sony's older brothers who is a highly talented wide receiver on American Heritage's team. "He was not going to be your typical 8th grader."
Doubts from outsiders has been a way of life for Sony also. However, the doubts about Sony have not been about what he can do. They have been about his true age. Not many 8th graders are 5'11 180 lbs. with 4.4 speed and 10.9 speed in the 100 meters. As Sony grew up playing football and running track, there was always controversy about his age. This would always come after Michel either ran a team into the ground on the gridiron or left them in the dust on the track. Official meetings by event organizers after Sony's performances were the norm. Sony never let it bother him.
"I got used to people hatin," said Sony. "It made me feel like I was real fast."
Sony was born on February 17, 1995 in an Orlando, Florida hospital. A fact backed up by strong head nods from his father sitting on the couch. Sony's father thinks it's ridiculous that these doubts exist especially when he was there to see his son born 14 years ago.
Sony's athletic career began on the baseball diamond. He and Marken played baseball for three seasons before the baseball program at their park folded. One day, a football coach from their neighborhood park spotted both Sony and Marken and encouraged the pair to play football. Coach Dennis Butler took the brothers onto his 80 lb. team and introduced them to the sport. With their good size but limited knowledge of the game, both brothers were placed on the offensive line their first season. They would never see the line again after that first year.
The following season, Marken, who's 20 months older than Sony, moved up to a higher weight class and Sony stayed behind. One day while Coach Butler was away from practice, Sony destroyed the starting running back in a hitting drill. Butler's assistant coach called him and told him that he thinks Sony had the talent to play running back.
"I was surprised at his determination to play running back," Butler said. "He did not want to go back on the line."
That determination would mark Sony's rise to success as he never looked back from that point forward. Sony would eventually replace the starting running back who moved to another park's football program. From then on, he would run through, around and over opposing defenses leading his team to many victories. Sony would team up with Marken again on the 115's and the two were a formidable pair. As a member of the 165 lb. team at West Dade Optimist, the pair led their team to a win over Luther Campbell's Liberty City team. Campbell's team had not lost a game in five years.
A big part of Sony's game on the gridiron is his speed. From an early age, Sony showed the ability to run.
"I think running the bases made me faster," Sony explains.
By 11 years old, coach Butler started a track team to "give the kids something to do." Sony was an instant success. He would go on to win every 100 meter event that he entered into that season and this led to biggest noise about his age.
"I had to bring my original birth certificate to one meet," said Sony.
His dominance and size led to much skepticism but in the end, opponents were forced to deal with the fact that he was of legal age for his group.
"The same ones that said he was too old were the same ones that looked stupid when be brought his birth certificate," Marken stated.
By the time 8th grade rolled around, Sony was ready for bigger and better challenges. He had dominated the youth leagues and even had a stint in a league known as the Diamond League. The league was started by a coach in the neighborhood who wanted to keep the kids out of trouble. What the Diamond League allowed Sony to do was compete against 17 year olds when he was 12. Sony did not take the Diamond League by storm as he had at South Florida Optimist but it did give him the opportunity to bang heads with older kids and have no fear of older competition.
When the 2009 season rolled around and Sony was brought to American Heritage, his eyes were on varsity eventhough others had their doubts. An assistant coach for the varsity team insisted that there was no way that an 8th grader could take a varsity football pounding. One afternoon in summer drills changed that thought.
American Heritage head coach Byron Walker observed Sony giving 11th and 12th graders all they could handle and declared that the kid would play varsity.
Sony's varsity career as a running back did not start in spectacular fashion. He had a couple of good performances but then came game four of the season which Sony's oldest brother Allan describes as "the turning point."
Sony gutted a then undefeated North Broward Prep football team for 281 yards and three touchdowns including a kickoff return taken to the house. Sony went from the 8th grader who could survive playing varsity football to the 8th grader who could dominate varsity football. Sony's 14 carries per game now went to 22 carries per game and coach Walker rode the workhorse all the way to the 2nd round of the Florida State playoffs.
At season's end, Sony accumulated 1,825 yards rushing on 248 carries for an average of 7.36 yards per carry with 20 TDs. At this pace, he would end up with 9,125 yards for his career surpassing Emmit Smith's state of Florida career rushing record. It's a thought Sony has not spent a lot of time with.
"My goals are really year to year," said Sony. "I started out this year just wanting to rush for 1,000 yards."
It's an example of Sony's humility despite his never ending success.
"I believe in these two (Sony and Marken) more than they do," older brother Allan said.
Sony's highlight video on Gridironstuds.com has been met with both amazement and skepticism. The emails have come in asking about his true age and expressing doubt. Sony did repeat one grade growing up but even if he accomplished all that he did this year as a high school freshman, it would still be remarkable.
A lifetime of playing on teams that were low in numbers and playing against older competition prepared Sony for what many people felt was impossible.
"I always told him that he's just going to have to get the ball and run because there isn't much blocking," Butler said.
It all led up to the amazing performance that Sony had in 2009 and to the amazing performances that he will continue to put up in front of people who aren't ready to see it. Sony Michel is truly ahead of him time.
You Can View Sony Michel's highlight video at Gridironstuds.com.  Click here now.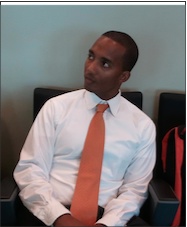 Chad Wilson is a college football recruiting expert and creator of the GridironStudsApp which allows high school football players to gain exposure to college football coaches and fans. Wilson is a former college football player for the University of Miami (92-94) and Long Beach St. ('90-'91) and played briefly for the Seattle Seahawks ('95). He is also a former youth and high school football coach for over 15 years most recently for 5-A State of Florida Champs American Heritage. He runs All Eyes DB Camp a defensive back training company located in South Florida IG: @alleyesdbcamp. Wilson's oldest son Quincy plays in the NFL for the New York Giants and his younger son plays cornerback for the Arizona Cardinals.