Dorial Green-Beckham, once hailed as the top-rated college football recruit in the 2012 class, experienced a career filled with ups and downs. Known for his incredible athleticism and towering stature, Green-Beckham's journey in the football world took several unexpected turns.
Born on April 12, 1993, in St. Louis, Missouri, Green-Beckham grew up in a challenging environment. Raised in a low-income neighborhood, he faced numerous hardships during his formative years. However, his exceptional athleticism and football skills provided an outlet and an opportunity for a brighter future.
Green-Beckham would eventually attend Hillcrest High School in Springfield, Missouri. There he developed a rare combination of size, speed, and athleticism that set him apart from his peers. Standing at 6'6″ and weighing around 220 pounds, also ran a 4.4 forty. He possessed the physical attributes that every college football program coveted.
Throughout his high school career, Green-Beckham shattered numerous records and established himself as a dominant force on the football field. His speed and agility allowed him to blow past defenders, while his size made him a formidable red-zone threat. His performances garnered attention from college coaches across the nation, with many of the top programs vying for his commitment.
During the recruitment process, Green-Beckham received scholarship offers from prestigious college football powerhouses, including Alabama, Oklahoma, Texas, and Arkansas, among others. Coaches and recruiters were captivated by his potential to make an immediate impact at the college level and to become a future NFL star.
Ultimately, Green-Beckham announced his commitment to the University of Missouri on February 1, 2012, during a highly publicized ceremony. His decision to stay in-state and represent the Missouri Tigers brought joy to the Tigers' fanbase. The commitment was seen as a major coup for the Missouri football program, elevating their national profile and signaling their ability to attract top-tier talent.
After committing to the University of Missouri, expectations were sky-high for Green-Beckham. He made an immediate impact as a freshman, recording over 800 receiving yards and 12 touchdowns. However, off-field issues plagued his collegiate career. Incidents involving marijuana and allegations of domestic violence marred his reputation and led to his dismissal from the Missouri football program.
Undeterred by these setbacks, Green-Beckham sought a fresh start and transferred to the University of Oklahoma. Unfortunately, due to NCAA transfer rules, he was required to sit out the 2014 season. Despite the year-long absence, he displayed glimpses of his immense talent during the 2015 season, contributing significantly to the Sooners' offense. During his lone season with the Sooners, he showcased flashes of brilliance, accumulating 487 receiving yards and four touchdowns. However, inconsistencies in his play and concerns about his discipline and commitment persisted.
Despite the question marks surrounding his character, Green-Beckham declared for the 2015 NFL Draft. He was selected by the Tennessee Titans in the second round, offering him an opportunity to prove himself at the professional level. Unfortunately, his time in the NFL was marked by inconsistency and an inability to establish himself as a reliable target. He struggled to grasp the complexities of the game and faced challenges adjusting to the demands of the professional ranks.
Green-Beckham had brief stints with the Tennessee Titans, Philadelphia Eagles, and Carolina Panthers, but failed to find a long-term role in any of those organizations. Ultimately, concerns about his work ethic, discipline, and overall commitment to the sport overshadowed his immense physical gifts.
Since 2016, Green-Beckham has been out of the NFL and has not played a regular-season game. His once-promising football career has been derailed by off-field issues and an inability to capitalize on his natural talents.
Despite the disappointments and setbacks, it's important to recognize that Green-Beckham's story serves as a cautionary tale. It highlights the significance of character, dedication, and discipline in an athlete's journey. While his football career may not have reached the heights projected during his high school days, there is always the possibility for personal growth, redemption, and new opportunities in the future.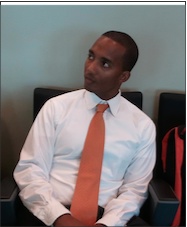 Chad Wilson is a college football recruiting expert and creator of the GridironStudsApp which allows high school football players to gain exposure to college football coaches and fans. Wilson is a former college football player for the University of Miami (92-94) and Long Beach St. ('90-'91) and played briefly for the Seattle Seahawks ('95). He is also a former youth and high school football coach for over 15 years most recently for 5-A State of Florida Champs American Heritage. He runs All Eyes DB Camp a defensive back training company located in South Florida IG: @alleyesdbcamp. Wilson's oldest son Quincy plays in the NFL for the New York Giants and his younger son plays cornerback for the Arizona Cardinals.