Speedy Defensive Back Making a Name for Himself
Somethings in the recruiting process just can't be measured despite all attempts to do so. In the area of heart and determination, Melbourne High School's Tyler Mugar's measurements flow off of the charts.
Mugar's teammates and opponents in the Melbourne area of Florida are fully aware of this pesky playmaker and now others outside of the area are getting wind of him also. I personally saw Mugar make his mark at the Randy Shannon University of Miami camp in June. Standing only 5'8″, Mugar used great speed and exceptional technique to stick to receivers like chest hair. He was the most technically sound defensive back at the camp and the hope is that college football recruiters can weigh that fact above his 5'8″ stature.
Proving that the Randy Shannon Camp performance was no fluke, Mugar rolled over to the Charleston Souther Camp last month and duplicated the performance. Camp goers and coaches were impressed with Mugar for all of the reasons I mentioned above. This season will be Mugar's third as a starter for Melbourne High School. His determination and grittiness has kept him ahead of his counterparts in high school and will more than likely do the same in college.
Often times college football coaches make the mistake of thinking they can take a kid with all of the measurables (height, weight, speed, etc.) and mold them into the player they want them to be despite the fact that the player is not sound on the football field. If the player has been playing for several years and they are still playing like an amateur, you have to wonder if they are ever going to turn the corner.
A player like Tyler Mugar has been dealing with the fact that receivers are taller and bigger than him for his entire high school career. He has found ways to use his 4.4 speed, great jumping ability and technique to lock them down. Why would this stop now?
Check out Mugar's highlight video of his performance at the Charleston Southern Camp and ask yourself if he can help your team. View the video here.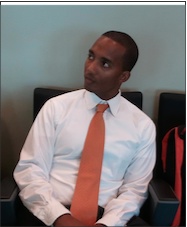 Chad Wilson is a college football recruiting expert and creator of the GridironStudsApp which allows high school football players to gain exposure to college football coaches and fans. Wilson is a former college football player for the University of Miami (92-94) and Long Beach St. ('90-'91) and played briefly for the Seattle Seahawks ('95). He is also a former youth and high school football coach for over 15 years most recently for 5-A State of Florida Champs American Heritage. He runs All Eyes DB Camp a defensive back training company located in South Florida IG: @alleyesdbcamp. Wilson's oldest son Quincy plays in the NFL for the New York Giants and his younger son plays cornerback for the Arizona Cardinals.