By: Chad Wilson – Editor – GridironStuds Blog
Twitter: @GridironStuds
Trying to stand out in a world of high school football prospects can be tough.  We've all heard the stats.  There are 90k high schools in the country and over a million football players in any given year on the prep gridiron.  A large majority of these adolescent warriors are looking to someday play in college.  However,  when you are a quarterback and you stand 6'4″ tall like 2020 quarterback Luke Nail does then it's only a matter of time.
For Nail,  that matter of time has not arrived yet but fortunately for him,  his good play has.  It's understandable that Nail has not yet received his just due.  After all,  he is just getting started.  Without a legitimate season of performance under his belt,  Nail did not enter this 2019 season with any hoopla.  Hoopla or not,  Luke has been nailing opponents with shots as he has rained down 12 TD passes already against only 3 INTs.
A look at the film and what you'll see is the highly sought after tall frame and a live arm.  In addition,  Nail has good movement skills and can throw on the run.  The Alabama prep signal caller can also take off with the football and shows himself to be a football player at heart.  The third clip on his mid season highlight reveals him sprinting downfield to mix it up with defenders trying to get after a ballcarrier.  Not to mention that the ballcarrier was the recipient of an ad libbed back hand throw from Nail who worked himself out of a jack pot.  It's early yet in Nail's career but not too early for college scouts to take notice.  Quarterback coaches drool over quarterback with this type of height and what's more,  Nail "does not suck".   In fact,  he has displayed during this season,  an ability to do virtually all the things a college quarterback is asked to do these days.
Check out Luke Nail on the GridironStuds Instagram page
https://www.instagram.com/p/BohU5vBHcwn/?utm_source=ig_web_copy_link
You can also view Luke Nail's entire highlight video plus view his profile when you download the GridironStuds Recruiting App by clicking here.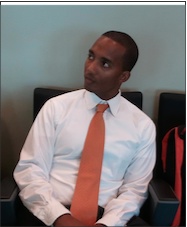 Chad Wilson is a college football recruiting expert and creator of the GridironStudsApp which allows high school football players to gain exposure to college football coaches and fans. Wilson is a former college football player for the University of Miami (92-94) and Long Beach St. ('90-'91) and played briefly for the Seattle Seahawks ('95). He is also a former youth and high school football coach for over 15 years most recently for 5-A State of Florida Champs American Heritage. He runs All Eyes DB Camp a defensive back training company located in South Florida IG: @alleyesdbcamp. Wilson's oldest son Quincy plays in the NFL for the New York Giants and his younger son plays cornerback for the Arizona Cardinals.