By: Chad Wilson – Editor – GridironStuds Blog
Twitter: @GridironStuds
Week 6! That doesn't even seem right coming out of my mouth but here we are.  We are halfway through the college football season and flying like the speed of light. Weekly we are searching for someone or anyone to knock off the four Mount Rushmore of programs currently sitting atop the rankings in college football (Alabama, Clemson, Georgia & Ohio St.) A couple of those teams that may be poised to slide into a spot should their be a slip at the top are featured in this week's column.  Last week,  you Vegas types were treated to profits with a 2-1 record as I picked point spread winners with West Virginia and Notre Dame.  I was right on all three games in terms of who was going to win but Ohio St. made things too interesting and was my only loss vs. the spread.  Overall in this column,  I am 7-2 vs. the odds and 8-1 picking straight up. So without further adieu, let's get into the picking.
Texas @ Oklahoma 
I know folks,  you want to believe in Tom Herman and the Longhorns so bad that it hurts.  Believe in them too much this week and the pain will be all yours.  We can all see that Texas is moving in the right direction but believing that they are going to go into the Cotton Bowl and knock off the Sooners would be too soon.  They aren't there yet people.  Texas is getting solid offensive line play and that will help them in this contest but I don't see them being able to pick up the Sooner blitzes enough to make Sam Ehlinger comfortable.  I am also not seeing enough of a running game to disturb Oklahoma's defensive plans.  Texas has also played admirably on defense to this point but they have not faced the bevy of skill that Oklahoma is going to set in front of them on Saturday.  It will be a bit of shock for the Longhorns and I am not sure they can handle it.
Oklahoma flexed it's muscle last week against Baylor 66-33 after a few questions marks popped up after the narrow Army win.  Good teams do stuff like that and Oklahoma is good.  Do they have deficiencies?  Sure like all teams not named Alabama do but they are not glaring enough for Texas to take advantage.  What I see here is an extremely talented quarterback in Kyler Murray that is going to be one giant headache for those boys out of Austin.  Texas is not equipped to deal with his passing and running capabilities.  I see any number of physical mismatches for Texas so unless Oklahoma's coaching staff feels like laying an egg,  I don't see how Texas makes it to the finish like of this one close enough to touch a Sooner.  Take Oklahoma 41-17.
Auburn @ Mississippi St. 
Auburn once again has provided a solid football team for the War Eagle hopeful.  The problem for the Tigers is the amount of love that was thrown their way coming into the 2018 season.  I have often spoken on how expectations change things.  That is the case for Auburn at this point.  They were oversold and it cost them in the game vs. LSU.  One can only hope that the loss adjusted their mindset but when you watch the struggles last week vs. Southern Miss,  you have to wonder. This trip into Starkville comes at a bad time.  Auburn is not playing their best ball and they are facing a Mississippi St. team that will be fighting for their season.  Auburn has the decided edge in skill positions but they don't have the edge on the line of scrimmage.  I think the trench warfare is going to be tough for the Tigers.
We know the stakes for Mississippi St.  It's amazing how much one week in college football can change everything.  Last week the Bulldogs could have knocked off Florida and restored order after the disappointing loss to Kentucky.  Now with back to back SEC losses,  the Bulldogs are looking to avoid steering their 2018 season into a ditch.  With this hanging around their necks,  I see Mississippi St. playing like a wounded animal.  This is the 2nd week in a row that they are playing host to a big SEC foe and the Bulldogs will give everything they got.  I fully expect them to turn this into a slugfest and that can turn this into a marathon.  The oddsmakers got this one right making Auburn only a 3.5 point favorite.  We are looking at a pretty good game in my opinion and one that I wouldn't be surprised if Auburn lost.  With that said,  I think one of Auburn's playmakers on the outside comes up with a big play late to give the Tigers a narrow win.   Take Auburn 24-21.
Notre Dame @ Virginia Tech 
I totally understand people not people not getting on the Notre Dame bandwagon.  Hell we all hate the incessant love they have received in the past for seemingly no reason.  We've also been duped before by supposedly strong Irish squads that go out and get completely handled by the big boys.  Well that's not the picture I get here this week.  This Notre Dame team might be for real (I'm still in wait and see mode) but for this week,  they are good enough.  Notre Dame is winning where it counts and that is in the trenches.  Adding accurate and competent quarterback play has further bumped up their profile.  Gradually, they are adding more dynamic skill and the Irish are able to do things like they did last week.  In year's past,  that Notre Dame vs. Stanford matchup would have been a last minute field goal game. Now,  Notre Dame has the pieces to vanquish an opponent earlier.  Virginia Tech is that kind of opponent.  Unless Notre Dame is too drunk off of last week's success,  I don't see why they don't beat Tech by double digits.
Virginia Tech has a solid football team but they don't know enough about themselves right now.  The opening night win against Florida St. felt good but watching the rest of the Noles' season has knocked some of the flavor off of that meal. Along the way,  games vs. William & Mary and Old Dominion have not tested their worth and have only served to weaken them as the loss to Old Dominion most certainly did. Perhaps the Duke win was something to hang their hat on but it's hard for them to know that at the moment.  I think this Hokies team is still trying to find themselves and that's a bad place to be against a Notre Dame team that is solid in all phases of the game.  If Tech was more dynamic at the skill positions I could give them a shot here but they're not.  Eventually,  the Irish will impose their will.  Take Notre Dame 24-14.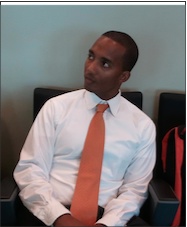 Chad Wilson is a college football recruiting expert and creator of the GridironStudsApp which allows high school football players to gain exposure to college football coaches and fans. Wilson is a former college football player for the University of Miami (92-94) and Long Beach St. ('90-'91) and played briefly for the Seattle Seahawks ('95). He is also a former youth and high school football coach for over 15 years most recently for 5-A State of Florida Champs American Heritage. He runs All Eyes DB Camp a defensive back training company located in South Florida IG: @alleyesdbcamp. Wilson's oldest son Quincy plays in the NFL for the New York Giants and his younger son plays cornerback for the Arizona Cardinals.