If you had a chance to watch nationally ranked American Heritage take on Los Alamitos high school on ESPN last weekend,  you no doubt noticed wide receiver Brandon Inniss.  For people who pay attention to the South Florida high school football scene,  Inniss is an all too familiar name and one that seems to have been around for a decade.  In this article we will dig into why Inniss has achieved 5-Star status and why seemingly every school in the country is vying for his services.
Playmaker
Terrell Owens once yelled on the sidelines of a game "who can make a play? I can!"  Well that line suits Inniss so well.  Whenever you need one,  Inniss is there.  There's something about this prospect and his ability to turn up big when the moment is huge.  Inniss is a fierce competitor that wells up with passion when it seems the outcome is in doubt.  It is this nature that put him on the scene and has allowed him to rise to the top of it.  Lined up against another top recruit in Malaki Lemon in the game vs. Los Alamitos,  Inniss surged by the two way athlete to settle up under a fade route from Heritage quarterback Blake Murphy.  Inniss,  matched up against a top athlete,  made it look easy and it's something he has done time and again in his high school career.  When the moment is big,  his star shines bright.
Great Hands
Get the ball anywhere near Inniss and he's hauling it in.  One of his biggest assets is his ability to win the 50 / 50 ball vs defenders.  He is also not one to alligator arm it across the middle.  This wide receiver wants all of the smoke.  Rarely do you see a drop from Inniss and it's more likely you will see him rise up over a defender to rip away the ball as well as the defender's pride.  Inniss combines the route running of a wide receiver with the dependable hands of an All Pro tight end.  This makes life easy for quarterbacks.
Great with the Ball in His Hands
Not only does Inniss do a good job of making the tough catches but he's damn tough after making the tough catches.  His game film is littered with clips of him bullying his way down the field after getting the ball.  His ability to do things with the football went on full display his junior season.  The heavily recruited wide receiver had to take over at quarterback following a season ending injury to Murphy.  Out of his wide receiver spot for the majority of the season,  Inniss became even more dangerous receiving the ball on every play at QB.  I would dare say that this took him from 4-star to 5-star status.  Inniss put the team on his back and unleashed a diet of RPOs complete with QB runs, precision slant passes along with well placed post and fade routes for touchdowns.  Most impressive though was the juke ability and tackle breaking that Inniss showed on a majority of his runs.  This left coaches salivating about what he could do when the ball is thrown to him at their program.
Well Put Together
Receivers nowadays come in all shapes and sizes.  They can be bite sized slot guys that excel in short area quickness to tall rangy outside types that jump over people on long down field throws.  Inniss is listed at 6'0″ 190 lbs. but you would swear that he's more than that if you saw him in pads. Along with the facial hair,  Inniss' seemingly 200 lb. frame makes him look like a guy that already has a meal card and a 5 A.M. lift schedule at a major football program.  We all know that coaches recruit body types and when you see Inniss,  he's screaming Power 5 from build he presents.  He's a solid 190 if that's what he is.  He will very much remind you of former NFL'er Anquan Boldin.
Been Around for a While
When you bust on the scene in 8th grade and meaningfully contribute,  the odds can be in your favor in terms of being rated high.  However,  what typically happens is early attention getters fall off.  A super young guy can be dominating because he reached puberty ahead of his peers. Many times a guy gets stuck at his height, weight and skill from 9th grade.  This was not the case from Inniss.  He caught they eye of recruiters early on and continued to improve with each passing year.  This is literally what all recruiters that hand out early offers are hoping for.  They don't want to find themselves in the position later on of having to ditch guys in their junior / senior years.  Inniss did not present that problem.  As the years wore on,  more schools jumped on the bandwagon.  At one point,  he was committed to Oklahoma and Lincoln Riley.  However,  when Riley headed for the Pacific Ocean and USC,  Inniss backed off of his Sooner pledge.  Eventually,  he landed with top ranked Ohio St. as he committed to them this summer.
The only thing missing from Inniss' game is blazing speed but with the amount of other stuff he brings at an elite level it's easy to look beyond any deficiencies that may exist in the top speed category.  One should fully expect Inniss to arrive on the scene early no matter what school he ends up signing with.
View this post on Instagram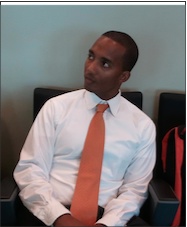 Chad Wilson is a college football recruiting expert and creator of the GridironStudsApp which allows high school football players to gain exposure to college football coaches and fans. Wilson is a former college football player for the University of Miami (92-94) and Long Beach St. ('90-'91) and played briefly for the Seattle Seahawks ('95). He is also a former youth and high school football coach for over 15 years most recently for 5-A State of Florida Champs American Heritage. He runs All Eyes DB Camp a defensive back training company located in South Florida IG: @alleyesdbcamp. Wilson's oldest son Quincy plays in the NFL for the New York Giants and his younger son plays cornerback for the Arizona Cardinals.