If you don't like big and fast prospects dominating on both sides of the ball then I urge you to not look at Jamall Thompson's profile on the GridironStuds App.  I repeat,  do not look at his highlight video or profile if you do not like absolute dominance by a physical specimen.
Standing at 6'3″ 240 lbs.,  Thompson will put his hand on the ground at defensive tackle and be in your backfield quickly like a lead blocker. He has an incredible get off for a player his size.  He'll run through an offensive lineman like finish line tape and do what he wants on the other side of the line of scrimmage.  You'll enjoy watching him ruin run plays and pass plays alike.  In the event that he does not ruin the play before it starts,  he has no problems running it down from behind and delivering a a solid tax to the ball carrier.  His size is noticeable on film but what jumps out at you more is his explosion and quickness.  Big and fast is a great combo on the football field and he has it.
On the offensive side of the ball,  Thompson lines up at tight end and has a good time there too.  He displays great hands,  a willingness to eliminate defenders with blocks and speed to make big plays after making the catch.  He could be a legit prospect at tight end too but I just love his potential on the defensive line.  Sarasota currently plays him at defensive tackle but he could be even more dangerous at the defensive end spot because of what he brings to the table athletically.  It's crazy how players like this slip under the radar.  Currently,  Thompson,  who is a senior,  only has offers from Tennessee State University and Southern Mississippi.  As his profile gets around,  we fully expect more offers to land on his table.
Check Thompson out GridironStuds.com – click here or on the GridironStuds App – download now.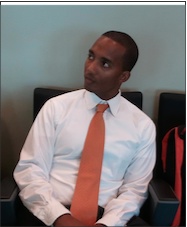 Chad Wilson is a college football recruiting expert and creator of the GridironStudsApp which allows high school football players to gain exposure to college football coaches and fans. Wilson is a former college football player for the University of Miami (92-94) and Long Beach St. ('90-'91) and played briefly for the Seattle Seahawks ('95). He is also a former youth and high school football coach for over 15 years most recently for 5-A State of Florida Champs American Heritage. He runs All Eyes DB Camp a defensive back training company located in South Florida IG: @alleyesdbcamp. Wilson's oldest son Quincy plays in the NFL for the New York Giants and his younger son plays cornerback for the Arizona Cardinals.