By: Chad Wilson
Twitter: @GridironStuds
By now,  if you don't know who Korey Foreman is then you aren't much of a recruiting nut and aren't a college football fanatic.  Foreman is considered the top recruit in the country for the class of 2021 in some circles.  If he's not #1 then he's most certainly #2 and rightfully so.  I will tell you why in this top recruit breakdown.
If you've been following recruiting at all over the last 1/2 or full decade then you have noticed that there has been a heavy move towards the defensive line in overall rankings.  In general,  there has been a move towards the line of scrimmage as more defensive and offensive lineman have been pushed up in the rankings each year.  This is not be accident.  The move towards the line of scrimmage has coincided with the way the game of football has progressed.  Football has become more a passing endeavor with multiple receivers on the field and running backs being asked to do more than just take handoffs.  As such,  wide receivers and running backs have become more plentiful and less valuable.  Add to this the fact that rule changes have made it harder to play pass defense in the secondary and we have a situation where rushing the passer becomes the best way to stop the epidemic of high powered pass offenses.
With all of that said,  enter Corona Centennial HS senior defensive end Korey Foreman.  Foreman is exactly what the doctor ordered when it comes to rushing the passer,  controlling the line of scrimmage and disrupting an offense.  At the high school level he demands a double team.  It is almost comical to watch teams attempt to take an offensive snap without having two people block him.  Foreman's well developed lower half is packed with power.  He has two ways of beating you and that's through you with a massive strength infused bull rush or around you with overwhelming power and quickness.  His agility is surprising for someone with his build and size.  This is why he projects so well at the next level and is a 5 star recruit.
Before any of you attempt to say something like he's a 5-star recruit because of his size,  I would urge you to watch film and issue a retraction.  Foreman does not just rely on God's gifts.  First of all,  while he is physically gifted,  it is apparent that he developed those gifts intensively by spending time in the weight room and on the field.  He is technically sound and explosive.  Furthermore,  what you see on film is a guy who will hustle to the football and takes delight in running down the field to catch guys that think they are going to the house.
Ultimately,  what the school the winds up landing Foreman is getting is a guy that appears to have work ethic to go along with the ultimate build for a strong side defensive end.  His explosiveness and technique makes his a threat to the quarterback on every pass play.  His well developed lower half combined with his strength doesn't make him a liability against the run.  Basically you are screwed either way on offense against him because he can either beat blocks on runs at him or run down plays away from him.  Foreman looks to be the mold for what future strong side defensive ends are going to look like in recruiting.  USC, Clemson and LSU are the primary teams in the hunt for the top rated prospect with USC rumored to be the lead.  Him staying in Los Angeles to become a man of Troy would be an extraordinary get for USC and spark a return to the top for the Trojans.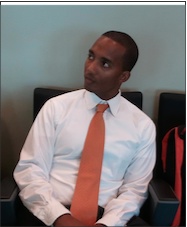 Chad Wilson is a college football recruiting expert and creator of the GridironStudsApp which allows high school football players to gain exposure to college football coaches and fans. Wilson is a former college football player for the University of Miami (92-94) and Long Beach St. ('90-'91) and played briefly for the Seattle Seahawks ('95). He is also a former youth and high school football coach for over 15 years most recently for 5-A State of Florida Champs American Heritage. He runs All Eyes DB Camp a defensive back training company located in South Florida IG: @alleyesdbcamp. Wilson's oldest son Quincy plays in the NFL for the New York Giants and his younger son plays cornerback for the Arizona Cardinals.