By: Jerry Williamson – GridironStuds Blog contributor
@JerryRecruiting
When you think about high school football in South Florida, you can throw out the old saying, "that underclassman should wait their turn", because if you haven't paid close attention over the past four seasons, these young studs are out-playing some of the best recruits in South Florida.
The stock up series will highlight the next wave of talent throughout the state of Florida that's ready to surface and will eventually blossom into household names. This article spotlights five sophomores at (QB, RB, OL, DB, CB) that are putting on a show each Friday night and names you need to get to know.
Hialeah (FLA.) 21′ CB Antwan Gisme 
Note: Gisme (5-9, 166) is having a remarkable sophomore campaign for the (5-1) thoroughbreds this season. The little-known talent has shut down opposing teams go-to-wide receivers. Gisme has three interceptions on the season. Against the defending state champions, Champagnat Catholic he made it known he can perform against notable talent. Gisme picked off one pass and blanketed his side of the field.
Pahokee (FLA.) 21′ DB Geoffrey Mckelton  
Note: Mckelton, a Florida Fire standout, stands 6-feet, 165-pounds that have recorded 15 tackles, 3 pass breakups, 1 defensive touchdown, and 3 interceptions for 142 yards this season. Mckelton sports a 3.7 weighted GPA and has a star-studded bloodline consisted of cornerback Janoris Jenkins (New York Giants) and defensive lineman Pernell McPhee (Washington Redskins) of the National Football League. The University of Miami is showing interest according to Geoffrey McKelton.
Gulliver Prep (FLA.) 21′ ATH Yulkeith Brown 
Note: Brown (5-10, 164) is on track to be named first-team all-county and all-state. In 6-games the emerging star has amassed over 900 all-purpose and 10 all-purpose touchdowns along with an average over 20-yards per touch. Brown is a highlight reel waiting to happen and ran for 150 yards and two touchdowns vs. Champagnat Catholic.
The Benjamin School (FLA.) 21′ QB Santino Marucci 
Note: How talented is Marucci? Last fall as a freshman he was named a top 10 linebacker in South Florida via Rising Stars. Fast forward a year later, he's one of the hottest dual threat quarterbacks throughout the sunshine state. Through 5-games this season Marucci (6-1, 195) has his team undefeated at 5-0. The dual-threat has accumulated 14 touchdowns and no interceptions along with over 900 all-purpose yards from scrimmage. He was named a Rising Star last season and he's certainly living up to expectations.
Homestead (FLA.) 21′ OL Jarvis Poole 
Note: The Broncos are (4-1) on the season behind the power and strength of up-and-coming talent, Jarvis Poole. Poole standing 5-foot-11, 275-pounds may not stand 6-foot-3 but he certainly packs a punch and creates running lanes on Friday nights. The unsung talent has averaged two pancakes per game (based on the film) and allowed one sack.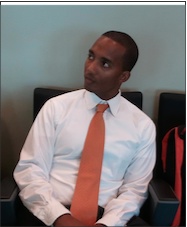 Chad Wilson is a college football recruiting expert and creator of the GridironStudsApp which allows high school football players to gain exposure to college football coaches and fans. Wilson is a former college football player for the University of Miami (92-94) and Long Beach St. ('90-'91) and played briefly for the Seattle Seahawks ('95). He is also a former youth and high school football coach for over 15 years most recently for 5-A State of Florida Champs American Heritage. He runs All Eyes DB Camp a defensive back training company located in South Florida IG: @alleyesdbcamp. Wilson's oldest son Quincy plays in the NFL for the New York Giants and his younger son plays cornerback for the Arizona Cardinals.