November 13th
Thibodaux H.S. (Louisiana) WR Trovon Reed has committed to Auburn. Reed is also being recruited by Florida, LSU, Oregon and Tennessee.
Corona H.S. running back Jordon James chooses UCLA. James is also being recruited by Arizona, California, Notre Dame and Washington.
Palm Beach Central H.S. cornerback Peniel Jean has selected Wisconsin as his school. He is also being recruited by Buffalo, Bowling Green, Connecticut, Central Michigan and Maryland.
November 12th
Fomer Pahokee WR Nu'keese Richardson is among three Tennessee football players arrested Thursday morning in Knoxville on attempted armed robbery charges. Policy Richardson along with safety Janzen Jackson and another Vols player attempted to rob some patrons outside of convenience story while donning hooded sweat shirts and carrying a powered pellet gun. More.

Carol City H.S. (Florida) WR Allen Hurns has committed to the University of Miami. Hurns is also being recruited by West Virginia, Pittsburgh, Ole Miss, FIU and Central Florida.
Hollywood Hills H.S. (Florida) CB Tony Grimes has narrowed his list down to Michigan, Ole Miss, Maryland, West Virginia and Oregon. Click here to view Grimes' highlight video.
November 11th
University School (Florida) athlete Brice Hawkes has committed to Syracuse University.
November 10th
Edna Karr H.S. (Louisiana) QB and Gridironstuds.com Member Munchie Legaux has committed to the University of Colorado. Legaux is also being recruited by Michigan, West Virginia, Oregon, Baylor and Ole Miss.
November 9th
The University of Miami continues to be on a roll with the latest commitment from St. Thomas Aquinas (Florida) cornerback Keion Payne. Payne is also being recruited by Tennessee, Ohio St., Florida and Florida St.
DeMatha Catholic H.S. (Maryland) safety and Gridironstuds.com member Lorenzo Waters has announced his Final Five as Miami, Rutgers, Wake Forest, Michigan and Virginia Tech.
Millenium H.S. (Arizona) safety Marquis Flowers has named a final five of Arizona, Arizona St., Notre Dame, UCLA and USC.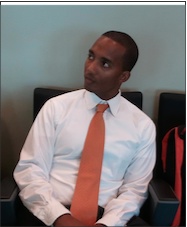 Chad Wilson is a college football recruiting expert and creator of the GridironStudsApp which allows high school football players to gain exposure to college football coaches and fans. Wilson is a former college football player for the University of Miami (92-94) and Long Beach St. ('90-'91) and played briefly for the Seattle Seahawks ('95). He is also a former youth and high school football coach for over 15 years most recently for 5-A State of Florida Champs American Heritage. He runs All Eyes DB Camp a defensive back training company located in South Florida IG: @alleyesdbcamp. Wilson's oldest son Quincy plays in the NFL for the New York Giants and his younger son plays cornerback for the Arizona Cardinals.