Once again, Lane Kiffin and the Tennesse Volunteers have remained relevant and in the news. I reported on their inordinate amount of offers out to 2010 prospects and now Kiffin and Co. are the first to go out and secure a commitment for, get this, Class of 2013.
Yes, you heard me, the Tennessee Volunteers have nailed down a commitment from a 13 year old. Now before you go willy nilly on Lane Kiffin, I am going to give some blame to the media on this one (I guess that's going to involve me too!). I am sure there are many 13 year olds in the country that think they have a firm idea as to where they want to play college football. However, I am sure that this particular 13 year old's declaration has been made public because it's Tennessee and makes for a good news story. Kiffin gets some blame here because he wanted an atmosphere where the Vols are constantly on the tip of everyone's tongue and by golly, that's what he's getting.
It should be noted that the 13 year old named Evan Berry is brother of current Tennessee Volunteer defensive back Eric Berry. It's only natural that younger brother would want to go where older brother and father played. Evan Berry also has a fraternal twin that is also a talented football player and looks to be a future division I prospect. Does he want to go to Tennessee also? No, according to father James Berry. Elliot Berry is partial to LSU and that's where his heart lies at the moment. Evan, the Volunteer commit, is 5'8″ 145 while Elliot is 5'11".
Perhaps Tennessee did some things to make Evan's declaration a media event. If so, once again, Kiffin has kept Tennessee football in the limelight. I hope Kiffin can keep it there when there's actual football being played this Fall. If Kiffin's staff happens to range into the area of 187 offers put out to 2013 prospects some time this summer, you can bet that I will be all over that story.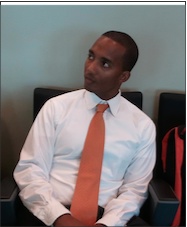 Chad Wilson is a college football recruiting expert and creator of the GridironStudsApp which allows high school football players to gain exposure to college football coaches and fans. Wilson is a former college football player for the University of Miami (92-94) and Long Beach St. ('90-'91) and played briefly for the Seattle Seahawks ('95). He is also a former youth and high school football coach for over 15 years most recently for 5-A State of Florida Champs American Heritage. He runs All Eyes DB Camp a defensive back training company located in South Florida IG: @alleyesdbcamp. Wilson's oldest son Quincy plays in the NFL for the New York Jets and his younger son plays cornerback for the University of Florida