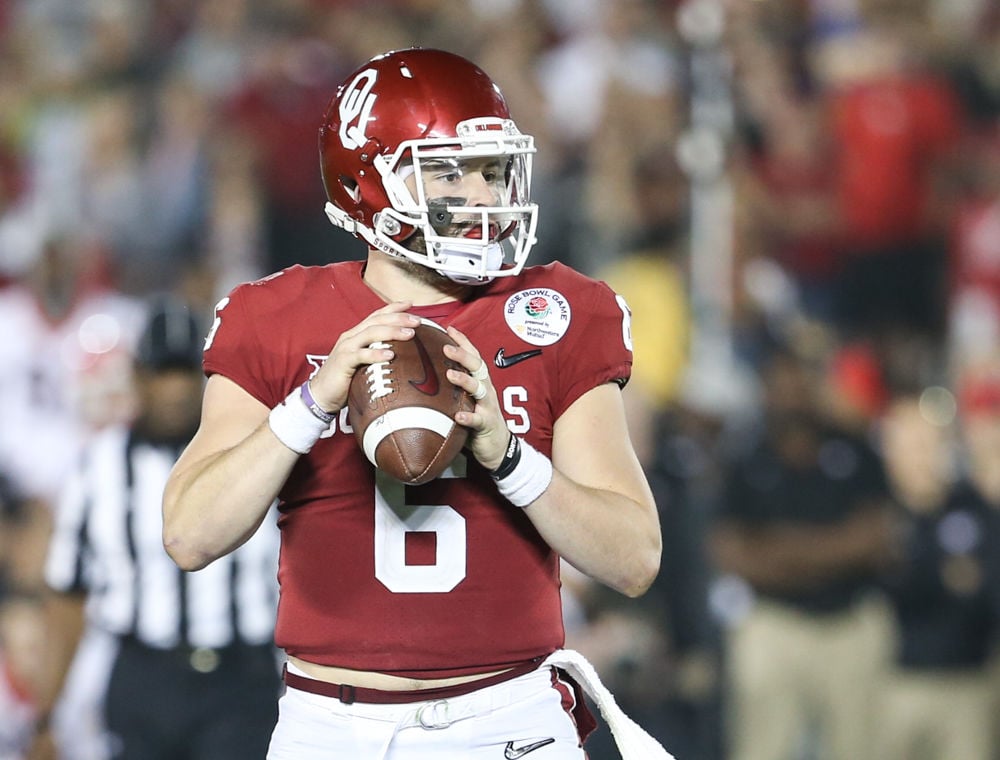 By: Chad Wilson – Editor – GridironStuds Blog
Twitter: @gridironstuds
Tonight will be the 82nd draft the NFL's history.  It has blossomed over the years into one of the biggest events in sports. It's a time when prospects get rich while the fortunes of entire franchises ride on their ability to find the best of the best from the college football fields.  There's no doubt that the most talked about,  needed and precious position involved in the draft every year is that of the quarterback.  In so choosing one,  it seems many a NFL team becomes blind to what it takes to be successful in almost any relationship.
Let's play a game.  Below I have two groups of quarterbacks. If you were going to have a team and they allowed you to have six quarterbacks on the roster,  which group of QBs would you take,  Group Red or Group Blue?
| Group Red | Group Blue |
| --- | --- |
| Andrew Luck | Ryan Tannehill |
| Matthew Stafford | Brandon Weeden |
| Teddy Bridgewater | Mark Sanchez |
| Derek Carr | Johnny Manziel |
| Geno Smith | Blaine Gabbert |
| Marcus Mariota | Jameis Winston |
We all know that the choice is clear.  Anyone gonna pick Group Blue? I didn't think so,  now lets talk about it.  In life choosing your mate is one of the most important decisions you are going to make.  I think that we can all agree on that.  I think we can all agree that meeting someone and rushing into marriage is a likely recipe for divorce or a disaster.  We may become enamored by some of the traits of a potential mate,  especially physical characteristics but true marital bliss depends on things that are not readily apparent to the eyes immediately.  With that being the case,  how do we find about those less obvious characteristics of our potential mate before we head to the courthouse and make it official?
If we rush down the aisle with that potential mate within four months of meeting them,  chances are we don't have answers to the very important questions.  Sure within that four month period we could've gonet around and asked the people that have been closest to our mate to possibly get the answers.  However,  why do that when we can have our mate give us those answers themselves? How will they do that?  They'll tell us either straight out of their mouths or most likely by showing us. Is four months enough time to do that? Probably not.  Is eight months enough time to do that? Not likely.  When we start hitting a year and a year plus we're probably getting into that sweet spot.
Choosing a quarterback to lead your NFL franchise is like choosing a wife or husband.  It's an important choice, that if done incorrectly, will break up a home.  Like choosing a wife or husband,  one must be given enough time to observe the individual so that they can tell you all or mostly all of the things you need to know.
Despite all of that,  many NFL teams ignore this fact and choose to run down the aisle with a potential mate entering into a dangerous marriage.  Every year teams get caught up by the big boobs, flashy smile or the seductive eyes,  otherwise known as the big arm, great height or winning percentage from college.
Remember that table at the beginning of this article?  Well let's analyze it real quick.  Again,  I am sure we are all picking the red group.  All of those members of that red group were starters in college for at least three seasons and their stats improved either each year or from their second year as a starter to their third year. Group Blue consists of prospects who started at the college level for two years or less.  These two groups represent prospects from the 2009 to 2017 NFL draft.
As you can see,  two years is not enough time for us to get all the answers we need on a pro football quarterback prospect. If we think of each season as a starter as four months with a potential marriage partner we can see how things start to add up.  Two years starting as a college QB is basically 8 months with a mate and simply not enough time for us to figure it all out for real.

Not included in the Red Group are Jimmy Garoppolo who was a starter for 3.5 years at Eastern Illinois and got better each season and Andy Dalton who was a four year starter at TCU with improved stats from year three to year four.  Garoppolo appears to be on his way to stardom for the 49ers and Dalton,  though often criticized, has been a stable force under center for the Cincinnati Bengals since they drafted him.  Not included in the Blue Group is Cam Newton who started only one year at Auburn before being drafted by Carolina.  As we all know,  Newton is a pro bowler and has led the Panthers to the Super Bowl.
With any research,  their will be outliers.  Outliers meaning there will be a small amount that fall outside of the larger research numbers that counter what the research is telling us.  Cam Newton would be that but aren't people still questioning some of his quarterbacking abilities?  The jury is still out on some of these QBs but I think the results are undeniable aren't they?  The ideal situation is to view three seasons of quarterback play on the college level and have that prospect improve each and every year while at the school.
With that said,  who should be our guys in this year's draft?  Based on these factors,  here's how I rank them:
Baker Mayfield – 3.5 year starter – improved stats
Mason Rudolph – 3 year starter – improved stats
Lamar Jackson – 3 year starter – stagnant stats
Josh Rosen – 2.5 year starter – improved stats
Sam Darold – 2 year starter – stagnant stats
Josh Allen – 2 year starter – declining stats
Note: if it were me,  I would slide Rosen above Jackson because of accuracy, pro style fit and potential injury.
There's just something about being a marked man and still thriving.  There's something about everyone having a chance to study you and yet you continue to improve.  That is a true sense of what will happen in the NFL. When a guy starts for three years in college,  we are able to evaluate that. In the NFL,  teams will have all the chance in the world to look at a QB,  study a QB and plot against a QB.  If you could not handle that very situation in college then it's usually a tell tale sign that you will struggle with it as a pro.  If you haven't been in college long enough to experience that then there's a chance you won't be able to handle it at the professional level.  At least that is what the research is showing us.
These rankings really fly in the face of the common thoughts of the public and media at large for this 2018 draft. Have no fear, the media, public and NFL GMs get it wrong quite often.  These rankings I have supplied you with will suggest that we are going to have some big time QB busts from this NFL draft tonight.  A big part of being a bust is where you are taken and quite frankly,  none of these guys should be going in the first 5-10 picks.  However,  there's this whole need thing. Teams trick themselves into believing a quarterback is going to cover up all the other problems that exist on their team.  Instead of solidifying those problems by using their high picks to get worthy players,  they reach for QBs that aren't suitable.  Cleveland will likely do that tonight as will a few others.
It will be fun to look back on this article in about five years to see if the research holds up as it has for the last decade.  After all the tape evaluation, senior bowls, combines, private workouts, interviews, etc.  it just boils down to if that guy stayed in the microwave long enough to cook.  Life is so simple isn't it.
Note: Chart refers to prospects that were selected in the first two rounds of the NFL draft from 2009-2017. Some notable 3 year starters not included in the chart. RGIII who had his 2nd season interrupted by injury. Tim Tebow who's passing stats declined. Josh Freeman who's stats declined. Pat White who's passing stats were significantly below the average. Some sub 3 year starters not on the list.  Sam Bradford who started 2.5 year and stats were stagnant. Jimmy Clausen who only started two years, Blake Bortles a two year starter and Jake Locker who was a two year starter with declining stats.
Chad Wilson is a college football recruiting expert and creator of the GridironStudsApp which allows high school football players to gain exposure to college football coaches and fans. Wilson is a former college football player for the University of Miami (92-94) and Long Beach St. ('90-'91) and played briefly for the Seattle Seahawks ('95). He is also a former youth and high school football coach for over 15 years. Wilson's older son Quincy plays in the NFL for the Indianapolis Colts and his younger son plays cornerback for the University of Florida. Email: cwilson@gridironstuds.com.
Facebook Comments