February's signing day came and went in a flash.  Lost in the whirlwind of top recruiting classes,  can't miss prospects and class rankings were the talented football players across the country that did not sign letters of intent and are still looking to continue their post high school education and football careers.
For athletes in this position,  there are a few options like junior college, prep school or walking on.  However,  few options are as advantageous as the prep academy.  What's a prep academy?  A prep academy,  of which there are only five in the country,  allows a potential college student athlete to take some college courses and earn credits without starting their NCAA eligibility clock.  In addition to that,  the athletes play a season of football to hone their skills and leave the experience with their five years to play four years of college football still intact.
New Mexico Prep Academy is such an institution and owner / head coach Farasi Norman is looking for some talented athletes from the 2010 class.   The appropriate term for this arrangement is called "gray shirt" whereby a student athlete delays his enrollment into a four year institution and can take college courses for the fall semester before transferring to a university.
Norman's program gives high school athletes who came up short in the recruiting process or academically another chance to reach their dreams of playing college football.
"We get them used to working on a college campus,"  said Norman.
It's a tremendous opportunity for athletes in this position and it's a route being chosen more and more by athletes after high school.  Norman started New Mexico Prep Sports Academy four years ago after spending time at North Carolina Tech,  another prep academy.   With his roots in New Mexico,  Norman headed home after North Carolina Tech to offer this strong opportunity to athletes in his area.  Along the way,  a desire to compete and meet the needs of athletes across the country,  Norman started taking in players from various states.  Currently, most players come from the South including both the Deep South and the state of Texas.   Typically,  Norman's roster is at 75 players of which he says 21 are from the state of Florida.  Norman and his staff run a tight ship.
"We are a zero tolerance institution,"  Norman explained.
Last season he had some issues with players falling out of line and going against team policies.  The behavior disrupted the goals of the academy and Norman had to send players home.
"It's yes sir, no sir,  be accountable,"  said Norman.
If an athlete plays his cards right and does what he is supposed to,  they can leave the Academy in 6 months with a better opportunity to play college football than they had when they arrived.   Every player plays on Norman's team and is given the opportunity to display their talents for prospective college football programs.   It's a program that is embraced by four year institutions.
"Colleges love the idea of our academy," Norman said.  "Players are introduced to the college lifestyle and way of life without losing any eligibility."
Norman and his staff will ask a player when they arrive to give them three schools they would like to attend.   Then they go to work during the season contacting these schools and others about the athlete.  All the while,  the athlete is taking prep courses on improving SAT and/or ACT scores along with college courses.   New Mexico Prep Sports Academy basically gives the athlete the things he was missing while he was in high school.
With many of the athletes coming from great distances you have to wonder about things like home sickness but Norman says that's not a problem.
"We do a lot of team camaraderie like barbeque, hiking and bowling."  said Norman.  "We have a great professional staff comprised of police officers, insurance agents and mature adults."
Currently,  Norman's team has a need for offensive and defensive linemen along with kickers and defensive backs that have size and cover 1-on-1.    This opportunity is not only for players who have not qualified through the NCAA Clearinghouse.  It's also available to players who have qualified and were not recruited out of high school.  Norman says that roughly 15 of the players on the roster will be guys who have qualified already.   In the four years that New Mexico Prep Sports Academy has been in existence,  coach Norman has placed players at schools like LSU, Northwestern, New Mexico and New Mexico St. along with a host of black colleges,  lower level Division I and Division II institutions.   Norman also fields regular interest from Cincinnati, Syracuse, Houston, USC and Arizona St.
"We have about a 93% rate of getting kids out to college football programs," said Norman.
Interested student athletes,  can visit New Mexico Prep Sports Academy's website at: http://www.thenmpsa.org/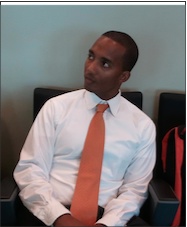 Chad Wilson is a college football recruiting expert and creator of the GridironStudsApp which allows high school football players to gain exposure to college football coaches and fans. Wilson is a former college football player for the University of Miami (92-94) and Long Beach St. ('90-'91) and played briefly for the Seattle Seahawks ('95). He is also a former youth and high school football coach for over 15 years most recently for 5-A State of Florida Champs American Heritage. He runs All Eyes DB Camp a defensive back training company located in South Florida IG: @alleyesdbcamp. Wilson's oldest son Quincy plays in the NFL for the New York Giants and his younger son plays cornerback for the Arizona Cardinals.