By: Chad Wilson – Editor – GridironStuds Blog
Twitter: @GridironStuds
The NFL recent released the hometowns of all of the players on active opening day rosters and the results are in.  We are sure that the map will spark many debates as state residents bicker over which state has the best football, produces the most NFL talent and has the best athletes.
In terms of pure numbers,  the state of Florida takes the crown for 2016 as 239 NFL players come from the Sunshine State.  Coming in second was California with 220 and Texas is third at 214.  Florida, California and Texas benefit from size and excellent year round weather to help bolster their numbers.  In terms of smaller states that pack a punch, states like Louisiana (62), North Carolina (60), South Carolina (57) and Ohio (94) have some impressive numbers as well.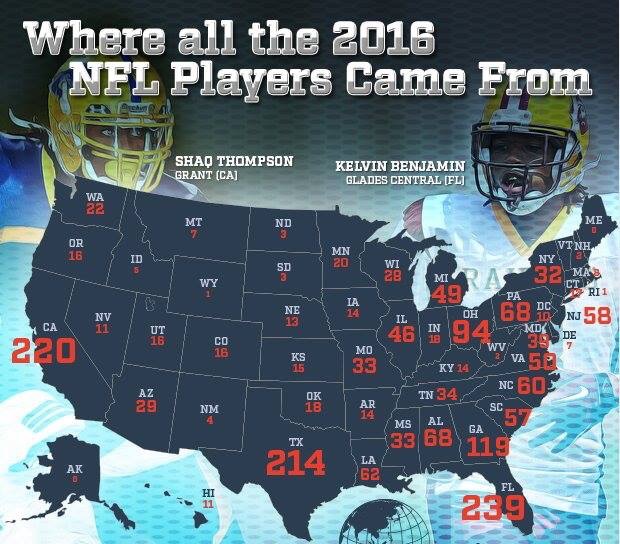 In terms of dry land for NFL talent, six states have produced two or fewer NFL players and those states are Alaska (0), Maine (0), Wyoming (1), West Virginia (2), Rhode Island (1) and New Hampshire (2).
Enjoy the map and let the debates begin.