When you rise up the charts as fast as Jeff Luc has in recruiting circles, you become a candidate for the rumor mill. In Jeff Luc's case, many have speculated on his chances of going to the University of Miami, why his family moved from the Miami to Port St. Lucie and their connection with the family of Bryan Pata, the murdered UM football player
Luc's brother, Alex has reached out to set some things straight and inform those interested as to what the real situation is. The Luc family were Miami residents when Jeff was younger. With too much free time on his hands and plenty of negative influences around, Jeff started to drift off the path to success.

"Jeff was headed in the wrong direction," Alex said in referring to their time in Miami. "He hung out with the wrong crowd and was always in and out of trouble."
Luc's parents tried everything and according to Alex, they were left no other choice but to move out of Miami and chose Port St. Lucie. It was there that Jeff discovered football and got his act together. "He made his 360 degree turn around," said Alex. "If it wasn't for the sport, I don't know what would have been of Jeff," he added.
Despite Jeff getting on track, his parents are a little reluctant to have him return to Miami because they know his old friends and the old neighborhood loom in the darkness waiting to reclaim him. However, Alex insists that Jeff has changed and what tempted him in the past can no longer do so.
"I am pretty much convinced that those days are behind him," said Alex. "He has matured a lot and he's a very good kid. My parent have not given him full credit for that yet."
Alex has counseled his brother on several occassions as to what kind of people he should keep around him and feels that Jeff will do what is right.
Then there's the Bryan Pata situation. When Pata was murdered a lot of the Luc family and friends said that if Pata didn't go to Miami he would be alive today but Alex disagrees. "I don't think that is right because no one really knows what happened," he said.
Jeff's plans, if he were to attend UM would, be to wear #95 in honor of Bryan Pata. Alex attended Florida St. and admits that he is a big FSU fan but wants to make it clear that the decision as to where Jeff goes to school is Jeff's. He also states that Jeff is really "hyped" that people are recognizing him. This could be bad news for Treasure Coast opponents this year. I think they better all find out what "hyped" means. Does that mean more big hits to put on next year's highlight film? Treasure Coast High School has just moved to Class 6-A in the State of Florida. There's a chance he could have a few games against Dade County opposition if Treasure Coast makes it to the playoffs.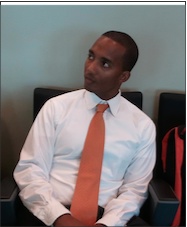 Chad Wilson is a college football recruiting expert and creator of the GridironStudsApp which allows high school football players to gain exposure to college football coaches and fans. Wilson is a former college football player for the University of Miami (92-94) and Long Beach St. ('90-'91) and played briefly for the Seattle Seahawks ('95). He is also a former youth and high school football coach for over 15 years most recently for 5-A State of Florida Champs American Heritage. He runs All Eyes DB Camp a defensive back training company located in South Florida IG: @alleyesdbcamp. Wilson's oldest son Quincy plays in the NFL for the New York Giants and his younger son plays cornerback for the Arizona Cardinals.