Chris Dunkley – WR – Royal Palm Bay, FL
VS.
Latwan Anderson – CB – Lakewood, Oh
In our second edition of "IN THE PIT" we have matched up two of the best athletes in our Gridironstuds.com Database.
In one corner we have the highly recruited Chris Dunkley out of Royal Palm Bay High School in Royal Palm Bay, FL. There are no small plays with Dunkley. The routine play suddenly turns into a crowd on their feet and women screaming as Dunkley eats up the yardage. Blessed with game breaking speed and a thirst for the end zone, Dunkley found pay dirt 13 times last year and opened up a business where he was contracted to make defenders look stupid for free. At 5'11 169 he plays bigger than those numbers and runs a 4.43 forty but will that be enough…. View Chris Dunkley's highlight video.
In the other corner…..
We have safety who could certainly play cornerback, Latwan Anderson. The recent transfer from St. Edwards High School to Glenville High School in Ohio, has made a name for himself. He boasts a 4.29 in the 40 and while we all hold high school 40 times with a degree of skepticism, Anderson makes a good case for it in his video. There are plenty of clips of him getting his hands on the ball and beating everyone to the endzone. He also shows some solid aggression. At 5'11" 190 lbs., he's bigger than Dunkley but is he quick enough to handle Dunkley's shakes in a 1-on-1 situation?   Watch Latwan Anderson's highlight video.
So, on a dark mid October Friday night in the Fall, if Anderson was assigned to follow wide receiver Dunkley around for 4 quarters from his cornerback spot, who would get the best of that battle? "In the Pit" wants to know.  Tell us now, CLICK HERE.

As an interesting side note,  The University of Miami has offers on the table for both of these athletes so there is the small chance that this battle could play out on a daily basis in practice on the Hurricanes" campus in the future.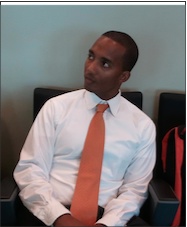 Chad Wilson is a college football recruiting expert and creator of the GridironStudsApp which allows high school football players to gain exposure to college football coaches and fans. Wilson is a former college football player for the University of Miami (92-94) and Long Beach St. ('90-'91) and played briefly for the Seattle Seahawks ('95). He is also a former youth and high school football coach for over 15 years most recently for 5-A State of Florida Champs American Heritage. He runs All Eyes DB Camp a defensive back training company located in South Florida IG: @alleyesdbcamp. Wilson's oldest son Quincy plays in the NFL for the New York Giants and his younger son plays cornerback for the Arizona Cardinals.