By: Chad Wilson – Editor in Chief – GridironStuds.com Blog
Twitter: @GridironStuds
The Oregon Ducks have been one of the biggest names in college football over the last half decade plus.  So one would have to wonder why a program this successful would have to leave the continental United States to find a man to play their most important position, quarterback.  The answer is great recruiting.
Since his junior season, Marcus Mariota was a member of Gridironstuds.com.  One look at his high school highlight video and you will realize that Mariota was perfect for the Oregon Duck's offense. Mariota was executing the Oregon offense in high school and doing it with greatness.  The very same Mariota you see making precision passes, exciting runs and organizing a devastating attack on Saturdays is the same one that was operating for St. Louis School on the island of Hawaii as a high schooler.
There's just something about being comfortable with what you're doing and Mariota has been doing what you see now for quite some time. His highlight video on GridironStuds will show you all of the very same tools that Oregon fans and the media alike have fallen in love with.  Mariota combined with current Texas A&M and GridironStud WR Jeremy Tabuyo in 2010 to destroy the opposition in Hawaii.  Mariota and Tabuyo are major reasons why St. Louis school was able to secure a big game this season in California vs. St. John Bosco.
Mariota's recruitment is a lesson in recruiting for both programs and prospects alike as both sides united to provide each other what they needed.  Mariota needed a system that was fit for his skill set and that was similar to what he had grown comfortable with in his high school years.  Oregon went out and found the ideal candidate to run their very unique offense.  They did not opt for molding a drop back passer into what they needed.
Enjoy watching Mariota's exploits on the high school field by visiting his GridironStuds.com profile.  Click here for Marcus Mariota highlight video.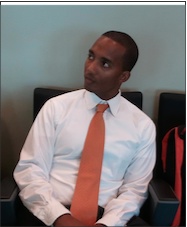 Chad Wilson is a college football recruiting expert and creator of the GridironStudsApp which allows high school football players to gain exposure to college football coaches and fans. Wilson is a former college football player for the University of Miami (92-94) and Long Beach St. ('90-'91) and played briefly for the Seattle Seahawks ('95). He is also a former youth and high school football coach for over 15 years most recently for 5-A State of Florida Champs American Heritage. He runs All Eyes DB Camp a defensive back training company located in South Florida IG: @alleyesdbcamp. Wilson's oldest son Quincy plays in the NFL for the New York Jets and his younger son plays cornerback for the University of Florida