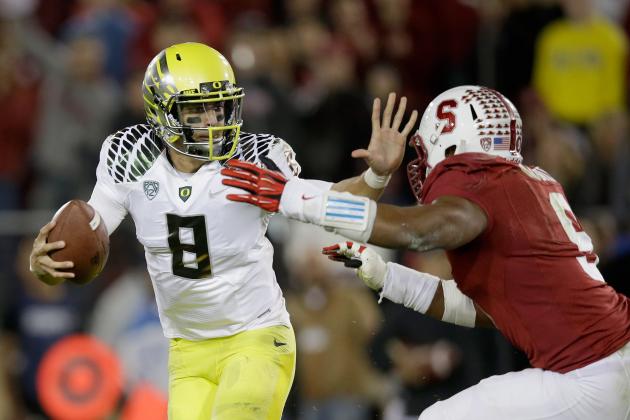 Football Friday on the GridironStuds Show means discussion, opinions and picks.  Here's what the hosts and our guest handicapper thought about this week's action the gridiron. All picks are graded on the line from Bovada Casino and Sportsbook Online
Chad Wilson's College Football Picks (Record 16-10)
Stanford (+8) is the kryptonite for the Oregon Ducks and I am not so sure that this ends now.  The Cardinal are in the heads of the Ducks and with Oregon already tasking defeat this year,  facing adversity vs. Stanford could have a really adverse affect.  I like Stanford to stay inside the number if not pull the upset. Colorado (+4)  over Washington.  The Buffs made a great showing versus UCLA last week at home and came up short in overtime.  I see no reason why they can't duplicate that effort against a lesser Washington team and actually finish the deal this time.  Arizona St. (-6.5) over Utah.  Since the embarrassment at home vs. UCLA,  Arizona St. has been on a roll.  They when into the Colosseum and upset the Trojans and laid down some defense in back to back weeks vs. Stanford and Washington.  I like them to be full of piss and vinegar at home vs. Utah.
Emil Calomino's College Football Picks (Record 13-13-2)
Auburn (+1.5) over Mississippi.  Not in love with Ole Miss offense and QB play.  Mississippi St. (-10.5) over Arkansas.  Like Arkansas but they are two years away.  Mississippi St. is clicking on all cylinders are explosive enough to cover this number.  Stanford (+8) over Oregon.  Ducks just not in position to be this big a favorite over Stanford team that has owned them.
Chad Wilson's NFL Picks (Record 10-13-1)
San Diego (+2.5) over Miami.  With Miami coming off of back to back great performances (aka wins) they couldn't possibly grab a third as a favorite over a motivated Chargers team.  Houston (+2) over Philadelphia.  The Eagles have been winning all season long in ways that are hard to explain but I see the Eagles as a tech stock during a bubble.  The burst in inevitable.  I think it moves in that direction against a Houston team that could be on the up tick.  Pittsburgh (+2) over Baltimore.  The Ravens have not won games over teams worth a damn this year.  However they did beat Pittsburgh earlier this season and the Steelers are looking for revenge at home.  I think they get it.
Emil Calomino's NFL Picks (Record 15-9)
San Diego (+2.5) over Miami.  Not a believer in the Miami Dolphins.  Chargers the play as the dog here.  Minnesota (pk) over Washington.  Bringing back RGIII after McCoy's performance on Monday Night says a lot for the train of thought in D.C.  I am not a fan of it or of the Skins chances in this game.   Baltimore (-2) over Pittsburgh.  This isn't Indy's defense.
Guest Caller Handicapper: "Rap Attack Kenny Mal's" College Football Picks (Record 8-4)
Duke (+3) over Pittsburgh
Arizona (+6.5) over UCLA
Oregon (-8) over Stanford