It's recruiting season and as such, 100's of Class of 2011 hopefuls hit the camp and combine tour looking to catch the eyes of those that matter.  With so many college hopefuls jostling for position,  it can be tough getting the spotlight to shine on you.   That won't stop Cardinal Gibbons high school cornerback Tim Burton from doing his thing.
Burton carries himself with that confident cornerback swagger.  When he strolled into the Under Armour combine last month,  Burton gave off that attitude like I'm the one to watch.  To his credit,  he delivered on that aura about him.  Burton clocked a 4.43 forty, did well in the drills and covered the wide outs like the candy coat on a peanut M&M.   Oh yeah,  Burton is the man and he's going to let you know.
"You're going to see a lot of speed this year,"  Burton warns.
Already quick as a cat,  Burton's running track and has been putting his work in.  He's being recruited as a defensive back but don't just plan on seeing him in that one spot.
"I can play some offense too," said Burton.  "I should play a lot of running back this year."
With Gibbons losing running back Dareyon Chance to graduation,  the door is open for a speedster like Burton to pick up some carries.  His athletic skill set demands that you get the ball in his hands.  With that being the case,  Burton will play on both sides of the ball and on the kick teams too.
"I'm going to try to do some damage on special teams,"  Burton said.
Currently,  Burton has not been offered by a program yet but it's only a matter of time.   He has had ongoing discussions and contact with Florida, Troy, East Carolina, South Carolina, Maryland, Rutgers and North Carolina.  Burton openly admits to really liking the state of North Carolina.    He would jump at a chance to go to NC State, Wake Forest, Duke or the one he favors the most North Carolina.
"I want to play for Butch Davis,"  Burton said bluntly.
If that doesn't happen,  Burton says he likes the quality of education at a Duke or Wake Forest.  He knows that a NFL career has a small percentage of happening for most and definitely wants to have the best education possible to fall back on.
Burton also spends a lot of time with good friend Orville Reynolds from Douglas High School in Parkland, Florida.  Reynolds was a 1,400 yard rusher last season for the Eagles and is fielding strong interest  from Division-I programs.
"I want to go where I know people,"  Burton said of being interested in going where Reynolds goes.
Reynolds has had discussions Duke and Wake Forest.  As far as the state of Florida goes,  Burton says that Florida St. would be his top Florida school but points out that the Seminoles have made a lot of offers right now.
The month of May promises to be kind to Burton when it comes to college football offers.  Despite being below the ideal height (5'8 1/2″ 161) ,  his speed and ability to make plays can not go unnoticed.  He has Division-I skills and undoubtedly big name programs will make their bid for his services.  With Gibbons depending so much on him this season,  2010 will be exciting and interesting for Burton in his quest to stand up and be noticed.
Check out Tim Burton's highlight video on Gridironstuds.com, click here.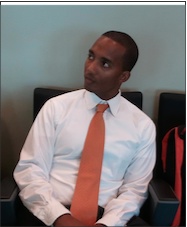 Chad Wilson is a college football recruiting expert and creator of the GridironStudsApp which allows high school football players to gain exposure to college football coaches and fans. Wilson is a former college football player for the University of Miami (92-94) and Long Beach St. ('90-'91) and played briefly for the Seattle Seahawks ('95). He is also a former youth and high school football coach for over 15 years most recently for 5-A State of Florida Champs American Heritage. He runs All Eyes DB Camp a defensive back training company located in South Florida IG: @alleyesdbcamp. Wilson's oldest son Quincy plays in the NFL for the New York Giants and his younger son plays cornerback for the Arizona Cardinals.